'More like Monday Night Lukewarm': 'Dancing With the Stars' Goes to the Movies in Week 2
It's Hollywood week, kids—which means if you've ever wanted to watch Sean Spicer strut the streets of...well, not Bay Ridge, Los Angeles, actually—this is your week!
The show opened with a production number by the dancers—all done up in white tuxedo jackets or tuxedo dresses with black accents—doing a routine to the theme from the movie Fame. No, not the version that won an Oscar, the version from the modern remake by Naturi Naughton. There's a lot of squats and grinding and many of the female dancers are tossed about. It was choreographed by Katherine Burns, winner of two Emmys.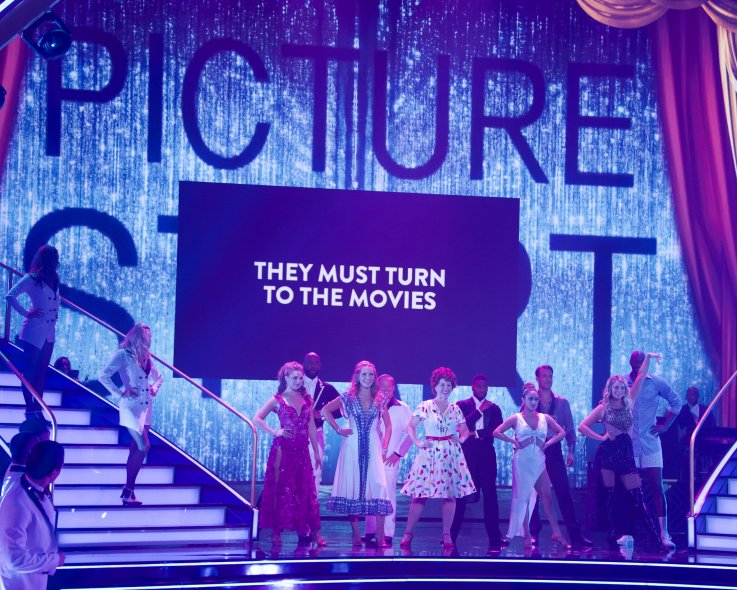 Right away we're told that Ray Lewis is sitting in the audience and an old injury has flared up and he's not dancing tonight. Oh, and the show has continued with its unpopular choice to keep voting open only to the Eastern and Midwestern time zones.
Lauren Alaina and Gleb headed to the movies together and to "see"—and thus dance to—Roy Orbison's "Pretty Woman," as featured in the movie of the same name. Ahh, the romantic story of a prostitute and her john falling in love, perfect for a family show. Lauren had problems with her hold and arms, and the dance started with her "stopping" Gleb's car by planting a spiked boot upon his car. Their turns are decently sharp, though the band's vocalist tried for that famous Orbison vibrato, but instead sounded like he's choking on a particularly thick frog.
Bruno pointed out that her balance is a little wobbly but calls it a great performance.
Carrie Ann approved of her confidence but pointed out she was ahead of the beat and didn't put enough resistance when in hold with Gleb.
Scores: Carrie-Ann: 6, Bruno 7, Len 7—for a total of 20 out of 30.
Hannah Brown had a great week last week—not only did she receive top scores, Taylor Swift even shared her dance on Instagram.
She and Alan danced to "Bridesmaids." This is fitting, Hannah said, as her best friend Olivia is getting married. Olivia and the rest of her bridal party met Alan for a dancing demonstration, followed by awkward jokes about a "showmance." Then Olivia had a fake bachelorette party starring Alan as a stripper in a cop costume and rips off his shirt.
It's followed by Alan and Hannah's dance to "Hold On," with other dancers standing in for groomsmen. In any event, it's a very pretty rumba—sensual, languid and fluid, and the setting and idea is cute.
Bruno had high praise and raved about her fluidity.
Carrie-Ann called it a "Cheerleading dance," but a "very good cheerleading dance," which earns her a big chorus of boos. She then adds that Hannah "needs to lose the jazz stylings."
Len points out that Hannah's ballet training is good for her musicality and lyrical stylings, and calls her a lovely dancer.
Hannah says she's going to work on her hip action and keep trying to improve and come back better.
Scores: Hannah gets sevens down the board for 21 out of 30.
Last week, Karamo pulled all fives again, to his annoyance. He doesn't get to go to the movie theater; instead Jenna told him they'll be dancing to "I'm Still Standing" from Rocketman.
We got a quick introduction to the jive by Len, then move on to Karamo shuffling, kicking and flicking. Karamo says it's important to him because Elton was out, proud and gay.
Karamo then hit up Taron Egerton, who talked a bit about playing Elton and gave them a little encouragement.
Karamo and Jenna's outfits are totally styling, and though he's got a lot of musicality, he's still a little too stompy and kept losing his footwork a bit.
Carrie Ann expected Bruno to come out, as he's in the music video—and Bruno admitted he was wearing the same pants as he was in the video. She said the dance wasn't the greatest and there were a lot of mistakes, but praises his personality.
Len praised them for immediately dancing with no futzing about, while Bruno says he went off like a rocket!
"Bobby's here from the Fab 5! Please come comfort me!" Karamo has tears in his eyes, he's having a lot of fun and he wants to keep going.
Scores: Yes, I fear it's another line of fives—except for Bruno, who gives him a 6 for a total of 16 of 30.
Sasha and Ally danced to "Dreaming of You" from Selena, and her dress and hair are very Selena-inspired and shimmery. The dance is extremely strong and impressive.
"Show them what a cucaracha is," Len instructed Ally, and she does. He praised her for being able to show that off in such a tight dress. Ally gets so excited she came over for a high five, only to be rebuked by Len: "Don't touch me again!"
Bruno praised her for putting her heart and soul into the dance, and praises her for using full rumba moves. Carrie Ann praised her technique, and asked Ally who her "sexy rumba alter ego" is.
"Her name's Allison!" says Ally, before revealing that her family is friends with Selena's family. Selena's sister even allowed Ally to borrow one of the singer's pins for the dance.
Scores: All 8s, down the board. Ally is excited, for the highest score up to this point, 24 out of 30.
After a pause for an extended Rise of Skywalker promo, it was revealed that Ray and Cheryl were going to dance to "Twist and Shout," as in Ferris Bueller's Day Off, but during training Ray reinjured a tendon he'd injured in 2010. An X-ray of his foot confirmed multiple tears, and he'll have to have surgery to avoid a rupture. Ray's out of the competition, squashing rumors that he quit. The choreography was not for naught, however, as Cheryl and Rashad Jennings showed off their planned dance.
James VanDerBeek dedicated his dance to his wife, as she and their daughter were sitting in the audience. James and Emma end up dancing the rumba to "Shallow" from A Star Is Born, with lots of good arm action.
Bruno said that it's harder for a man to dance the rumba than a woman and he made his partner look "fantastic." Cheryl called it stunning, admitting she watched both of them even though, "the rumba is a woman's dance." But Len called it "passionless" and said James was "wide in his leg action," and thus, "wide in his hip action."
Scores: Carrie Ann 8, Len 7, Bruno 8, for a total of 23 of 30.
Kate Flannery got the second highest scores last week, and she was super excited for this week's dance—a quickstep to "9 to 5" from the movie of the same name. Pasha comes to Kate's show with Jane Lynch.
Kate's expressions and dress for this dance—she's supposed to be Jane Fonda's character—were outstanding, and the choreography was incredibly cute, the kicks and flips sharp and precise.
The judges enjoyed the performances as well. Bruno called it a big hit, Carrie Ann said she's killing the game and every bit was so synchronized and good, and Len loved the choreography and character work.
"Normally I'd chat with you about this, but Tom Selleck wants his mustache back," Tom joked.
Scores: 8s across the board for another 24 of 30 points.
Lamar Odom had an okay week last week, and he said he was satisfied with what he did. Peta told him that they would to dance to "Old Time Rock 'n' Roll" and do a tribute to Tom Cruise's underwear-clad dance in Risky Business. Lamar was initially resistant to the idea of showing up in his underwear, but then fielded an encouraging call from Kobe Bryant, to whom he dedicated the dance.
Speaking of "business," the dance has a little bit too much of it before they start—and then he takes a wrong step and everything goes to mush. Len called out Lamar, telling him that when he tries some basic moves the "wheels fall off."
"I was distracted! I saw his pants flying around!" Bruno says, and adds that he admires him for trying. Carrie Ann pointed out Lamar's confidence and good sense of beat.
Scores: All 4s for a score of 12 out of 30.
Sailor promised to improve herself in regard to tone. She and Val danced to "Mamma Mia!", in tribute to her own mother.
Sailor did a decent job capturing the character of Sophie in her ethereal youthfulness, and had a decent stage presence and good, graceful technique.
Bruno warbled his joy and said she's improved. Carrie Ann called it a "huge leap forward," and Len said it was filled with "snap, crackle and pop" and had "huge energy."
Sailor says she wanted to make her mom proud.
Scores: 8 from Carrie Ann, 7 from Len, 8 from Bruno for a total of 23 out of 30.
Kel said he had a blast last week, and he and Whitney do a rumba to "My Heart Will Go On" from Titanic. He said rhumba was new to him, and they both looked quite elegant as they swept across the stairs.
Carrie Ann encouraged him to smooth it out a bit, but calls the dance lovely. Len told him to add more shaping to his hand, saying "your thumb was too flat." He also complained about the foggy stage while saying the performance was solid. Bruno tells them to look at the bright side: "Unlike the Titanic, you managed to complete the sailing without sinking!"
Scores: 7 from Carrie Ann, 6 from Len, 7 from Bruno for 20 out of 30.
Finally, Sean Spicer took the stage as the final dancer. He said he's improving every week. Lindsay vowed to make him look like the leading man he is, which involves many references to their source film, Saturday Night Fever, dancing to "Night Fever."
"More like Monday Night Lukewarm," Len said while Bruno called him a genius. Carrie Ann said he's "living his best life right now." Sean described working with Lindsay as an "honor".
Scores: 5s down the board for 15 out of 30.
After all the dances, it was revealed that Ally and Sasha, Sean and Lindsay, Hannah and Alan, Lauren and Gleb, Kate and Pasha, James and Emma, Sailor and Val, and Karamo and Jenna are all saved. Karamo burst into tears of relief and hugged Jenna.
Lamar and Kel are the bottom two, but Len announced that, since Cheryl and Ray had to withdraw, no one was leaving the show this week.
'More like Monday Night Lukewarm': 'Dancing With the Stars' Goes to the Movies in Week 2 | Culture