More Than One-Third of U.S. Adults Consume Fast Food Each Day, CDC Reports
On a given day, 36.6 percent of American adults will consume fast food, and that percentage only rises with higher income brackets.
Researchers at the Center for Disease Control and Prevention's National Center for Health Statistics studied the fast food consumption of adults in the United States. Released Wednesday, the report compares the percentage of fast-food eating adults for demographic characteristics such as age, race and income level between the years 2013 and 2016.
"This study informs you that over a third of U.S. adults and about 45 percent of young adults consume fast food in the U.S.," Cheryl Fryar, a health statistician at the National Center for Health Statistics and author on the study, told Newsweek. The CDC used the National Health and Nutrition Examination Survey to collect their results.
"The unique feature of NHANES—and that's what it's usually referred to—is that it collects both physical examination data in addition to interview data," Fryar said. For this report, the team only used the interview data and not the physical examination data, but in the future, they could potentially compare the results of the interview and physical examinations.
The researchers found that 31.7 percent lower-income adults, 36.4 percent of middle-income adults and 42.0 percent of higher-income adults consume alcohol on a given day, showing how the percentage of people who are eating fast food increases as income level does.
They also reported that as American adults aged, the percentage of daily fast food consumption lessened. Only 24.1 percent of adults aged 60 and older consumed fast food, while 37.7 percent of adults ages 40 to 59 and 44.9 percent of adults aged 20 to 39 did. The team also noticed a difference between men and women: 37.9 percent of men consumed fast food but only 35.4 percent of women did.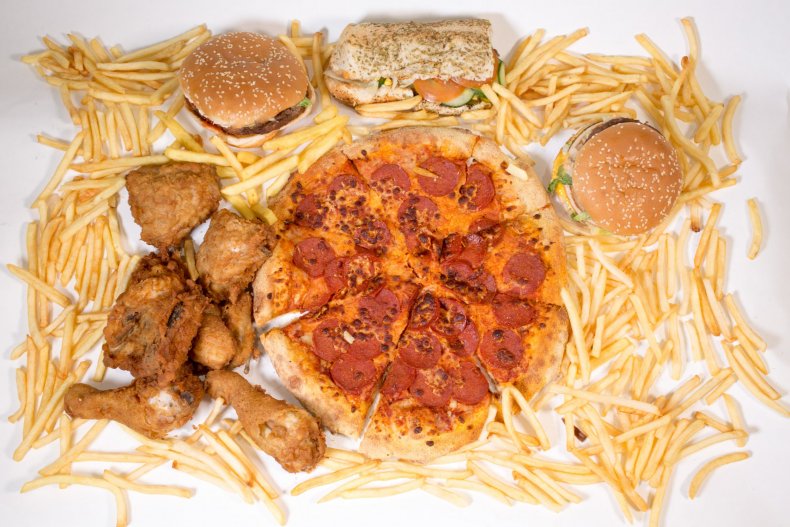 When comparing race, the highest percentage of consuming fast food was among non-Hispanic black adults at 42.4 percent. For non-Hispanic white adults, 37.6 percent consumed fast food on a given day, while 35.5 percent of Hispanic adults and 30.6 percent of non-Hispanic Asian adults did. The most common meal for fast food intake was lunch (43.7 percent), followed by dinner (42.0 percent), then breakfast (22.8 percent) and snacks (22.6 percent).
Fast food has been linked to many health issues beyond weight gain. A 2011 study found that people who eat fast food and processed pastries are 51 percent more likely to develop depression, and a 2016 study found fast food contains phthalates, which could lead to reproductive issues such as birth defects.