More Ordering, Fewer Healthy Workers Lead to Trash and Recycle Pileup During Pandemic
The spike in Omicron COVID cases, combined with a holiday season's worth of trash and recyclables and a pandemic-induced increase in having food and other products delivered, has led to another buildup of trash and a shortage of workers available to pick it up in several cities across the country.
Similar pileups have occurred in past stages of the pandemic, once in the spring of 2020 when COVID was first sweeping the U.S., and again last summer when Delta variant cases spiked across the country, according to the Associated Press.
The Solid Waste Association of North America, an organization of over 10,000 public and private waste management employees, raised concerns in December that the typical increase in trash around the holiday season combined with the spike in Omicron cases could lead to service disruptions in some places.
"A substantial percentage of front-line collection workers are not vaccinated, and some may get sick from COVID in the coming weeks," David Biderman, SWANA executive director and CEO, said in the December statement. "This could make it difficult for some haulers or local sanitation departments to fulfill all of their collection obligations, at the same time that residential waste and recycling volumes increase around the holidays. We urge all solid waste officials and haulers to plan for how they intend to address a shortage in collection workers."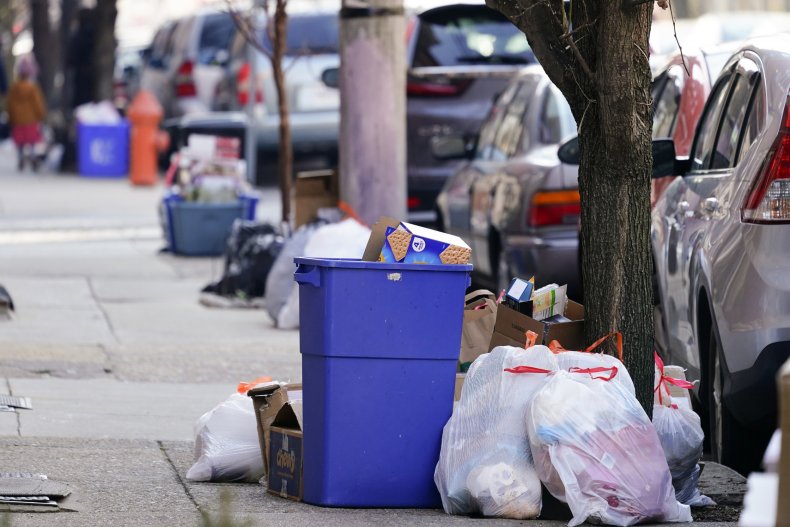 Anywhere from 20 to 30 percent of sanitation workers have been reported as missing work in cities like Atlanta, New York City and New Orleans in recent weeks, according to a report last week from Waste Dive, an online publication focused on waste management services.
Waste Dive also reported trash and recycling collection delays in Detroit, Miami and Louisville, Kentucky, among several other cities, largely due to staffing shortages caused by COVID.
Earlier this week, Baltimore announced plans to cut its recycling pickup schedule to every other week, citing an average of 37 percent of the city's sanitation department missing work over the last week, according to The Baltimore Sun.
Baltimore Department of Public Works Director Jason Mitchell told the newspaper that on December 30 that number peaked when 340 employees, or about 55 percent of the department, missed work. Before the pandemic, Mitchell said that number averaged about 8 to 12 percent per day, the Sun reported.
Another factor in the pileup of trash besides holiday shopping is the increased popularity of food delivery services over the course of the pandemic.
The food delivery market, growing at about 8 percent annually before the pandemic, has doubled over the course of the pandemic, according to a September report from McKinsey & Company.