More People Think Trump Has the 'Stamina and Sharpness' To Be President Than Joe Biden Does, New Poll Shows
More Americans think President Donald Trump has the "stamina and sharpness," to be president than former Vice President Joe Biden, the presumptive Democratic nominee, according to a new poll.
The poll, which was conducted by CNN and SSRS, surveyed 1,112 U.S. adults from May 7 to May 10. It has a margin of error of plus or minus 3.7 percentage points.
According to the poll, 49 percent of U.S. adults said that Trump had the "stamina and sharpness," to be president while 46 percent said Biden had these characteristics.
The poll also found significant differences among political party affiliations in regard to who has the stamina and sharpness to be the president with 88 percent of Democrats choosing Biden and 8 percent Trump. Among Republicans, 95 percent preferred Trump as the candidate with those attributes, and 4 percent chose Biden.
As the 2020 presidential election is rapidly approaching, both candidates have argued about each other's mental and physical health. Trump's campaign has continued to portray Biden as an old and mentally unwell person, and in March, Trump tweeted a video of Biden messing up sentences and losing his train of thought, utilizing "sleepy Joe," the nickname he gave the former vice president, in the message.
"WOW! Sleepy Joe doesn't know where he is, or what he's doing. Honestly, I don't think he even knows what office he's running for," Trump wrote as a caption to the video.
Biden has disputed Trump's portrayal of him and in a March interview with The Columbus Dispatch, he said he is "in better shape than most people," when asked about voters who question his mental acuity.
"They should take a look at me," Biden said. "My mental acuity is fine."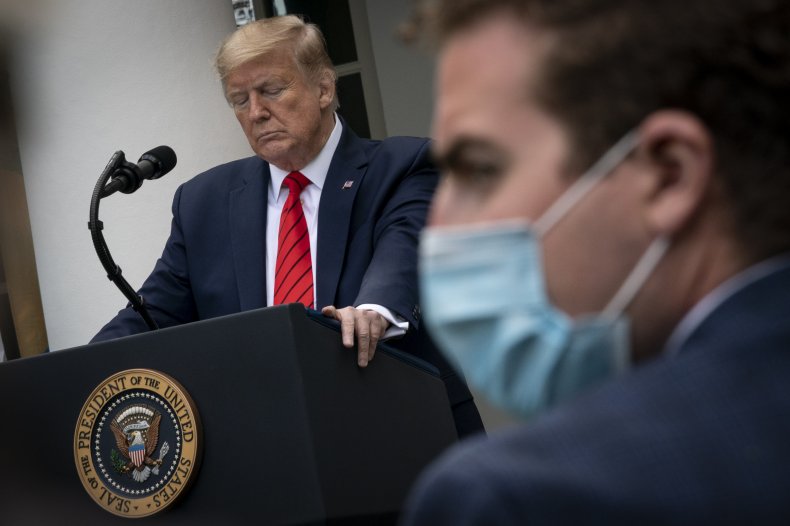 Despite the fact that more Americans identified Trump as the candidate with more stamina and sharpness, the views of those surveyed change when asked who can be trusted during a crisis, such as the current coronavirus pandemic.
According to the poll, 51 percent of U.S. adults said Biden can be trusted in a crisis, while 45 percent sided with Trump.
Biden also has an advantage over the current president in the 2020 election, the poll results said. Fifty-one percent of respondents said they would vote for Biden if the election was today, while 46 percent chose Trump.
Biden has continued to hold a percentage lead over Trump in most other national polls. In a recent poll conducted by The Economist/YouGov, 46 percent of Americans chose Biden as their preferred candidate in the 2020 election, compared to 42 percent who sided with Trump.