For the first time since the pandemic began, the number of mask-optional school districts exceeds those requiring masks, as mandates remain in place for less than half of the nation's top 500 school districts.
As of February 27, only 48 percent (240) of those districts will continue requiring masks, as the other 243 (48.6 percent) of the top 500 go mask-optional in the highest level seen this academic year, according to a policy tracker from Burbio. Seventeen districts have a partial mask requirement.
The latest figures are a notable uptick from the beginning of the month, when many parts of the U.S. were still grappling with the Omicron wave. Sixty-seven districts have switched to a mask-optional policy since February 4.
Citing the steady decline in infections, cities and states across the country have moved away from COVID-related restrictions and mandates over the last few weeks as the pandemic approaches its third year.
Mask mandates in school settings have been a particularly hot-button issue, especially during the 2021-2022 school year.
In October, nearly 74 percent of the nation's top 500 school districts were still requiring masks and just one-quarter were allowing students to make the choice of whether they would mask up in classrooms.
"We expect that the number of mask-optional districts will accelerate in the coming weeks and we will [be] keeping it up date in real time so it changes daily," Burbio's Dennis Roche, who has been tracking school COVID policies since the beginning of the academic year, said in a weekly update.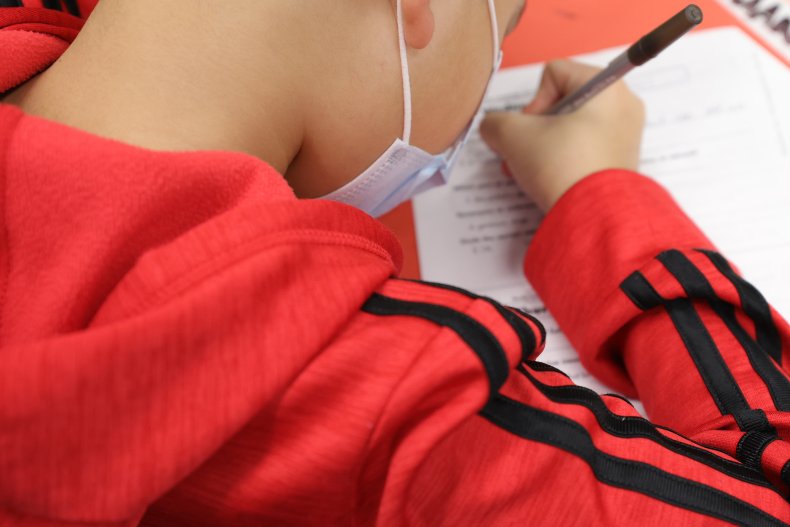 Roche noted that many districts quickly moved to update their mask mandates last week after the U.S. Centers for Diseases Prevention and Control said schools should require masks only when COVID hospitalizations and death are high.
Since Friday, governors in New York, Illinois and Maryland have announced that schools would remove statewide mask mandates.
With New York planning to move away from mandating masks, there are six states that have announced they will move to local flexibility in coming weeks, with 31 states having local flexibility in effect.
While New York City Mayor Eric Adams has signaled he might lift mask mandates for the nation's largest school district as early as next week per Governor Kathy Hochul's latest announcement, other districts are holding onto the requirement despite state laws.
While Illinois Governor J.B. Pritzer has officially dropped the state's school mask mandate, Chicago Public Schools (CPS), the fourth-largest district in the U.S., is firmly sticking with its "universal masking in schools."
"We do not want to jeopardize this progress by moving too quickly, which is why CPS will continue to require universal masking in schools for now," CPS CEO Pedro Martínez wrote in a Friday letter to parents.
As of February 27, only two states—California and Hawaii—still have mask requirements in place for schools.
Mask requirements have also been banned from three states: Florida, Utah and Virginia. An additional eight states are seeing legal challenges between varying school stakeholders over masking regulations.