More Severe Weather Expected to Affect Millions Across U.S.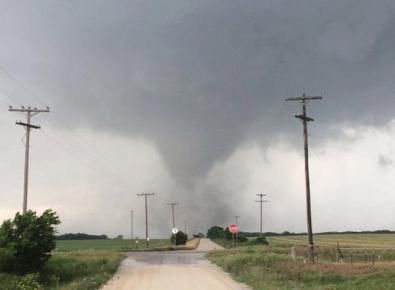 An estimated 60 million people from Texas to Michigan are expected to be impacted on Monday by more severe weather, the Weather Channel predicts, continuing a streak of bad weather after a series of twisters over the weekend wreaked havoc across the United States. Tornadoes, damaging wind gusts, large hail and flash flooding are the main concerns in areas extending from western Pennsylvania and southern Michigan into Texas.
Monday's weather forecast is a continuation from the weekend, when a series of tornadoes caused extensive damage. There were at least 40 reports of twisters on Saturday in five different states—Colorado, Kansas, Nebraska, Oklahoma and Texas—according to the Weather Channel.
At least 10 people were unaccounted for and more than two dozen residents were reported injured Monday morning after a tornado on Sunday ripped through Van, Texas, in the eastern part of the state, according to local news station WFAA. In Cisco, Texas, one person died and three others were injured after a twister touched down. Two people died in Nashville, Arkansas, when a storm hit a trailer park, CNN reports.
A tornado also ripped open the roof of a high school Sunday in Lake City, Iowa. A few hundred people were inside the building attending a function, but no one was seriously injured.
The severe weather also included major flooding from South Dakota to Texas, where the state National Guard rescued several people who had become stranded in their homes, the local news reported.
Almost a foot of snow fell in parts of Colorado, Nebraska and Wyoming.
The weather concerns came less than a week after a series of tornadoes last Wednesday night ripped through the Great Plains, wreaking havoc in Oklahoma, where at least one Oklahoma City resident died and a dozen were injured.
Severe flood and thunderstorm watches remained in effect on Monday in Texas.
More Severe Weather Expected to Affect Millions Across U.S. | U.S.