More Snow, Freezing Temperatures for Northeast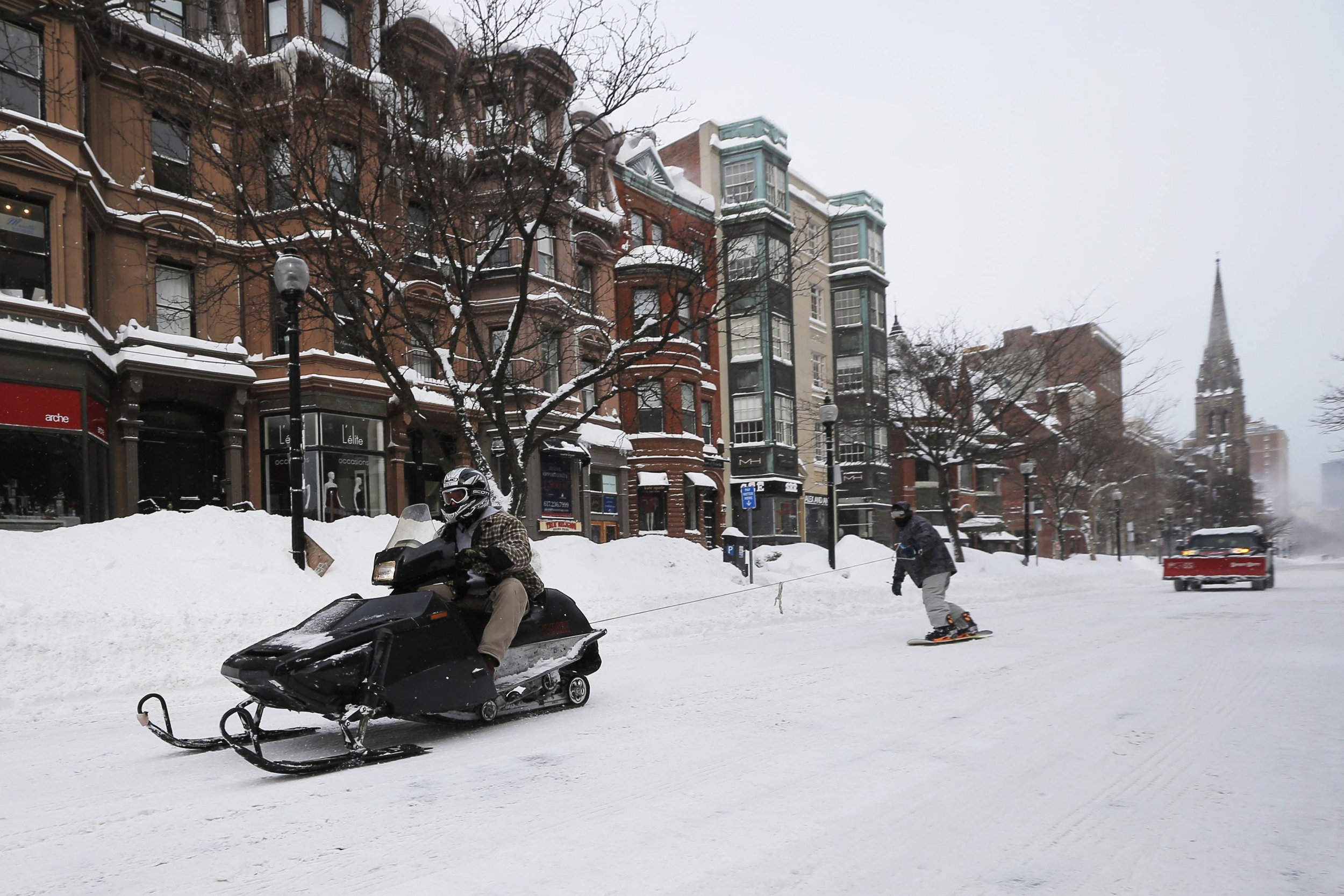 Boston has now experienced its snowiest month in history after a blizzard left even more inches on the city and a winter storm continues to threaten the northeastern U.S.
Snow-deluged Bostonians are shivering through 18-degree Fahrenheit temperatures that feel like zero because of the wind chill and by Monday could feel like -20. Temperatures in the region are 25 to 30 degrees below normal, Bruce Sullivan, a forecaster at the National Weather Service, told Reuters.
Making matters worse are the more than 1,750 U.S. passenger flights that have been canceled. Flight disruptions have occurred mainly at airports in Boston and New York, two cities forecast to see powerful wind gusts of up to 60 mph on Sunday, Reuters reports.
Boston has been hit by four enormous snowstorms in two weeks, making February its snowiest month since the start of records, the National Weather Service said. This month has brought 45.5 total inches of snow, compared to the previous record of 43.3 inches in January 2005.
Newsweek subscription offers >
Massachusetts Governor Charlie Baker said 600 National Guard troops have been deployed across the state to help with the snow, and he urged people to stay off the roads. He also said indoor activities are the way to go for those confined to their house during tomorrow's federal holiday.
Newsweek subscription offers >
"Tomorrow is a holiday [Presidents Day], and it's probably a really good time for everybody to come up with neat things to do indoors and right around your house," Baker said.
While New York City was spared the worst of the snow, with less than an inch falling in Central Park on Saturday, freezing temperatures and a biting wind chill are making life difficult despite the sunshine. The city managed to reach a high of 17 degrees on Sunday, but temperatures are expected drop to as low as -5 during the night.
A wind chill advisory for New York is in effect between 6 p.m. Sunday and 9 a.m. Monday. The "hazardous" wind chill could make it feel as cold as -15 to -25, with wind gusts of up to 45 mph. The last time the high temperature in New York failed to top 15 degrees was January 2004, and January 1994 was the last time the high temperature was between 10 and 14, according to the Weather Channel.
Cloud tops over the Northeast were even colder this weekend, with an "Arctic air mass" stretching from the Midwest to the Mid-Atlantic plunging the temperatures up there well below zero, according to NASA.
The cold snap is expected to last through Monday, and Oklahoma, Arkansas and other Midwestern states are also poised to experience sleet and freezing rain, Reuters reports.
More Snow, Freezing Temperatures for Northeast | U.S.