As More States Plan Reopening, More People Say They Would Attend Small Gatherings
Although the majority of Americans say they are still practicing social distancing by avoiding small gatherings, a new Gallup poll published Monday shows that number is starting to decline as states around the country begin reopening.
"Evidently, the hardest behavior to give up is also the first to return," Gallup researchers wrote of the results, adding that previous polls showed Americans were more willing to avoid public places than gatherings with friends or family when the novel coronavirus pandemic first began spreading across the U.S.
According to an earlier Gallup poll published in mid-April, 84 percent of responders said they were avoiding small gatherings due to their concern about the pandemic by the end of March, just a couple of weeks after the country's first statewide stay-at-home order was issued by California Governor Gavin Newsom. Further polling last month showed that three in four Americans were practicing self-isolation from people outside their home, with one survey finding that those who practiced social distancing interacted with 90 percent fewer people per day than those who did not.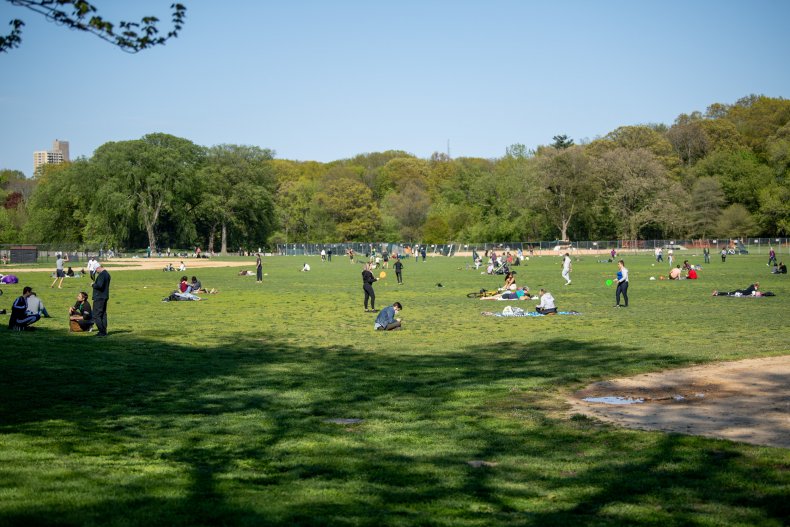 The number of Americans who were staying away from small gatherings dropped by 10 percent between late March and late April, Gallup's latest poll showed. Of the 4,553 adults polled between April 27 and May 3, one in six told researchers they had traveled to another person's home in the last 24 hours, marking another small increase since about 11 percent of responders said they had done the same in late March.
Though relaxing adherence to social distancing guidelines appeared to occur regardless of a responder's political background, researchers found Republicans and Independents were more likely to seek social connections outside the home than Democrats. Between the end of March and the end of April, about 4 percent fewer Democrats said they were avoiding small groups, compared with 16 percent fewer Republicans and 10 percent fewer Independents. Most striking was the percentage difference between the political parties: While 86 percent of Democrats told researchers they were still avoiding social gatherings on April 27, only 60 percent of Republicans and 74 percent of Independents said they were also avoiding gatherings.
According to the Centers for Disease Control and Prevention's current guidelines, gatherings of all sizes are still discouraged despite the fact that states across the country are beginning to reopen their economies and lift their stay-at-home orders. Gallup analyst Justin McCarthy wrote that if a predicted rise in COVID-19 cases occurred as relaxed guidelines and warmer weather pulled people outside their homes, it was possible some Americans would return to the stricter self-isolation behaviors reported while the pandemic was first picking up speed.
"Many have been hunkered inside for months and are tired of doing so, but another spike in cases could send some back indoors," McCarthy wrote.