More Terror Attacks Inevitable in France as 'War on Islamists' Continues
An attacker shouting "Allahu Akbar" (God is greatest) beheading a woman with a knife and killing two other people in a church in Nice, France, before being shot himself by police has further inflamed tensions between France and Muslim communities. It follows a similar beheading of a teacher in Paris two weeks before. What happens now with the "war on Islamist ideology" and is it a case of "when" and not "if" a bigger attack takes place on French soil?
France is open in its war against radical Islamist ideology. "We are in a war against an enemy that is both inside and outside," French interior minister Gerald Darmanin told RTL radio, admitting that more terror attacks in France are inevitable. "We need to understand that there have been and there will be other events such as these terrible attacks," he said.
France has recently increased its efforts, with clear calls for regulation of social media and introducing a national bill specifically to fight radical Islam. Officials have closed a mosque and proposed to ban a number of Muslim groups considered extreme by authorities. This is all to defend, French ministers say, France's secular state, away from any religious interference.
"Very clearly France is under attack," French President Emmanuel Macron said after the most recent attack, but he was clear in his calls to unite France rather than embrace the "spirit of division." With tensions rising, it not just French ministers that are warning about an escalation in violence. In 2015 including the attack on Charlie Hebdo's offices and the November 2015 Paris attacks, there were 36 terror attacks in France, killing 161 people.
"The political temperature is being raised and the French government response is part of that," Frank Foley, senior lecturer in international relations at King's College, London, tells Newsweek. "This expansive approach of tackling radical Islam, very broadly defined, the results don't look very good. France's extremism problem is as bad as it ever was."
This is further exacerbated by nations with majority Muslim populations saying that France has overstepped the mark with its response to extremism. Macron is "attacking Islam," deciding to "deliberately provoke Muslims" and "encouraging Islamophobia," according to the Prime Minister of Pakistan Imran Khan. President Recep Tayyip Erdogan of Turkey has called for a boycott of French goods and told Macron to "go get your mental health checked," saying that he "needs mental treatment" because of a speech given about radical Islamism.
Malaysia's ex-Prime Minister Mahathir Mohamad went even further: "Irrespective of the religion professed, angry people kill," he tweeted. "The French in the course of their history have killed millions of people. Many were Muslims. Muslims have a right to be angry and to kill millions of French people for the massacres of the past."
France has the largest minority Muslim populations in Western Europe, around 5 million or between 9 and 10 percent of the population. It banned Muslim headscarves and any "conspicuous" symbols of religion in schools and public office in 2004 before it became the first European country to ban the niqab and burka, the full face coverings for women, in 2011. This effectively made it an offense to leave the house with their face fully covered. Recent viral messages on social media have pointed out the irony that Muslims can be both fined in the COVID-19 pandemic for wearing a face mask and fined for not wearing one.
While tension between the government and the Muslim community is nothing new, having its roots as far back as Medieval times, recent escalations started in 2006 with the publishing of a cartoon of the Prophet Muhammad in Charlie Hebdo followed by the attack in its offices in 2015. The most recent terror attacks took place after the magazine chose to republish the cartoon at the start of September, as the trial for the suspects in the 2015 attack began.
"It's never the place of a president of the republic to pass judgment on the editorial choice of a journalist or newsroom, never, because we have freedom of the press," Macron said at the time they were republished.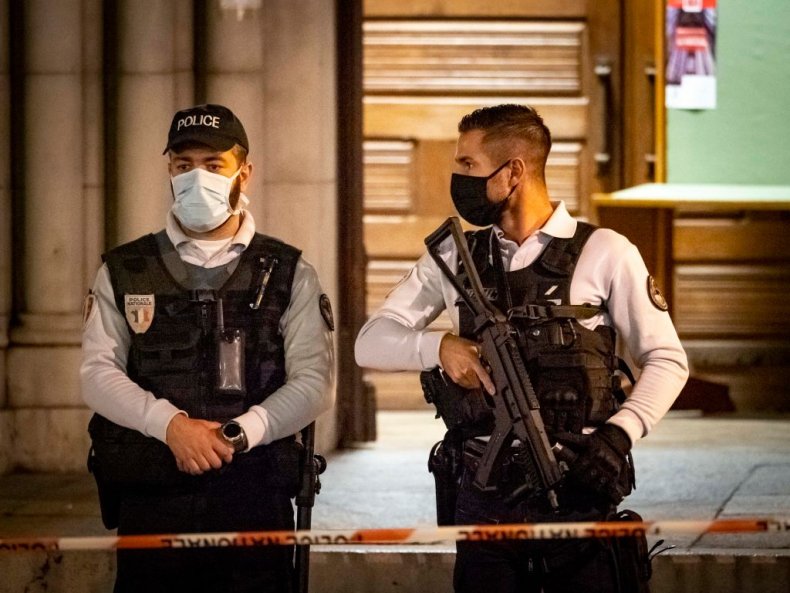 That same cartoon was shown in a classroom by the teacher Samuel Paty, which lead to a militant beheading him. Another recent attack, the stabbing of stabbing two people, took place outside the old offices of Charlie Hebdo, even though it has now moved to a secret location.
"Their method of attack is gruesome, beheading in a church is highly symbolic and designed to make France respond," Foley says. "That is what the French government is doing, responding out of proportion to the prospective threat. These attacks are still horrible, but low-level stuff compared to what was happening in 2015. But the French government wants to turn this into a big thing. Macron seems to want to make a point on these things, about freedom of speech and not wanting to back down."
It is well established that terror attacks are contagious. Research published in the Conflict Management and Peace Science journal, for example, found that once one attack occurs, a "hot spot" is created with further attacks more likely. Experts are keen to warn France away from taking any actions that are too draconian while tensions are raised.
"We're coming up on the 20th anniversary of 9/11, and this speaks to the response in France [and more globally]," professor Fionnuala Ní Aoláin, the U.N. special rapporteur on the promotion and protection of human rights while countering terrorism, tells Newsweek. "Has any of this actually worked? Does it actually work? Do these measures actually work to prevent the cycle of violence and address the conditions conducive to the production of that violence?
"We have no evidence that it does. We have counter-evidence that these measures increase both the violence and the alienation of these communities central to fixing the problem.
"One of the post 9/11 legacies is the idea that 'more is more' in this scenario. More is not more, we ought to know this. The key here is to engage communities, the victims, sure, but Muslim communities are your best partners to fix this."
Muslim leaders in France have been quick to call for unity and harmony, but tit-for-tat attacks have already begun.
In Avignon, southeast France, a man was shot dead after threatening people with a handgun. It was initially incorrectly reported that he was also shouting "Allahu Akbar" but instead was found to be wearing clothes showing a "Defend Europe" logo, a reference to anti-refugee operations conducted by the pan-Europe white nationalist Generation Identity, or Génération Identitaire in French, group.
The group has denied that he was a member and said in a statement that it has "always distanced itself from terror and violence and follows the principle of non-violent activism."
What is difficult to predict is how this escalating tension will end up. In 2015, it started with a shooting in the offices of Charlie Hebdo and ended with an ISIS-coordinated attack at a number of different locations across Paris. The last year without terror attacks in France was 1971. Officials will be hoping that this "war" against Islamists will not be one requiring any more conflict.
"If these measures really don't work, then a different kind of political finesse is required, a different vision of how you engage the violence and how you engage those communities to be your partners in ending," Ní Aoláin says. "It's hard to see it in this moment but yes, I do think it's possible."