More Texas and California Democrats View Socialism Favorably Than Capitalism as Bernie Sanders Leads In Both States, New Poll Shows
More Democratic voters in Texas and California, the nation's two most populous states, view socialism positively than capitalism as presidential candidate Bernie Sanders leads all other Democratic contenders in both states, new polling has shown.
Sanders, who proudly identifies as a democratic socialist, has faced significant criticism from moderate Democrats and Republicans, with some critics inaccurately claiming he is a communist. Many moderate Democrats have argued that the progressive senator from Vermont will be unable to win in the general election due to his push for moving the country more toward democratic socialism. However, the latest battleground tracking data from CBS News/YouGov suggests most of the party's voters in California and Texas may disagree.
According to the polling, 57 percent of likely Democratic voters view socialism positively in California, while 56 percent view the political ideology positively in Texas. Meanwhile, only 45 percent of Democratic voters in California view capitalism positively, with even less – 37 percent – viewing it positively in Texas.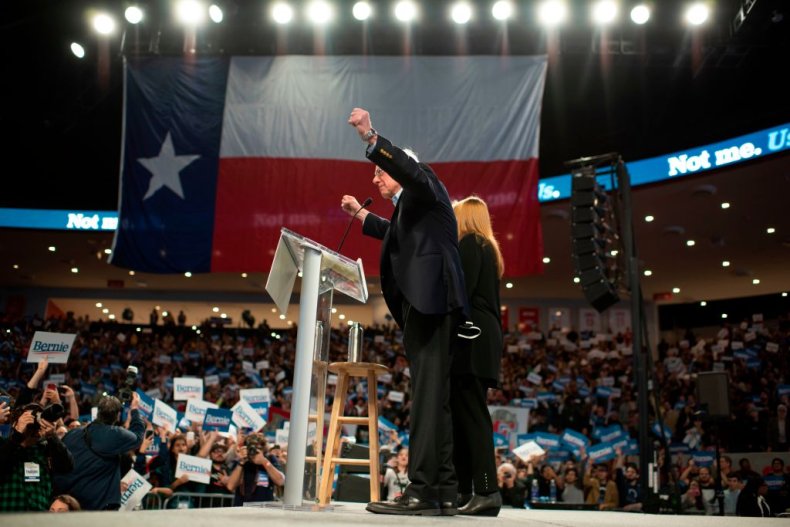 In California, Sanders leads the crowded field of Democratic contenders by double digits just ahead of Super Tuesday on March 3, when both California and Texas – along with 12 other states and American Samoa – will cast ballots in their primaries. The Vermont senator has the support of 31 percent of voters in the West Coast state, while former Vice President Joe Biden trails behind in second place at 19 percent – a difference of 12 points. Senator Elizabeth Warren of Massachusetts is in a statistical tie with Biden in California, with 18 percent support.
Sanders also leads in Texas, albeit by fewer points. The polling shows the senator with 30 percent support, followed by Biden at 26 percent. Warren again comes in third with 17 percent.
As the nation's most populous states, Texas and California also hold the largest number of delegates up for grabs during the Democratic primary. California offers a total of 416 pledged delegates in the Tuesday contest, while Texas has 228 pledged delegates up for grabs.
Until now, Sanders leads the pack of contenders with the most pledged delegates after the first four contests in Iowa, New Hampshire, Nevada and South Carolina. He has won 58 delegates, while Biden comes in second with 50. Pete Buttigieg, who performed well in Iowa and New Hampshire but poorly in Nevada and South Carolina, comes in third with just 26 delegates until now. The majority of Biden's pledged delegates were won in South Carolina, where he received 35 compared to Sanders' 13, as the former vice president won the state with a nearly 30 percent lead.
An average of recent national polls compiled by Real Clear Politics shows Sanders leads the race nationally by double digits, however. The senator currently has an average of 29.6 percent support from Democratic voters across the country, while Biden comes in second with 18.8 percent. Billionaire and former New York City Mayor Mike Bloomberg, who will appear on ballots for the first time in the race for Democratic nomination on Tuesday, comes in third with an average of 16.4 percent support.
Biden, spurred by his big win in South Carolina on Saturday, took aim at Sanders during Sunday morning news show interviews. Asked by NBC's Meet the Press host Chuck Todd if he thought his rival would lose in the general election against Trump, Biden responded: "I do."
"I think Bernie Sanders's positions on a number of issues, even in the Democratic Party, are very controversial," the former vice president said.
But recent polling suggests that both Biden and Sanders have a favorable shot at defeating Trump in the general election, although the former vice president appears to have a slight advantage.
A Yahoo News/YouGov survey from the end of February found Sanders would beat Trump by 6 points in a general election match-up, while Biden would beat the incumbent president by 9 points. A similar Fox News survey showed similar results, with Sanders winning over Trump by 7 points, while Biden was 8 percent ahead of the president.