More Than a Third of Federal Inmates With Coronavirus Are at One California Prison
More than a third of the federal inmates who have tested positive for COVID-19 are from one facility in Southern California, according to data updated Thursday by the Federal Bureau of Prisons (BOP).
Though the total number of confirmed cases represents just under 2 percent of the federal inmate population—more than 1,530 of the 142,255 inmates in BOP facilities had tested positive as of this week—clumps of cases reported in facilities hit by the virus underline concerns of how easy it can spread in places where social distancing guidelines are difficult to follow.
At least 570 of the 1,053 inmates at the Federal Correctional Institution at Terminal Island in San Pedro, California have tested positive for COVID-19, BOP data shows. Ten staff members at the facility have also tested positive.
Two inmates from Terminal Island were reported to have died on Wednesday after contracting COVID-19, the second death of which was announced Thursday morning. So far, the total number of inmate deaths linked to the coronavirus at the facility is three.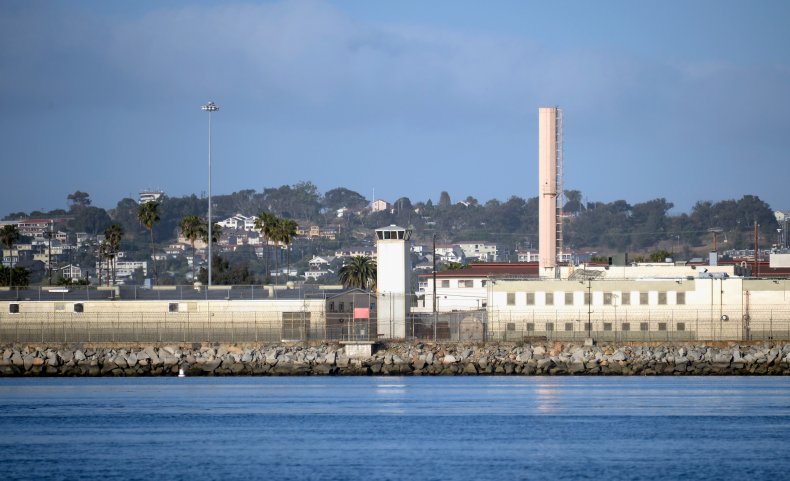 Terminal Island is currently the latest COVID-19 hot spot in a federal prison. As news of outbreaks at prisons across the U.S. spread in recent weeks—with a recent report by The Associated Press saying that more than 70 percent of federal inmates tested have been positive—the BOP said it was working to expand its testing capacity. However, a news release from last week said testing was to be determined "based on facility need."
According to information the BOP provided Newsweek, widespread testing at Terminal Island began last week, shortly before Los Angeles Mayor Eric Garcetti announced free testing would be available to all in Los Angeles County whether they were symptomatic or not. More than 1,000 inmates have been tested since widespread COVID-19 testing began, the BOP said.
According to guidelines listed on the BOP's website, testing among federal inmates who display symptoms is coordinated with local health authorities. Those who do not have symptoms but are at higher risk for developing complications if they contract the virus are to be quarantined, the protocols said.
Despite official guidelines on sanitizing shared areas and attempts to quarantine those identified as at greater risk, concern has been widespread as outbreaks continue popping up at federal and state prisons. At one state prison in Arkansas, the Department of Health said inmate cases made up about a third of the state's case count in mid-April, with notable surges in asymptomatic cases reported among inmates.
Though other federal prisons have also reported high numbers of COVID-19 cases, Terminal Island has nearly double the numbers of others. The BOP facility with the second-highest number of COVID-19 cases, the Fort Worth Federal Medical Center in Texas, has just over half that of Terminal Island—with 298 cases reported as of Thursday morning.
Updated 4:04 PM ET, with a statement from the Federal Bureau of Prisons.