A man aired his frustrations about a message he received from his printer in a viral post shared on the Reddit forum "Mildly Infuriating."
"HP has turned their printers into ransom devices," read the title of u/I_am_not_a_moth's post, which amassed more than 67,000 votes since it was shared on Wednesday. "I will never buy an HP again."
The message said there was an issue with his HP account and that the printer could not be used until the matter was fixed. In the comments section, he revealed there was a problem with the payment method that was linked from a separate account for their subscription.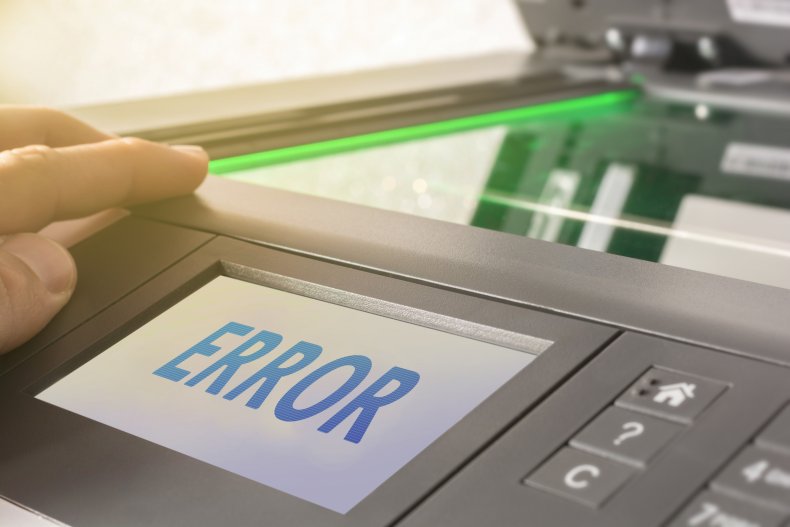 According to its website, HP customers can sign up for the Instant Ink subscription service and choose a plan that sends a certain amount of ink or toner each month.
Depending on how much a customer prints each month, plans range from $0.99 per month up to $24.99 per month.
"Your HP Printer automatically orders ink or toner and cartridges are delivered to your door before you run low," the website said.
A photo accompanied ​​u/I_am_not_a_moth's post, which displayed the message he received.
"A problem has occurred with your HP account and you will be unable to print until the issue is resolved," the message said.
In the comments section, u/I_am_not_a_moth shared two brief updates on the matter.
At first, he said he thought the problem was that the printer estimated that he should have been out of ink even though he was not.
He later learned the reason behind the problem.
"Issue was declined payment method I could not see because my wife made a separate account linked to our ink subscription, and the payment method being expired," u/I_am_not_a_moth said. "Issue was fixed but it is not acceptable to lock up my device and hold it hostage for an account issue. I did not subscribe to my printer, I bought it outright."
He said the company did reach out to assist with the issue and was glad to have the help, but he said he was still frustrated by not having access to the device.
Redditor u/I_am_not_a_moth wrote to Newsweek that an HP employee reached out after the post went viral.
"I told the HP employee to please spread the word that there are plenty of companies doing what HP is doing in terms of restricting purchased devices' functionality, but there are plenty more customers who are not willing to put up with that and will not buy your product as a result," he said.
The Redditor said he had the printer for about a year and a half and also owns an HP laptop.
The issue with the account, he said, took some time to figure out.
"A combination of multiple HP accounts in my household and a lack of explanation on what the account issue was by HP didn't help," he said. "Being locked out of my printer over an account issue seemed insane to me, and apparently to everyone else too."
He said that he plans to keep the printer until it no longer works, but he does not plan to purchase another HP printer.
"The printer itself is great, one of the best I've owned," he said. "It is so unfortunate that a great product can be ruined by such an annoying 'feature.'"
He continued and said that it seems as if he is leasing the printer.
"Locking up a device I purchased doesn't seem right," he said. "I bought that printer, I didn't rent it."
A spokesperson from HP wrote to Newsweek that if HP cannot collect payment when it is due, customer access to the service and the subscription cartridges will cease until the matter is resolved.
The spokesperson said it is included in the terms of service for the Instant Ink subscription.
"In this instance, the customer was notified via email to update invalid/expired payment information," the spokesperson said. "HP customer support also reached out to the customer directly in response to the Reddit post to resolve the issue."
Other Reddit users shared their own frustrations with the message in the comments section.
"The printer is more toxic than my ex," one Redditor wrote.
"Getting real tired of literally everyone trying to get in on subscriptions," another Redditor commented.
One said that they became frustrated with the company themselves due to incompatibility with their service provider and the subscription service.
"Everything was fine with one service provider," they said. "I bought a house and contracted a new ISP. Six months later, neither can explain why I can't connect to my printer. I sold it on Facebook and moved on."
"The best printers you can get are 10 years old and have the bare minimum software," wrote a Reddit user.
When he saw the responses from his fellow Redditors, he said he was not alone in his frustration.
"Many of the commenters had mentioned many similar issues and frustrations with this spanning multiple devices and brands," u/I_am_not_a_moth said.
Others have shared their frustrations on the popular "Mildly Infuriating" forum on Reddit.
One person who said they are colorblind said they were unable to send an email because a test used to weed out robots and spam required them to identify the color displayed in a box.
Another post went viral after a woman showed a warning she received when she parked in her own assigned spot.
One Reddit user posted a photo of a fake $50 bill they received as a tip.
Updated 07/29/2022, 2:18 p.m. ET: This story has been updated with comments from Redditor u/I_am_not_a_moth.
Updated 07/29/2022, 3:28 p.m. ET: This story has been updated with comments from a spokesperson from HP.