More Voters Blame Trump and Republicans for Failed Stimulus Negotiations Than Democrats
As a new stimulus deal between lawmakers and the White House remains elusive, more Americans blame the lack of an agreement on Republicans and President Donald Trump than Democrats in Congress, new polling shows.
A survey carried out by Morning Consult and published Wednesday shows that 45 percent of voters said that Trump and Republicans in Congress are to blame for the absence of a stimulus deal to address the economic fallout of the COVID-19 pandemic. Meanwhile, 40 percent blamed Democrats in Congress, and an additional 15 percent had no opinion or said they didn't know.
But it appears that less voters blame Trump specifically for the hang-up than believe Democrats in Congress are at fault. In a separate poll conducted by Morning Consult simultaneously with the first, respondents were given the option to blame Republicans in Congress, Democrats in Congress, or President Donald Trump.
When asked the question that way, just 19 percent blamed Trump while 25 percent faulted Republicans, which combined would total 44 percent—or roughly the same as the first poll. Again, similar to the first poll, 41 percent blamed Democrats—statistically the same level as in the other survey.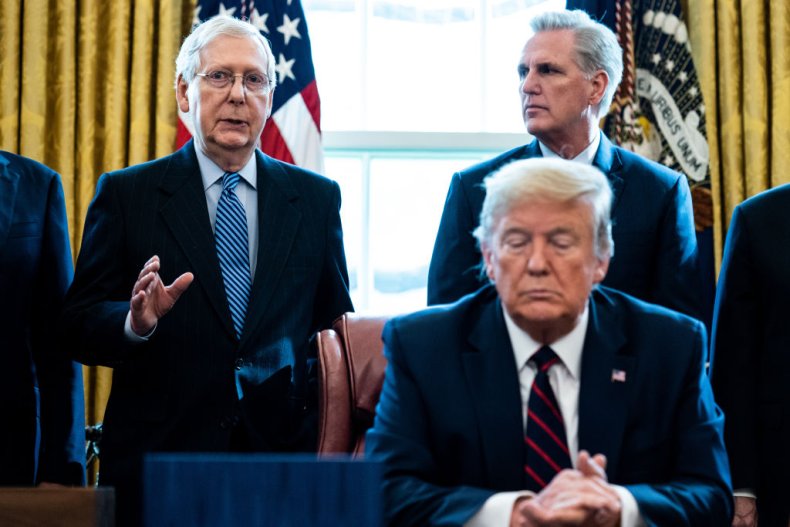 Not surprisingly, there is a significant partisan divide. Nearly 70 percent of Democratic voters blamed Trump and Republican for the failure to reach an agreement. The level was the same in both surveys. Among Republicans, 65 percent blamed congressional Democrats in the poll in which congressional Republicans were combined with Trump in the question. And according to the other poll, 70 percent of Republican voters faulted Democrats in Congress.
The two surveys were conducted from October 23 to 25, and each had a margin of error of plus or minus 3 percentage points.
House Democrats and the White House remain at odds over the final language of a stimulus deal, but Trump has come up significantly in the total amount he is willing to allow. Democrats' latest offer—which was passed by the Democratic-controlled House of Representatives at the beginning of October—stands at $2.2 trillion. Although Trump and Senate Republicans initially put forward a bill totaling about $1 trillion at the end of July, the White House has now come up to $1.9 trillion.
Speaker of the House Nancy Pelosi, a California Democrat, has rejected the latest White House offer, raising concerns about the language in the bill as it pertains to the federal government's planned response to addressing the ongoing pandemic. Some Democrats have criticized Pelosi for not accepting Trump's $1.9 trillion offer, pointing out that millions of Americans remain unemployed and struggle to cover basic expenses.
"She most certainly is making a mistake," Representative Max Rose, a New York Democrat, told CNN on Tuesday, when asked about Pelosi's rejection of the offer. He described the proposed legislation as "a tremendous bipartisan framework for action that's commensurate with the scale of the crisis that we're facing."
Former Democratic presidential candidate Andrew Yang raised concerns about the lack of a deal in a Wednesday tweet.
"Not getting a relief bill done prior to Election Day is a massive failure—both because people are suffering right now and because the political dynamics after Election Day may change in a way that makes passage harder. As usual the people come last," Yang wrote.
Even if House Democrats come to an agreement with the White House, it's unclear whether the legislation would pass in the Republican-controlled Senate. Although Senate Majority Leader Mitch McConnell, a Kentucky Republican, has committed to bring a compromise bill to the Senate floor "at some point," several prominent GOP senators have voiced their opposition to such a massive amount of spending. They have expressed concerns about the rapidly growing national debt—even as economists and Federal Reserve Chair Jerome Powell have said such concerns should wait until after the crisis is adequately addressed.