More Voters Expect Protests if Donald Trump Wins the Election: Poll
Most U.S. registered voters are expecting demonstrations to occur if President Donald Trump wins the election on Tuesday than if Democratic presidential nominee Joe Biden wins, according to polling data released Monday by The Economist and YouGov.
Trump has told his supporters that mail-in voting encouraged by Democrats could lead to widespread election fraud. Some observers have expressed concern that if he loses, Trump will not leave the White House without contending the election results. Some major metropolitan areas have already made contingency plans for election night protests no matter which candidate wins.
According to the poll, 58 percent of likely U.S. voters believe mass protests will ensue if Trump is re-elected. While 63 percent of those have already voted, 54 percent have not. The greatest number of those voters—61 percent—live in the U.S. western region.
Only 23 percent of voters believe that the chance of protests over Trump's election are somewhat likely, with 4 percent of those polled saying that demonstrations are not likely at all.
If Biden wins, 22 percent of those polled believed protests were very likely to happen while 29 percent said demonstrations were somewhat likely to occur. In southern states, 26 percent of poll participants said demonstrations over a Biden victory were very likely, followed by states in the midwest where 23 percent said mass protests were liable to break out.
Newsweek reached out to the Biden campaign for comment.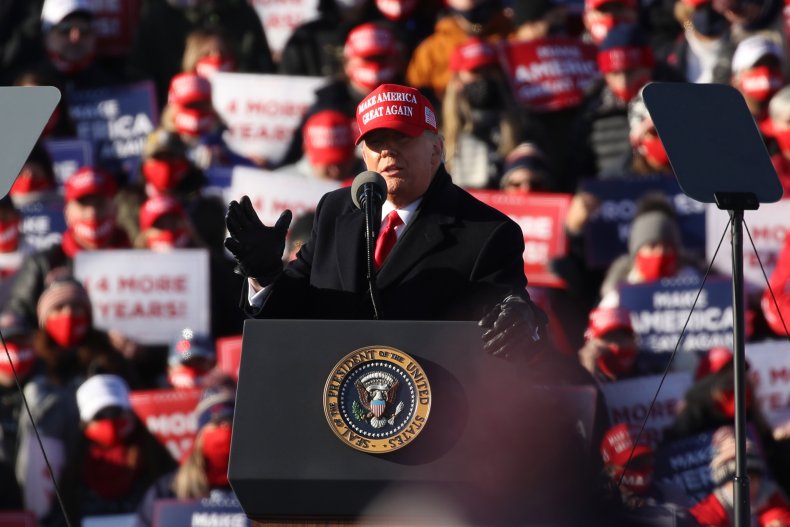 The Economist/YouGov poll was conducted online from a pool of 1,500 registered U.S. voters and carried a margin of error of plus or minus 3 percentage points.
Early voters have contributed to Biden's 10 percentage point overall lead over Trump in the Economist/YouGov poll. Out of those who have already voted by mail, 70 percent of those polled said they cast their ballots for Biden. Trump has cast doubts on the legitimacy of mail-in ballots, implying that his administration would contest the election results.
During a September news conference at the White House, Trump said that mail-in ballots are a "disaster."
"Get rid of the ballots and you'll have a very peaceful—there won't be a transfer, frankly," Trump said. "There will be a continuation."
Trump's comments left Biden at a loss for words in September.
"Look, he says the most irrational things," Biden said. "I don't know what to say."
In September, Trump told Fox News host Jeanine Pirro that if there were demonstrations on the night of the election, his administration would stop them "within minutes."
"Look," Trump said, "it's called insurrection. We just send in and we do it, very easy. I mean, it's very easy. I'd rather not do that because there's no reason for it, but if we had to we'd do that and put it down within minutes."
Members of the Texas National Guard are on standby in case of civil unrest on election night. On Wednesday, Governor Greg Abbott said that he would deploy units "to make sure that we will be able to address any protest that could turn into riots."