More Voters Think Donald Trump is Better Suited to Create Jobs than Joe Biden, New Poll Shows
More American voters believe that President Donald Trump is better suited to create jobs, when compared to his presumed presidential election opponent, Democratic candidate Joe Biden, according to a new poll.
The poll, which was conducted by Reuters and Ipsos, surveyed 1,215 U.S. adults on May 4 and May 5. The poll has a margin of error of plus or minus 3 percentage points.
According to the poll, 43 percent of U.S. adults said Trump is better suited to create jobs while 32 percent said that Biden was the better candidate for this category. The results show Trump with a 13 point advantage over Biden and, according to the poll, that is a 7 point increase from a similar poll conducted in mid-April, that showed Trump with a 6 point lead over Biden.
The poll comes amid a time where America has seen a rise in unemployment due to the novel coronavirus pandemic. According to a tracker provided by Johns Hopkins University, the new coronavirus, which causes the respiratory disease COVID-19, has infected over 1.2 million people across the U.S. The virus has also caused at least 71,079 deaths.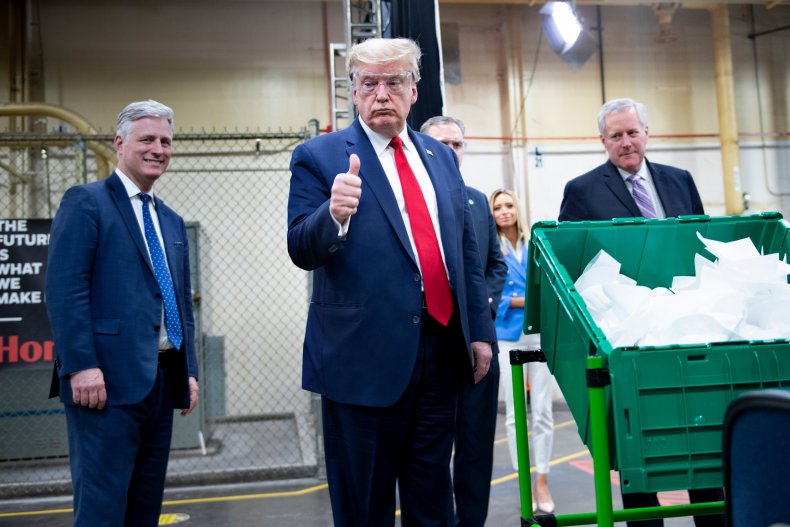 As of April 25, there were over 30 million unemployment insurance claims, according to the U.S. Department of Labor. This brings the total number of first-time unemployment claims to over 30 million in the past six weeks. The increase in unemployment has been caused by the different measures taken to stop the spread of the novel coronavirus, such as closing down many nonessential businesses.
Despite the increase, the poll shows that more Americans feel that Trump will be able to help the country rebound and create more jobs in the near future when compared to Biden, the presumptive Democratic nominee for the 2020 presidential election.
The Reuters/Ipsos poll also shows that Trump has a small advantage over Biden in regard to leading the country's coronavirus response. According to the poll, 37 percent said Trump was the better leader for this category while 35 percent chose Biden.
Despite more Americans favoring Trump for creating jobs and the country's response to the coronavirus, the poll found that Biden still holds a slight advantage over the Republican president ahead of the November 3 presidential election. According to the poll, 43 percent of U.S. adults said they would support Biden in the election while 41 percent said they would support Trump.
Similar results were found in a recent FiveThirtyEight poll, which complies polling data from across the country. FiveThirtyEight's polling system found Biden holding a 6.4 percent lead over Trump nationally.