More War Eagle Magic? Auburn Knocks Off Alabama in Yet Another Iron Bowl Thriller
Just when the annual Iron Bowl game between Alabama and Auburn had perhaps seen it all, up comes another rivalry game. Auburn returned two interceptions for touchdowns, got a favorable and timely call before halftime, a missed Alabama field goal and a Crimson Tide defensive gaffe for a 48-45 win.
And just like other odd years, a ranked Auburn team defeated a ranked Alabama team at Jordan-Hare Stadium.
The game had no bearings on the SEC West, which was wrapped up last week by LSU. Instead, it most likely knocked Alabama from the College Football Playoffs, something the Crimson Tide had played in since the playoff began in 2014. With three unranked teams ahead of them and other teams playing conference championships with one loss, the Crimson Tide could be simply waiting on a bowl bid and not a playoff pairing.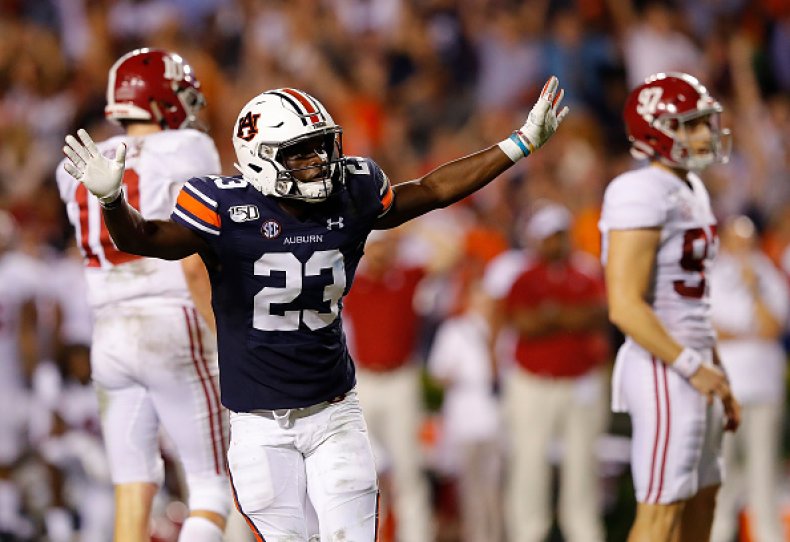 Saturday's Iron Bowl had just about anything someone might expect from the annual game, with exception of a kick six. The game had its a fair share of bizarre plays and incidents, outside of a ho-hum first quarter and a half when the teams were tied, 10-10.
That's when the teams began piling up a combined 38 points in just five minutes of game time.
Auburn's Smoke Monday returned an intercepted pass 29 yards for a score, and Alabama's Jaylen Waddle returned the ensuing kickoff 98 yards to even the score. Alabama's Henry Ruggs III caught a 3-yard pass from Mac Jones to put the Tide ahead, and Auburn answered with a 14-yard pass from Bo Nix to Sal Cannella.
Bama's Waddle caught the first of his three touchdown receptions to give the Tide a 31-24 lead with 33 seconds remaining in the first half, and then it got crazy and questionable.
Auburn had no timeouts and Nix completed a pass for a first down. It appeared time had wound down to zeroes. The referees went to replay and put one second back on the clock. During the replay, Auburn set up its field goal unit in case they got an extra play, which they did. As the referee blew the whistle to start the down, and the clock, Auburn snapped the ball in time for an Anders Carlson 52-yard field goal to trim Alabama's halftime lead to 31-27.
Carlson booted a 43-yard field goal early in the third quarter to trim Alabama's lead to one point. Alabama moved the ball downfield and looked poised to extend its lead. With first-and-goal to go on the 2, Jones tried throwing a pass to Najee Harris. The ball bounced off Harris' back and into the air, and Auburn's Zakoby McClain grabbed it from the Jordan-Hare air and scampered 100 yards for a touchdown to give the Tigers a 37-31 lead.
Waddle brought in his second receiving touchdown pass from 12 yards to give Alabama a 38-37 lead, and Carlson gave it back to Auburn with a 44-yard field goal. Waddle caught another touchdown pass early in the fourth quarter to give Alabama a 45-40 lead.
Auburn's Shaun Shivers scored on an 11-yard run with 8:08 to go in the game for a 46-45 lead, and Nix threw a pass to Shedrick Jackson for a two-point conversion.
Alabama had a late-game possession and moved the ball inside the red zone. With a fourth-and-goal at the Auburn 11, the Crimson Tide attempted a field goal that dinged off the left upright.
Auburn got the ball back and Alabama stopped them for an apparent three-and-out and punt with a minute remaining. However, the Crimson Tide was called for a penalty of having 12 men on the field, giving Auburn the first down. The Tigers went to victory formation and ran out the clock.
Alabama was ranked No. 5 in the latest College Football Playoff rankings. With their loss, it opens the doors for one-loss teams like No. 6 Utah, No. 7 Oklahoma and No. 9 Baylor, should they win Saturday and next week in their conference championship games.