Morehouse College Employee on Leave after Students Accuse Him on Social Media of Sexual Misconduct
Morehouse College placed an employee on unpaid administrative leave this week after a student publicly accused him of sexual misconduct.
On Wednesday, David Thomas, president of the private historically black men's college in Atlanta, announced Demarcus Crews, assistant director of student services, was placed on unpaid administrative leave. Thomas said an investigation would be conducted and thanked the student who posted a video about the allegations against Crews.
The student, who uses the Twitter handle @GrindAlways_, posted the video on Tuesday night and said that Crews had acted inappropriately toward him beginning in 2018 during the second semester of his freshman year. He claimed Crews attempted to force him to come out about his sexuality, made inappropriate sexual comments to him and engaged in "predatory" behaviors.
"I never told my parents about it. I probably told one or two friends about it and it's really been bothering me lately. I started breaking down crying today," the student said in the video.
The student claimed he reported the behavior to the school's Title IX office, which is supposed to look into these sorts of allegations. However, he said the office canceled meetings with him and failed to properly handle the matter. When the student told his parents, he said they came to the school from their home in Chicago and had a meeting with officials about the behavior, but the student claimed no significant actions were taken.
Throughout the entire process, the student said he largely felt ignored by the school. In the video, he said he knew there were other people who must have had similar experiences with Crews.
The student's videos went viral and prompted several other people to post on social media about their own experiences with sexual misconduct. One user, who used the Twitter handle @keepinupwitRIMM, didn't mention anyone by name but said he was sexually assaulted multiple times by a staff member at Morehouse.
As a result, he wrote that he battled with depression, his sexuality, trust and suicidal thoughts. He wrote that the school wasn't "built for the students" and that Title IX was a "whole joke."
Another Twitter user, Bryson, identified himself in a video as a freshman at Morehouse. During the summer prior to his freshman year, Bryson said he met Crews, who tried to help him with scholarships. However, he noticed he was being treated differently than other students and became uncomfortable when the school year started.
Crews allegedly made sexually charged comments during their conversations and referenced Bryson's sexuality. What Bryson said he thought started out as a joke, went too far. In February, he said Crews discussed Bryson's sexuality with another student, and while it's one thing for two students to discuss issues regarding their sexuality between themselves, Bryson said it was inappropriate for an administrator to involve himself.
"If me sharing this story is what it takes in order to get Demarcus Crews the punishment he deserves then I'm willing to do that," Bryson said.
Preston Mitchum, senior legal and international policy analyst at Advocates for Youth, told Newsweek the biggest problem students have with reporting sexual misconduct is not being believed. Regardless of the demographics of the victim and perpetrator, Mitchum said it's common for the accused person to be defended and not held accountable.
While situations of male survivors coming forward with accusations against male attackers are rare, Mitchum noted that gender or sexuality doesn't change whether a victim's story is doubted because survivors are not believed "full stop." However, when a victim of sexual misconduct is also a minority, a member of the LGBTQ+ community or is in a low socio-economic bracket, it can create a "perfect storm" for the person to not be believed.
When the victim is a member of the LGBTQ+ community, there can be additional reasons why victims would be hesitant to come forward. Mitchum, a survivor himself, said homophobia can influence a student's decision to stay silent.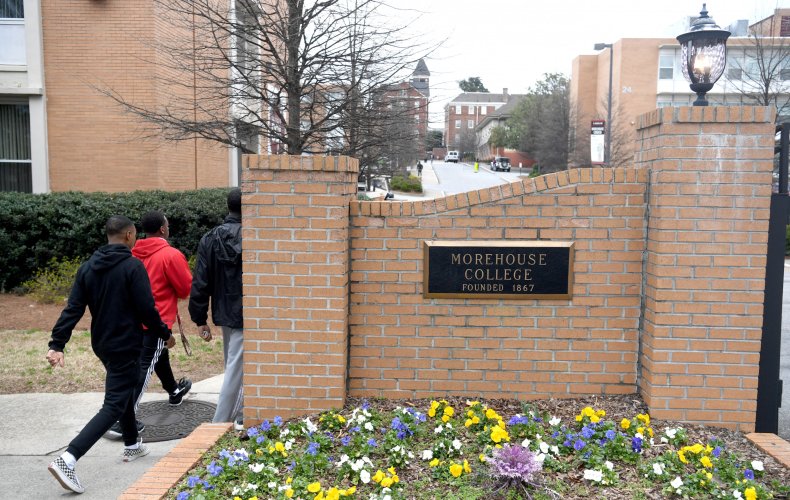 As a member of the Black community, Mitchum said coming forward with accusations against someone who is Black can be difficult because of concerns that the entire community will be on the receiving end of negative branding. For example, in the case of R.Kelly, Mitchum said Black women survivors found it difficult to come forward because the singer was seen as a "beacon of hope" in Black society."
"When you're part of a racial minority of a particular community, such as the United States, there's a hyperfocus on us and our criminality," Mitchum said. "So, sometimes that means that we may be silent, we may minimize the harm because we want to protect the community at large."
Historically Black Colleges and Universities (HBCU) may also be looked at as belonging to a single monolithic group, so Mitchum said there's an additional layer of concern that if a student said something negative about one HBCU institution, it could ripple effect to all HBCUs.
Individually, Mitchum explained, it's important people in the Black community focus on healing first and foremost.
In his statement, Thomas said student and staff safety was a top priority and offered his support to anyone who felt they were mistreated by Morehouse College.