Morehouse College Professor Praised After Photo of Him Caring for Student's Baby During Class Goes Viral
A math professor at Morehouse College, an all-male historically black college in Atlanta, Georgia, is being praised for taking care of his student's baby girl while teaching a class.
Dr. Nathan Alexander, 34, stepped up to help his student, Wayne Hayer, when Hayer was unable to find a babysitter to care for his little girl, Assata, on Friday. Instead of skipping class, Hayer chose to go to Alexander's class with his daughter.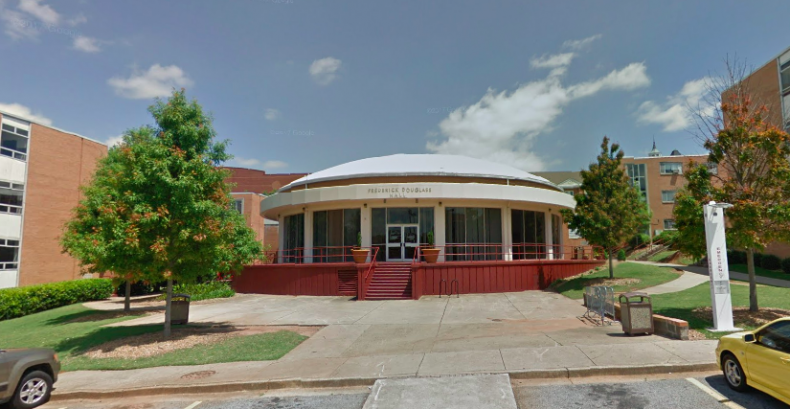 Before class started, Alexander offered to hold Assata so that Hayer could "take good notes" during the lesson, fellow student Nick Vaughn shared on social media. Alexander held Assata in a baby carrier throughout the 50-minute class and continued to carry her during office hours.
"I'm not an exception," Alexander told the Atlanta Journal-Constitution. "We have teachers who (assist students in similar ways) every day."
Alexander said he offered to hold the baby after noticing Hayer was distracted while watching her. In an interview with Buzzfeed News, Alexander said that he was initially concerned about looking after Assata during class.
"I'm not a father, I don't have children of my own," Alexander said. "I was worried that she would start crying. But it actually went perfectly. She was extremely well-behaved."
The professor said he bounced the baby up and down and she eventually fell asleep. "When she started falling asleep, I told the class 'I guess I'm being boring right now,'" he told Buzzfeed News.
Photos of Friday's class were shared by Vaughn and quickly went viral. Several people, including Hollywood director Ava DuVernay, praised Alexander for his actions.
Firda Amalia Hayer, Assata's mother, also thanked Alexander for his "compassion and understanding" and everyone who had sent their "love and support."
"We are new parents. Wayne works two jobs and is a full-time student. He's rarely at home because he's out there providing for us. With us being thousands of miles away from family and friends, I'm usually left with the baby to myself," she wrote on Facebook.
Firda continued, "Thank you for encouraging us to continue to push forward. Thank you to black educators like Dr. Nathan Alexander for your compassion and understanding."