Morgan Freeman Says 'Get the Vaccine' if You 'Trust' Him, Sparking Memes From Folks Who Don't
Morgan Freeman is using his star power to spread the word about the COVID-19 vaccine.
In collaboration with nonprofit advocacy group, The Creative Coalition, the award-winning actor appeared in a video, released Monday, in which Freeman urged U.S. citizens to listen to the doctors and scientists and get the vaccine if they are eligible.
"I'm not a doctor, but I trust science. And I'm told that for some reason people trust me. So here I am to say, I trust science and I got the vaccine. If you trust me, you'll get the vaccine," Freeman said. "In math, it's call the distributive property. In people, it's called taking care of one another. Get the vaccine. Help make our world a safe place to enjoy ourselves again, please."
While Freeman may have appeared to be unaware of why anyone would listen to him, some people on social media were quick to confirm that they do, in fact, trust what he says. Why? Freeman can probably thank the reliable and trusted characters he's played in films for that. Not to mention, he did play the role of God twice onscreen in 2003's Bruce Almighty and in 2007's Evan Almighty. He even narrated the Hulu documentary The Story of God With Morgan Freeman in 2016.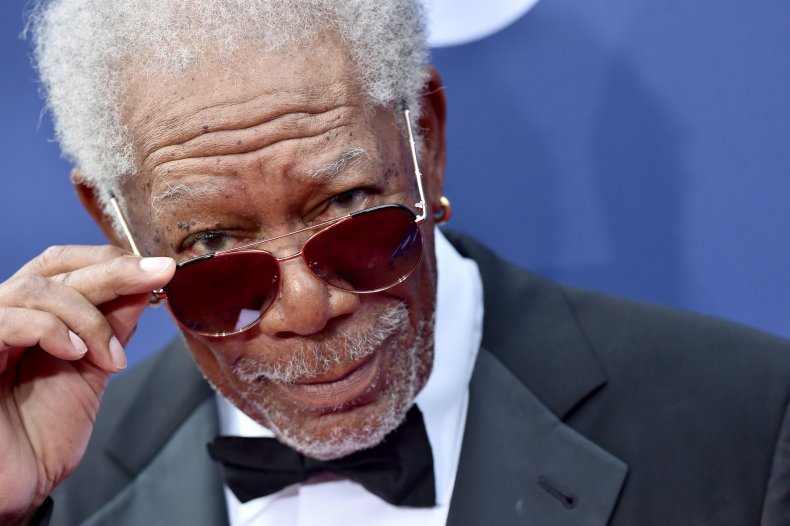 "I can understand why people will take the vaccine if Morgan Freeman tells them to. He IS God…" one person wrote on Twitter on Tuesday.
Another wrote: "Morgan Freeman is god EVERYONE TRUST HIM."
Of course, not everyone trusts Freeman, and plenty of people voiced that on the social network.
"'I'm going to get the vaccine because Morgan Freeman said so,' said total dumba**es," wrote one Twitter user.
There were some conservative commentators who weren't amused by Freeman's attempt to play up the favorability of the roles he's played in films to convince people to get vaccinated when there wasn't enough evidence avaliable to prove exactly how it will affect people in the long run.
"Imagine thinking that because Morgan Freeman pretended to be God in a Hollywood movie, he should be trusted by millions of people when he urges the masses to get an experimental vaccine that NO ONE knows the long-term effects of. That is liberal logic in the raw," another wrote.
Others thought Freeman's vaccine ad was no different from the conspiracy theories and controversial political jargon some politicians have spewed over the years.
"The Venn diagram between people mad at Morgan Freeman's vaccine PSA because they don't trust a celebrity telling them what to do, and people who would inject bleach in to their bodies because a failed reality TV host told them to, is a circle," one person tweeted.
Newsweek has reached out to Freeman for comment.
Nonetheless, Americans by the millions have gotten some form of the vaccine. According to the Associated Press, President Joe Biden is expected to reveal that 150 million doses of COVID-19 vaccines have been administered since he was sworn into office in January. He is expected to double his goal—which originally was to have at least 100 million Americans vaccinated by his 100th day in office—by the time that day arrives on April 30.