Morgan Stanley CIO Predicts 'Pretty Darn Good' Economic Recovery By Next Year
Despite the ongoing coronavirus pandemic and historically high unemployment, Morgan Stanley's Chief U.S. Equity Strategist and Chief Investment Officer Mike Wilson believes the economy is heading for a strong recovery by next year.
Wilson said on Tuesday he predicted a "pretty darn good" recovery by next year.
"Markets move ahead of the fundamentals, OK? So the market is telling us—by the way the stock market is probably one of the best leading indicators out there—it's telling us in no uncertain terms that 2021 is going to be pretty darn good from a recovery standpoint," Wilson said optimistically during a morning interview with CNBC's Squawk Box.
"How we get there is irrelevant, whether it's fiscal stimulus, whether it's the Fed, who cares?" the Morgan Stanley executive said. "I mean, if it's gonna lead to better operating profit growth, that's what the market is focused on and that's our view. We think that next year that the surprise will be ... that actually the recovery is more powerful than people are anticipating ...."
Wilson's predictions came after another record-setting day on Wall Street on Monday. Stock futures continued to rise on Tuesday morning. Dow Jones Industrial Average futures were up 0.6 percent, or 180 points, while the S&P 500 futures jumped 0.4 percent and the Nasdaq 100 futures stayed flat. Although many Americans remain unemployed due to the economic fallout of the pandemic, the stock market appears to be betting on a strong recovery in the coming months.
"Many continue to wonder why stocks are at new highs with 10 percent unemployment and nearly a million people filing for initial unemployment claims," Ryan Detrick, chief investment strategist for LPL Financial, told Newsweek. "The truth is economic data is backward looking and stocks are looking ahead to a much brighter future."
Chris Zaccarelli, chief investment officer for Independent Advisor Alliance, told Newsweek that the Federal Reserve's actions in the early days of the pandemic have helped markets rebound.
"Even the most optimistic people in March were unlikely to have expected the market to recoup all of its losses in less than 5 months, however, the massive amounts of liquidity that the Federal Reserve has injected into the system is as big reason for the stunning recovery that we have just witnessed," Zaccarelli said.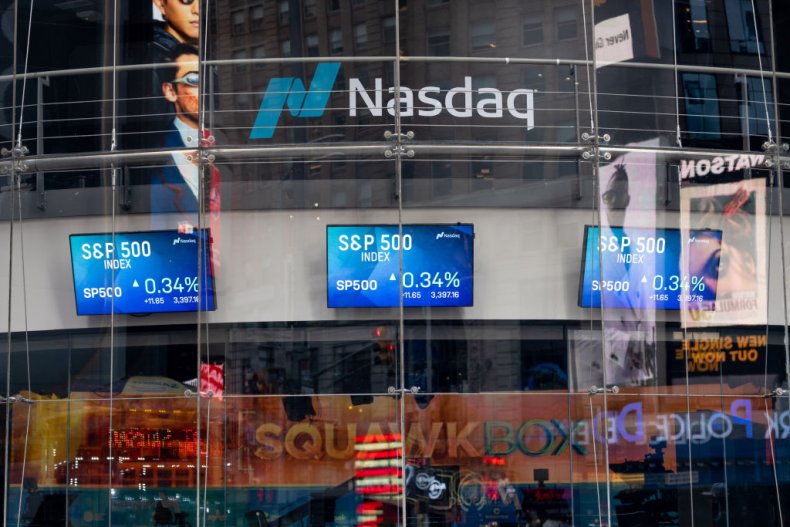 The positive economic prediction and strong stock market growth comes as President Donald Trump and Republicans tout their prowess on the economy ahead of the November 3 general election. While more than 177,000 Americans have died of COVID-19 and more than 5.7 million have been infected with the virus, the president has argued that he is the best person to rebuild the economy over the coming years. Prior to the pandemic, the U.S. was experiencing historically low unemployment of 3.5 percent, while GDP growth remained steady.
A recent poll by NBC News/Wall Street Journal, published August 16, showed that significantly more Americans trust Trump on the economy compared to Democratic presidential nominee Joe Biden. While 48 percent said they trusted the president more with the economy, just 38 percent said the same of Biden. But polling from mid-July by ABC News/Washington Post showed that Biden was nearly tied with Trump when it comes to handling the economy, with 45 percent trusting the Democratic candidate compared to 47 percent who trusted the president more.
Morgan Stanley CIO Predicts 'Pretty Darn Good' Economic Recovery By Next Year | U.S.