Mormon Bishop Sam Young Facing Excommunication for Wanting to Stop Sexually Explicit Interviews of Children
Sam Young, a former Mormon bishop who staged a 23-day hunger strike in protest of the church's policy to conduct one-on-one interviews with children involving sexually explicit questions, has been warned he faces being excommunicated from The Church of Jesus Christ of Latter-day Saints.
Young, founder of Protect LDS Children, has been a constant critic of the church's practice of allowing Mormon leaders to interview children and youths alone.
Young believes many of the questions posed in the interviews are inappropriate. It is common for the leaders, often bishops, to ask the children about their sexual experience such as masturbation or viewing pornography in what is known as a "worthiness interview."
In July, Young announced in a statement on Facebook that he will be taking part in a hunger strike urging the church to scrap the interviews. The strike eventually ended after 23 days.
Young has now received a letter from the church delivered by "two long-term friends" which warns he faces possible excommunication during an upcoming disciplinary council meeting.
"The reason for this council is that you are reported to have acted repeatedly in clear, open and deliberate public opposition to the Church or its leaders," the letter says. The letter accuses Young of encouraging others to vote in opposition to the church leaders and organizing more than one public "action" to oppose the church.
"Fast 23 days. Stand up to protect children. Speak out against a dreadful policy. Work to help the healing of countless kids who were severely wounded behind closed doors. Document the horrors. Apologize," Young wrote in a blog post after receiving the letter. "And what do you get? Excommunication! After all, we are the Mormons. At least we used to be."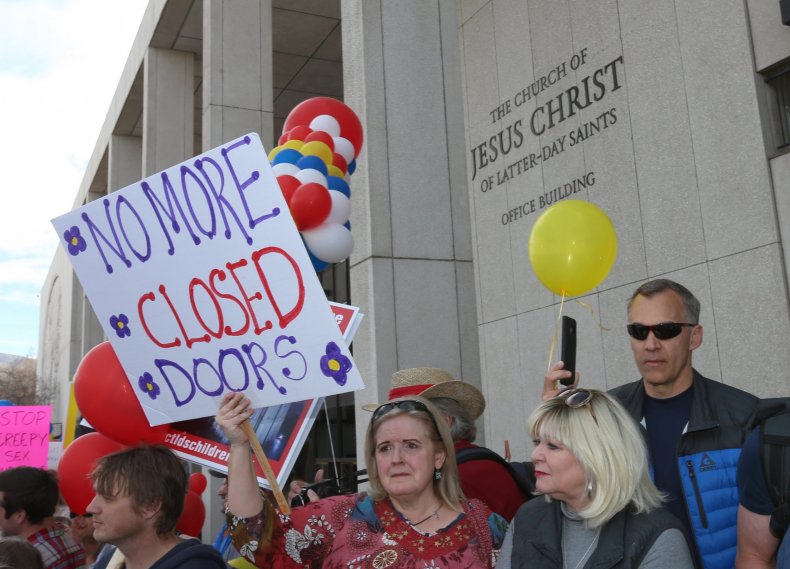 Young is not required to attend the hearing on September 9 and may submit his response in writing. It is not known what action he is deciding to take.
Before staging the hunger strike, Young led a march of hundreds to deliver a petition to the world headquarters of the Church of Jesus Christ of Latter-day Saints in downtown Salt Lake City, Utah, demanding an end to the one-on-one interviews which had been signed by more than 55,000 people, according to a release from Protect LDS Children.
In June, the church announced they have updated their guidelines on interviews with children as a result of Young's national exposure.
Under a section entitled "Protecting Against Misunderstandings," the church said children should now ask a parent or another adult to be in an adjoining room, foyer, or hall during the interview. The child can now also ask that another adult be invited to be present during the interview. "Leaders should avoid all circumstances that could be misunderstood," the guidelines say.
A list of simplified questions that should be asked to determine the child's worthiness were also made public, including "do you live the law of chastity?" and "have there been any sins or misdeeds in your life that should have been resolved with priesthood authorities but have not been?"
"Leaders adapt the discussion to the understanding and questions of the youth," the guidelines state. "They ensure that discussions about moral cleanliness do not encourage curiosity or experimentation."
The Church of Jesus Christ of Latter-day Saints did not immediately respond to a request for comment.