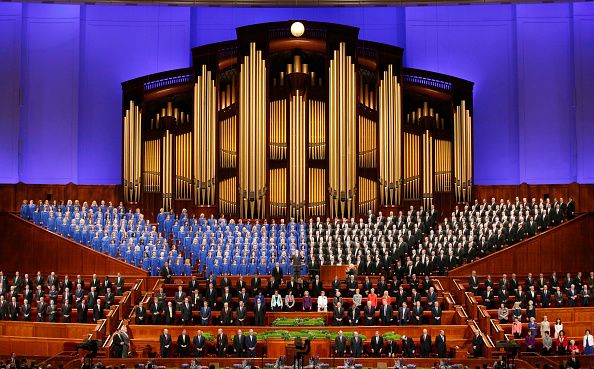 The Mormon church is still opposed to same-sex marriage, a leader of the Church of Jesus Christ of Latter-day Saints (LDS) reiterated at a conference on Saturday.
"We have witnessed a rapid and increasing public acceptance of cohabitation without marriage and same-sex marriage," Dallin H. Oaks, a member of the Quorum of the Twelve Apostles, a governing body for the Mormon religion, said at the twice-annual LDS Conference in Salt Lake City. All sessions of the conference are streamed live online so that members all over the world can tune in. "The corresponding media advocacy, education, and even occupational requirements pose difficult challenges for Latter-day Saints," he said. "We must try to balance the competing demands of following the gospel law in our personal lives and teachings even as we seek to show love for all."
But he made clear that showing love for all does not signal a shift in the religion's long-held stance against gay marriage, despite the Supreme Court's historic 2015 ruling that declared it a right in all 50 states. He reiterated that church teachings indicate that marriage should be reserved solely for heterosexual men and women.
"Even as we must live with the marriage laws and other traditions of a declining world," Oaks said, "those who strive for exaltation must make personal choices in family life according to the Lord's way whenever that differs from the world's way."
The latest declaration of opposition to same-sex marriage is hardly surprising. It comes two years after the LDS Church made controversial changes to its handbook on the subject. The revisions reflected the Church's doctrine that marriage must be between a man and a woman and labeled same-sex marriage an "apostasy" that demands discipline. In addition, a new policy held that children who live in a household with a parent in a same-sex relationship could not be blessed as babies or baptized until they turn 18. At that point, such children would have to choose between disavowing same-sex relationships and marriage (and stop living in a household where one exists) and joining the church. Church Elder D. Todd Christofferson of the Quorum of the Twelve Apostles suggested at the time that children would not be asked to "[disavow] their parents, but [disavow] the practice."
"The church has long been on record as opposing same-sex marriages," church spokesman Eric Hawkins said in a statement at the time. "While it respects the law of the land, and acknowledges the right of others to think and act differently, it does not perform or accept same-sex marriage within its membership."
The church has come under fire in the past for its work against same-sex marriage, particularly for its efforts to help pass Proposition 8 in California, which would amend the state constitution to declare that "only marriage between a man and a woman is valid or recognized." The proposition was later declared unconstitutional and barred from being enforced. LDS members canvassed neighborhoods and contributed roughly $20 million to support the proposition, according to Mother Jones. But the church later softened its approach.
"It seems like the [Mormon] hierarchy has pulled the plug and is no longer taking the lead in the fight to stop same-sex marriage," Fred Karger, an LGBT activist, told Mother Jones in 2013. But as Oaks reiterated on Saturday, that doesn't mean the church has embraced same-sex marriage either.