Photo of Mormon Founder Joseph Smith Jr. Found After Nearly 180 Years
A photo of Mormonism founder Joseph Smith Jr. was found after around 180 years and recently confirmed by one of his family descendants, but the church itself is less sure.
The daguerreotype was discovered in 2020 by Daniel Larsen, Smith Jr.'s great-great-grandson, who found it in a locket he dug out from artifacts he inherited from his mother, Lois Smith, Joseph Smith III's granddaughter, after she died in 1992.
"I just knew it was Joseph," Larsen said this week, the Salt Lake Tribune reported. "I looked at it for an hour or so with my wife. It was an emotional moment."
Larsen first thought the locket was a pocket watch in 1992 and tried to open it, but he couldn't because the release mechanism was bent, so he put it away and forgot about it for nearly three decades.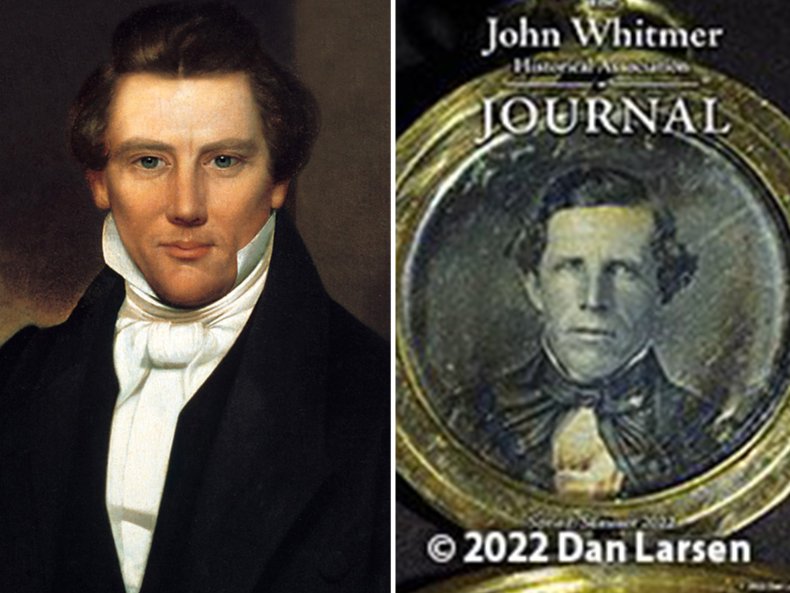 He revisited the watch locket during the COVID-19 pandemic and was able to open it this time. Larsen was able to confirm that it was Smith Jr. after shining a penlight on the face which wasn't instantly clear because the photograph was printed on metal instead of paper.
"When I did that, the image popped up. It was as sharp as could be," Larsen said.
Larsen stated that the "timing" is right for this photo to be published, adding that he believes "Joseph knows that, too."
Verifying Joseph Smith's Watch Locket Photo
The photograph was confirmed and published after 18 months of research and analysis that determined that this is the first known picture of Smith Jr., a man who said he saw God and Jesus in the woods of New York as a child and was the founder of the Church of Jesus Christ of Latter-Day Saints.
Smith family members and historians have long believed that a daguerreotype of the Mormon leader was created before he was assassinated on June 27, 1844, according to a report by John Whitmer Historical Association Journal called "Hidden Things Shall Come to Light: The Visual Image of Joseph Smith Jr."
Although an 1842 oil portrait of Smith has been circulating around since the 19th century, historians said that it is not the real portrayal of the Mormonism founder, according to the newspaper. The photograph didn't match the oil portrait painted by David Rogers as the eyes were more sunken than in the painting, the eyebrows were more rounded, and the lips were thinner.
Lachlan Mackay, Larsen's nephew and Smith Jr.'s great-great-great-grandson, stated he is convinced that the discovered daguerreotype in the watch locket is the true portrait of Smith Jr.
"This isn't surprising since Emma Smith herself [Smith Jr.'s wife] didn't think the portrait was a good likeness of her husband," said Mackay who is an apostle with the Community of Christ, according to the Salt Lake Tribune. "And that a good portrait of him couldn't be painted because his countenance was changing all the time."
Mackay and Larsen used facial recognition software to compare the painting with the photo which they thought could be of a different Smith relative such as Joseph's brother Hyrum who was gunned down the same day the religious leader died. But Mackay said that they didn't find any photographic evidence that would prove that the photo belongs to someone else other than Smith Jr.
However, The Church of Jesus Christ of Latter-Day Saints has its doubts whether this is the real photograph of Smith Jr.
The Mormon church said in a statement sent to Newsweek on Friday that potential donors bring artifacts to the Church History Library every few years for review, including "alleged photographs of the prophet Joseph Smith."
"We concur that the daguerreotype and locket were created of the materials and methods appropriate to the 1840s," the church said in the statement. "However, as nothing is definitively known about the locket's history before 1992, we cannot draw a conclusion about who is pictured in the daguerreotype," the church said in the statement.
"We welcome the recent publication of the image and hope it will prompt the discovery of additional information helpful to determining its authenticity," the church added in reference to the article by John Whitmer Historical Association.
Who Was Joseph Smith Jr.?
Born in 1805 in Vermont, Smith moved across Vermont, New Hampshire, and New York as he was growing up. His mother, Lucy Smith, said that he was often "given to meditation and deep study", according to PBS.
He was affected by the religious practices taking place around his home in 1820 in Manchester, New York, where he went to an isolated area in the woods to ask God which church he should join. He claimed that two "personages" who identified themselves as God and Jesus visited him while he was praying and told him not to join any of the churches.
He published the Book of Mormon in 1830 after he claimed that he was visited in 1823 by an angel named Moroni who told him about an ancient record that reportedly included God's dealings with former residents in the American continent.
In 1827, Smith retrieved this record, according to PBS, and translated its words, resulting in the published book. Smith was persecuted throughout his adult life before being killed along with Hyrum by a mob in Carthage, Illinois.
Read more about Mormonism here.
Mormon News
A fast-growing movement acknowledges the presence of God's wife. Mormons believe that God is a flesh-and-blood man, that he has a wife, and that their marriage is an example to all Mormons.
The conversation is now reaching a critical mass, with a stream of books, social media postings and an upcoming summit.
Holly Jane, a Mormon mom of four, recently spoke out about her experience as a nude model and the reason she's speaking out.
And earlier this year, a popular drive-thru baffled customers who asked if the shop was influenced by Mormonism.
Update: 07/22/22 6:05 p.m. ET: The story has been updated to include a statement by The Church of Jesus Christ of Latter-Day Saints.