Mormons Will Recognize Same-Sex Couples in Their Genealogy Database
A large genealogy database sponsored by the Mormon church has said it will soon allow same-sex couples to submit their information. But that does not necessarily mean that the Church of Jesus Christ of Latter-day Saints—which, in the past, has spoken out against the LGBTQ community—has changed its position on same-sex marriage.
"No judgments are made as to the legitimacy or character of the relationships found in these public records, nor can they be," church spokeswoman Irene Caso said, according to the Associated Press. "They are simply collections of data to be assessed for their genealogical value by each researcher."
The database, called FamilySearch, is run by volunteers and sponsored by the LDS church. It helps people connect with the history of their family.
"The goal of FamilySearch.org is to capture, store, and provide records and an accurate genealogy that represents past, present, and future families of the world," it said in a statement. "To support this goal, same-sex relationships, including same-sex parents and same-sex couples, will be provided in FamilySearch Family Tree."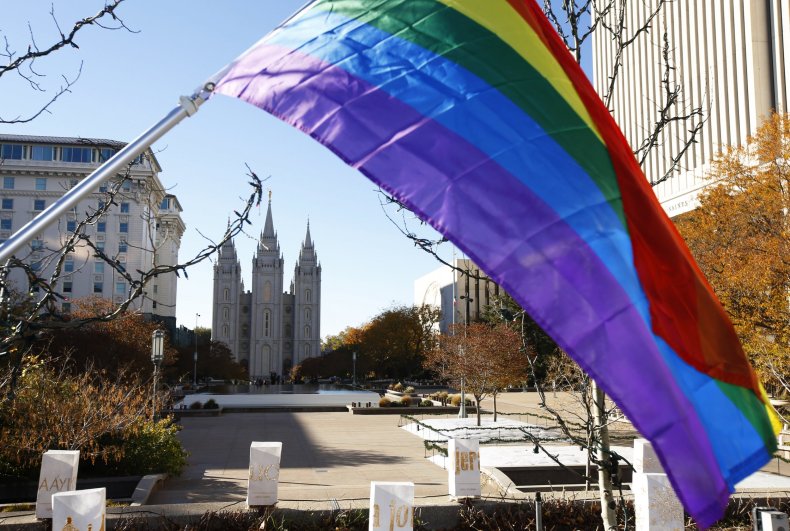 In the statement, FamilySearch said a number of systems had to be updated to accommodate same-sex relationships. It expected the work on the database to be finished by 2019, at which point same-sex couples would be able to record their information with the service.
The Mormon church has continued to recognize only marriages between a man and a woman since the 2015 Supreme Court decision that legalized same-sex marriages.
For a few years, the LDS church has emphasized an approach that supports nondiscrimination laws protecting the LGBTQ community in housing and employment but also advocates against what it feels is an erosion of religious freedom. It recently celebrated a Supreme Court victory for a Christian baker who said his faith prevented him from making a cake for a same-sex wedding.
"The Church of Jesus Christ of Latter-day Saints welcomes today's Supreme Court decision," church spokesman Eric Hawkins said earlier this month, according to the Deseret News. "The nation's laws can protect both religious liberty and the rights of LGBT citizens. That is the meaning of fairness for all."