Morning Joe Host Blasts Donald Trump's 2020 Re-Election Donors for 'Funding This White Supremacy'
MSNBC's Morning Joe host Joe Scarborough aimed at those donating to President Donald Trump's re-election campaign on Monday, accusing them of "funding" white supremacy in the wake of the El Paso mass shooting that left 20 people dead and 26 wounded.
"For those of you funding Donald Trump's re-election campaign, you may want to take note, that because you keep writing checks to this president, it's on you," Scarborough, who previously served as a Republican congressman but now identifies as an independent, said on his MSNBC morning show.
"You are funding this white supremacist campaign," he continued, specifically calling out CEOs, business people, millionaires and billionaires that back Trump. "It is your money that is funding this white supremacy," Scarborough said.
"Are you a white supremacist?" the former GOP lawmaker asked. "Does your company support white supremacy? Does a corporation that you run, do they support white supremacy? Because the attacks and the attempts continue," he asserted.
On Saturday, a gunman carried out a mass shooting at a Walmart in El Paso, Texas. Authorities arrested Patrick Crusius, 21, and named him as the suspect in the attack, which was believed to be motivated by anti-immigrant sentiments. A manifesto, believed to be linked to Crusius and published online just minutes before the attack, ranted against immigrants to the U.S. and referred to a "Hispanic invasion of Texas." Prosecutors on Sunday said that they were considering charging the shooter with federal hate crimes, and investigators said they were looking into the shooting as a domestic terrorism attack.
Although Trump quickly condemned the attack on Twitter and made a brief public statement expressing his condolences on Sunday, many have slammed the president for encouraging and inspiring racist and white supremacist sentiments. In the past, Trump has referred to Mexicans as rapists and has insisted repeatedly that Central American immigrants are "criminals." The president has also repeatedly referred to the wave of Latin American migrants coming to the U.S. as "an invasion," the same language used in the manifesto.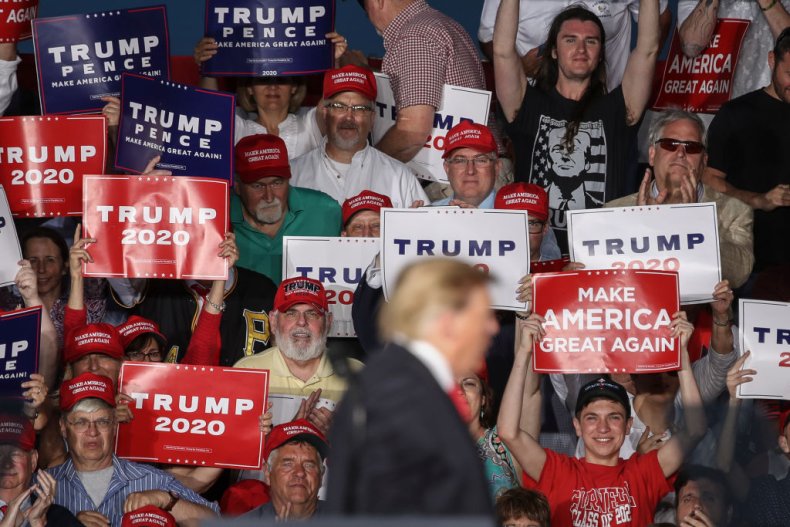 "He [Trump] is a racist and he stokes racism in this country," Democratic 2020 presidential hopeful and former Texas Congressman Beto O'Rourke said on Saturday following the attack. "And it does not just offend our sensibilities, it fundamentally changes the character of this country and it leads to violence," he added.
When asked by a reporter if some of the blame for the weekend shooting falls at the president's feet, O'Rourke replied: "Yes."
Although the president's daughter and adviser Ivanka Trump condemned white supremacy in a weekend Twitter post, the president referred to the incident repeatedly as a mental health issue. He did, however, suggest that his administration would be willing to take steps toward gun reform. On Monday morning, Trump tweeted that the government should come together to "get strong background checks" for gun purchasers. However, he also suggested that the policy change should be done in conjunction with immigration reform.
The president additionally attempted to shift blame for the violence to one of his favorite targets, the media. "The Media has a big responsibility to life and safety in our Country. Fake News has contributed greatly to the anger and rage that has built up over many years," he wrote on Twitter. "News coverage has got to start being fair, balanced and unbiased, or these terrible problems will only get worse!"