MSNBC's Morning Joe hosts on Thursday morning likened President Donald Trump's claims about voter fraud and purchasing cereal, amid a midterm elections recount in Florida, to the satirical publication The Onion and The Simpsons. They also gave him the nickname "Disney Don."
"There are moments when Donald Trump tweets things that I suppose we should be shocked by, but it just makes you laugh," Morning Joe co-host Joe Scarborough said after airing a clip from The Simpsons. "Yesterday's was so preposterous."
Scarborough continued: "I mean, Donald Trump's not even trying anymore. These are so preposterous again, and doing all to benefit a senatorial candidate in Florida who's going to end up winning anyway."
Co-host Willie Geist said, "I have to admit, Joe, when I saw that quote from the president in the interview he gave to The Daily Caller, I thought it was The Onion. I thought it was made up. There was no way that he could have said what he said."
Geist read part of Trump's claim to the conservative Daily Caller website from the previous day.
"People 'go to their car, put on a different hat, put on a different shirt, come in and vote again … It's really a disgrace what's going on,' the president of the United States said of the voting," Geist said, baffled.
Trump on Wednesday also told The Daily Caller that "The Republicans don't win and that's because of potentially illegal votes," and, "If you buy a box of cereal—you have a voter I.D. They try to shame everybody by calling them racist, or calling them something, anything they can think of, when you say you want voter I.D. But voter I.D. is a very important thing."
The Morning Joe panel then made fun of other unusual things about Trump including that he would reportedly call up reporters impersonating his own publicist.
"We should actually, maybe somebody should come up with a name for him because he spins these tales, what would it be?" Scarborough said. "Disney Don?"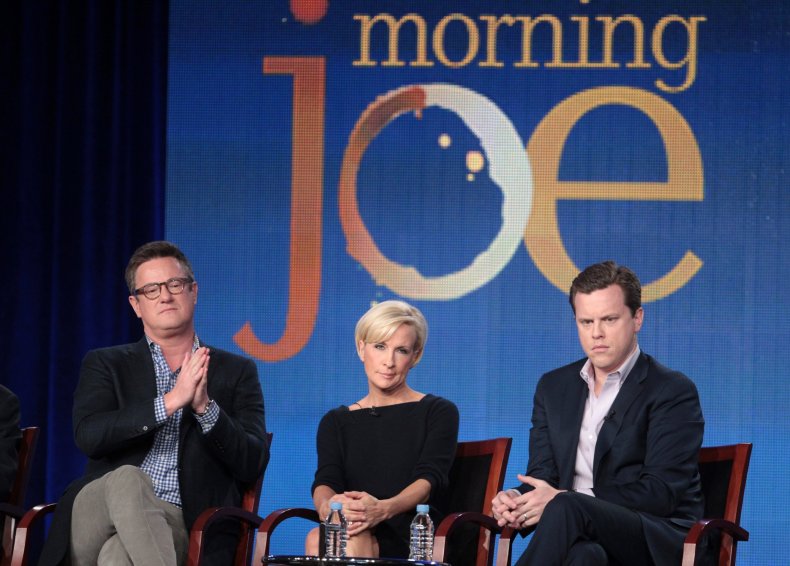 Trump, who has made thousands of false claims about people and events and often does not correct them, has also frequently given his rivals demeaning nicknames. Among his favorites have been "Crooked Hillary" for Hillary Clinton, "Creepy Joe" for potential Democratic 2020 presidential candidate Joe Biden, and "Lyin' Ted" for Texas Senator Ted Cruz before he ended up supporting the Republican in his battle against popular Democratic challenger Beto O'Rourke in the midterms.