'Morning Joe' Host Says Trump's VA Nominee 'Sounded Like Hitler's Doctor' When Praising President's Health
The hosts of MSNBC's Morning Joe had some less than complimentary things to say about Ronny Jackson, President Donald Trump's nominee to lead the Department of Veterans Affairs.
Confirmation hearings for Jackson—the current White House physician—have been delayed this week amid what Senator Mike Rounds (R-South Dakota) described to NPR as "serious" but "unsubstantiated allegations." There have been concerns about Jackson's ability to head the massive VA bureaucracy and reports that suggest improper behavior in the workplace.
Prior to receiving the VA nomination, Jackson made headlines for a January press conference during which he glowed about Trump's health. During the conference, Jackson said that with a better diet, the former reality TV star could live to be 200.
"That display about the president's health I thought was quite incredible," host Mika Brzezinski said Tuesday morning, via a clip posted to Mediaite.
"Incredible is a very nice word for it, Mika," co-host Joe Scarborough responded. "I thought it was embarrassing. It was just shameful."
"You could hear a sucking sound in the room," Brzezinski said.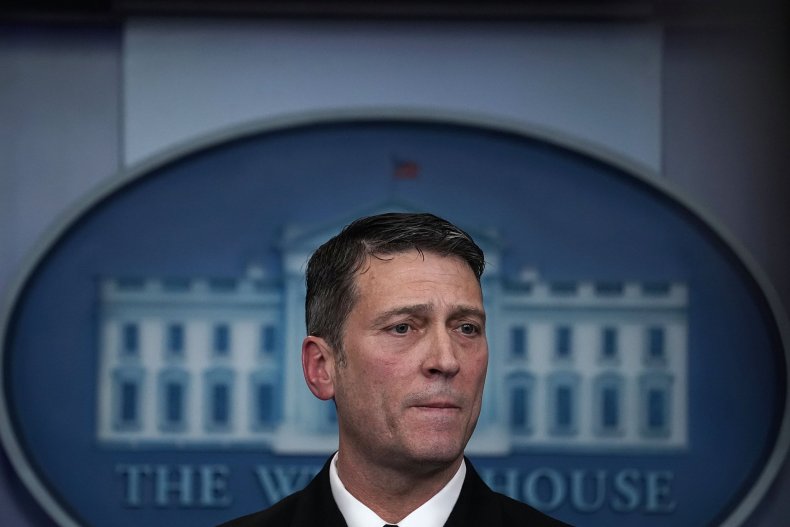 From there, Scarborough said Jackson's insistence on praising the president reminded him of how a doctor might have interacted with Hitler.
"The topper of it all, the pièce de résistance, when he said—and it sounded like Hitler's doctor, I'm sorry—'Hey, you know what, his genes are so good.' If Hitler's doctor had a Brooklyn accent, 'His genes are so good, he could live to be 200 years old,'" Scarborough said, via the Mediaite clip.
Scarborough then recalibrated the Hitler comments, opting for a comparison to North Korea.
"Strike Hitler—let's just say Putin or another autocrat," Scarborough said. "North Korean doctor actually might be a tighter fit. 'Fearless leader's genetics are so pure and so strong that fearless leader could live to be 200 years old.'"
Meanwhile, lawmakers have been hesitant to share what exactly is causing issues with Jackson's planned confirmation process.
"I can tell you we're vetting out Jackson," said Senator Jon Tester (D-Montana), the Senate Committee on Veterans' Affairs ranking Democrat, according to the Washington Post. "I can't get into specifics, but we're doing our job to make sure he's fit for the job."