'Morning Joe' Hosts Call Al Franken Ouster Political, Democrats Hypocritical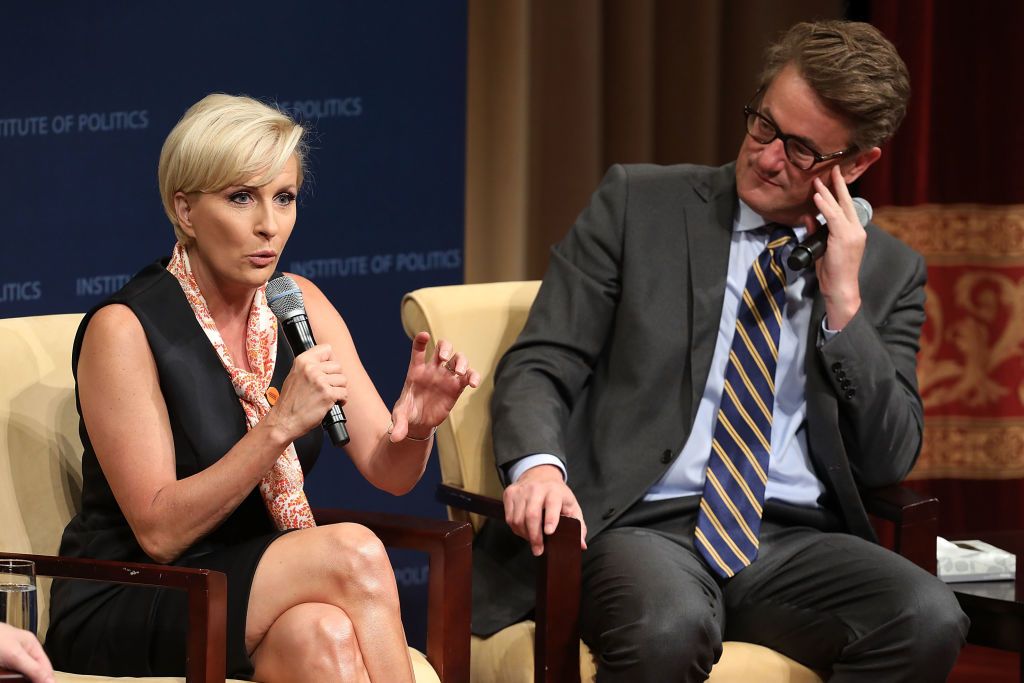 Al Franken gave his farewell address on the Senate floor on Thursday, excoriating President Donald Trump and the GOP on his way out. On Friday morning, the hosts of Morning Joe, Joe Scarborough and Mika Brzezinski, played a clip of Franken's speech and then laid into Democrats for allowing and even lobbying for him to go. The ouster was political, agreed the hosts, who have previously discussed signs that #MeToo has gotten out of hand.
"I have to admit that it feels like we're losing the war for truth," Franken said. "Maybe it's already lost. If that's what happens, then we have lost the ability to have the kinds of arguments that help build consensus," he added. "The Republican tax bill represents a slap in the face to those forgotten men and women" that Trump appealed to in his campaign. "I guess the president forgot about them."
Scarborough and Brzezinski, in turn, implied that Democrats have forgotten about Franken and that the media has neglected to look closely at the way sexual misconduct allegations against him first came to light.
"I thought that was a little chilling to hear him talking about the war on truth, because it does feel like we're in an all-out war on truth, on every level," Brzezinski said after the clip finished playing.
Scarborough agreed that "a lot of it was chilling" and reminded viewers that Roger Stone, an infamous political operative and former campaign advisor for Trump, seemed to know that Franken would face allegations hours before Leeann Tweeden, a radio news anchor at KABC-AM, came forward to accuse the senator of kissing and groping her.
"Why hasn't anybody checked up and seen exactly how Roger Stone knew about this from a conservative talk radio host nine hours before it happened? I'm just curious—is no one curious out there that's doing all of these stories?" Scarborough said. When Brzezinski said she was curious, Scarborough replied, "No but you can't be because you'll get killed for saying it doesn't feel right in this case."
He further criticized Democrats for being inconsistent on due process. "The Republicans believe in due process. I'm just wondering why is it that the Democrats believe in due process one second and the next second they don't believe in due process for Al Franken," he said. "A guy they served with and a guy they all went up and hugged after telling him to get the hell out of the Senate because of something that Roger Stone announced to the world."
Brzezinski talked about the risks involved with questioning any sexual misconduct allegations in the current environment, and tied the Franken case back to politics and the history of the party.
"That is yesterday's Democrat, navigating the fact that—I'm sorry to use the term—in bed with the Clintons," she said. "The unspeakable hypocrisy that they carry on their shoulders every day, that's yesterday's Democrat. Today's Democrat has to understand that we live in a new, honest, very complicated world and that everybody involved in these situations has to call it as they see it, not call it as they think the way the wind is blowing, and they went the way the wind was blowing with Al Franken," she added. "Every case is different. This one is political as well as problematic."