'Morning Joe' Calls Out 'Hypocrisy' of Melania Trump's Anti-Bullying Campaign: 'She Attacked Me,' Says Mika Brzezinski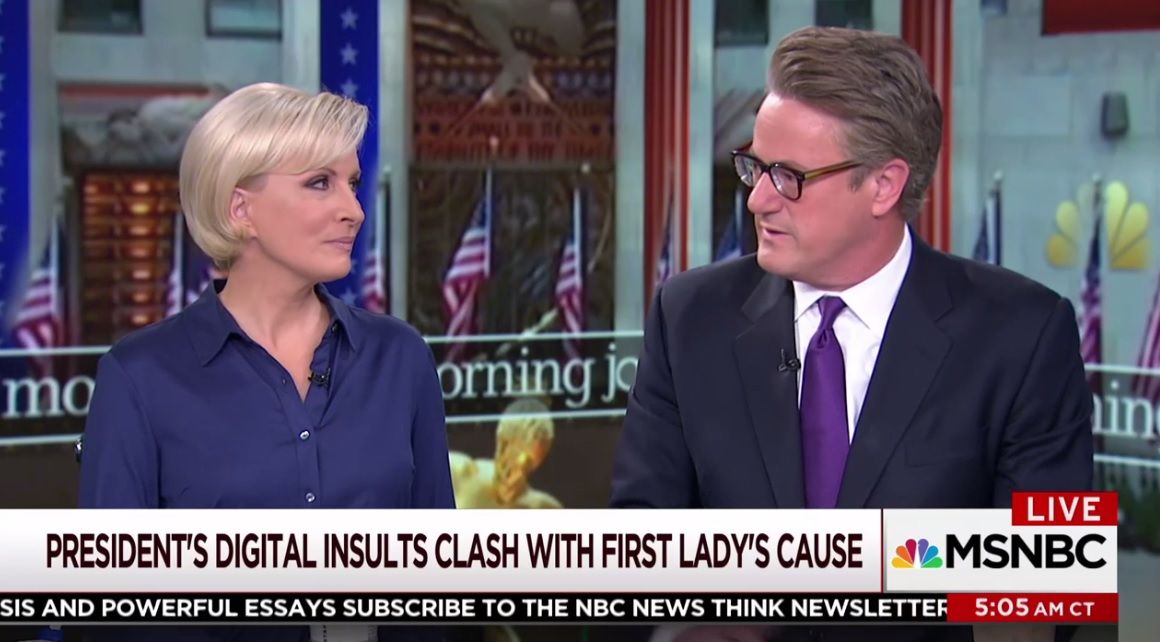 MSNBC's Joe Scarborough and Mika Brzezinski have called out first lady Melania Trump's anti-cyberbullying campaign for hypocrisy, given husband President Donald Trump's brazen use of social media to attack his rivals and purported "fake news" media outlets.
"Maybe should she start with Patient X, or Patient Zero.... She sleeps actually with the worst bully in America," Scarborough said on Tuesday's Morning Joe, a day after Trump spoke to a lunchroom full of Michigan schoolchildren.
"That's an interesting thing for Melania to pick considering...well, I mean, all the insults," said Scarborough about the first lady's campaign against cyberbullying. He pointed to Trump's tweets about Bob Corker, Marco Rubio and even "the Mika thing," referring to Trump's bizarre attack on Scarborough's fiancée and co-host in June.
"At least Melania stepped out and condemned him," Scarborough said sarcastically.
Brzezinski added, "No, no...she attacked me."
It's unclear what exactly Brzezinski was referring to, but after Trump's June remarks about the MSNBC host "bleeding badly from a face-lift," the first lady's communications director said that "when her husband gets attacked, he will punch back 10 times harder." Melania Trump also denied being acquaintances with Brzezinski in July, adding, "It is sad when people try to further their own agenda by commenting on me and my family."
Watch the segment below:
Both Scarborough and fellow anchor Willie Geist noted the "hypocrisy" of the cyberbullying campaign, while political analyst Mark Halperin pondered "how historians are going to write about the Trump administration. This is not a huge thing in the scheme of things, but it's going to be hard for historians to explain this."
Brzezinski then brought up the already tense situation between the U.S. and North Korea, particularly Trump's verbal missives against Kim Jong Un. "If you look at Melania speaking to children about making a friend and not bullying, and then you look at her husband talking about 'Rocket Man' and actually bullying what many consider the crazy leader of North Korea...this is our foreign policy? It's bullying?" she said.
Scarborough concluded the segment by saying that when historians one day explain the Trump presidency's hypocrisy, "this would be a good place to start...the first lady actually going out and having the audacity to talk about anti-bullying."