'Morning Joe' Jokes About Trump And STDs: 'Maybe That's Why They Raided His Doctor's Office'
The hosts of MSNBC's Morning Joe somehow ended up joking about President Donald Trump and sexually transmitted diseases on Wednesday. Things, perhaps predictably, got uncomfortable.
The exchange began when MSNBC contributor Elise Jordan said, via a video clip posted to Mediaite, "I like this analogy from Stephanie [Ruhle] You leave [the White House] with the political equivalent of an STD, to talk about something that Donald Trump worries about constantly. It's something that you just don't get rid of very easily."
Co-host Joe Scarborough quickly jumped in and referenced a previous comment from the former reality star comparing having sex and avoiding STDs to war.
"It's amazing, I can't even believe it. I've been so lucky in terms of that whole world, it is a dangerous world out there," Trump told Howard Stern in a radio interview in 1997. "It's like Vietnam, sort of. It is my personal Vietnam. I feel like a great and very brave soldier."
So, that in mind, Scarborough jumped into the discussion Wednesday and said, "Donald Trump would even say that this would be like one of his staffers' personal Vietnam."
"Wait a minute!" co-host Mika Brzezinski responded, via the Mediaite clip. "Maybe that's why they raided his doctor's office?"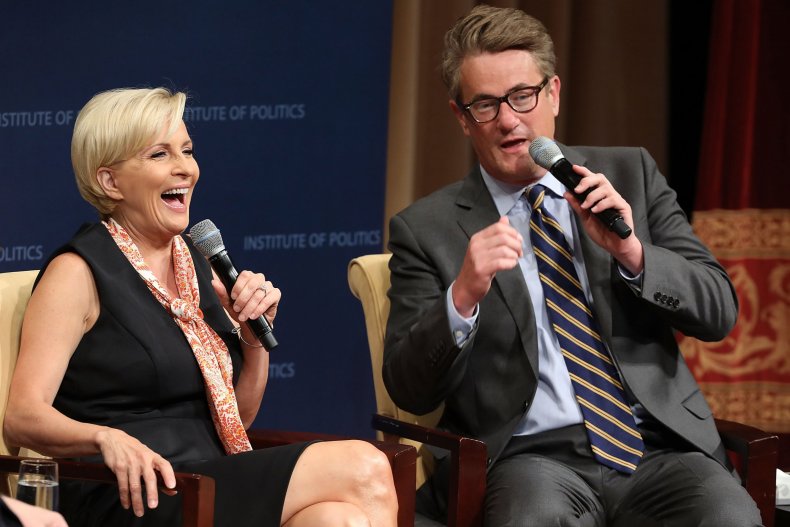 Brzezinski was referencing the recent claim from Trump's doctor that the president's associates raided his office and took medical files.
After a brief moment of silence, Scarborough broke the awkwardness by addressing Mike Lupica, an author who was on the show promoting a book.
Dr. Harold Bornstein claimed the president's associates took files related to a hair-growth medicine in February of last year. "I couldn't believe anybody was making a big deal out of a drug to grow his hair that seemed to be so important," Bornstein told NBC News. "And it certainly was not a breach of medical trust to tell somebody they take Propecia to grow their hair. What's the matter with that?"
White House Press Secretary Sarah Huckabee Sanders told the news outlet that Bornstein's characterization of a "raid" was inaccurate and that standard operating procedure was followed.