'Morning Joe' Scarborough Embraces Donald Trump's 'Psycho' Label, Responds to Ratings Bashing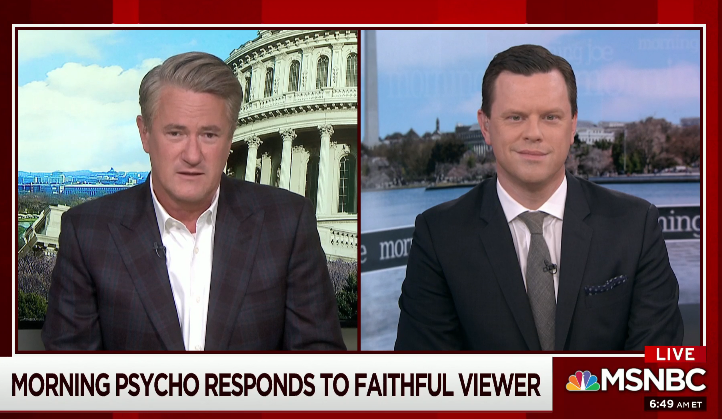 MSNBC's Morning Joe panel ridiculed President Donald Trump's series of early Tuesday morning tweets attacking The New York Times, Paul Krugman, the mainstream media and "Morning Psycho."
Co-host Joe Scarborough reveled in being one of the targets named in Trump's Tuesday morning tirade in which the president accused Twitter itself of being "discriminatory" against Republicans and claimed Morning Joe helped propel him into the White House. The president labeled Scarborough "Morning Psycho (Joe)" and complained he gets no respect or positive stories from The New York Times or the so-called MSM. However, Trump did take time to tout his favorite morning cable news program -- which is also the highest-rated: Fox & Friends.
Among several other jokes, including suggesting he should "flex" while Trump watches, Scarborough embraced the Trump trash talk, asking the show's producers to insert a chyron reading, "Morning Psycho Responds to Faithful Viewer."
"Sorry to say but @foxandfriends is by far the best of the morning political shows on television. It rightfully has BY FAR the highest ratings, not even close. Morning Psycho (Joe), who helped get me elected in 2016 by having me on (free) all the time, has nosedived, too Angry," Trump tweeted Tuesday morning.
Trump continued, "Dumb and Sick. A really bad show with low ratings - and will only get worse. CNN has been a proven and long term ratings and beyond disaster. In fact, it rewarded Chris Cuomo with a now unsuccessful prime time slot, despite his massive failure in the morning. Only on CNN!"
Scarborough laughed off the Twitter criticism from Trump, who did appear frequently on the MSNBC program often in a flattering light prior to his 2016 Republican Party nomination.
"He's having trouble this morning, right now he's going off on a conspiracy about how Twitter is rigged against him," Scarborough said Tuesday. "And attacked The New York Times in a way we don't find laughable. He's having a bad morning...proving once against just how bad the Mueller report was for him."
"Mika we have a few tweets from the president, since he mentions us. Hi, Donald. How are you doing, we love that you watch us, we hope you're doing okay," Scarborough responded on-air. "No I really don't," Mika Brzezinski muttered.
"Tell him to stop watching, this is a sickness, he's got to stop," Brzezinski said.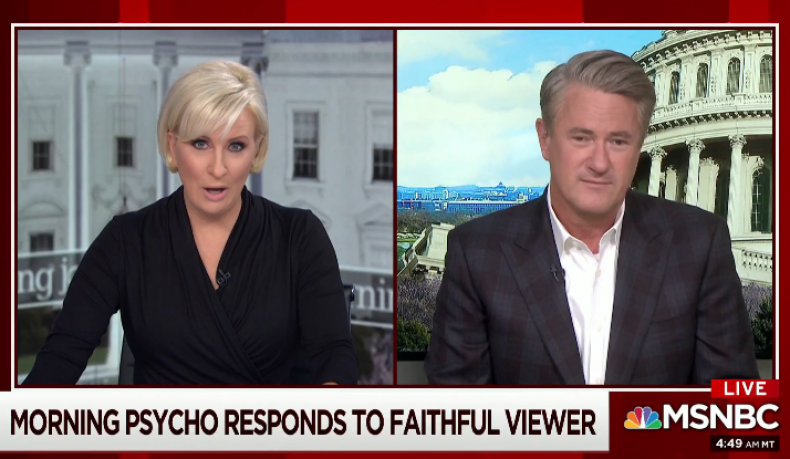 This is far from the president's first shot at Morning Joe's ratings, which dramatically improved, ironically, since Trump's 2016 election. According to Nielsen ratings through last month, the MSNBC program is up 10 percent compared to the first quarter of 2018. Although still consistently falling behind Fox News' Fox & Friends morning show, FNC and CNN have been down in year-over-year ratings in that time slot.
Fox & Friends, the flagship morning show which runs from 6 a.m. to 9 a.m. ET, has recorded 209 consecutive months as the highest-rated morning show in cable news with 1,463,000 viewers and 289,000 in the demo.
Both morning cable news shows have drastically higher ratings than CNN's New Day program.
Trump complained presidents of the past received more positive news coverage, echoing a sentiment he shared in a February interview with his hometown New York City newspaper in which the president asked for a single "great" story from The New York Times: "just one—from my newspaper," he asked of the publication he also referred to again as "fake" and "the enemy of the people."
"In the 'old days' if you were President and you had a good economy, you were basically immune from criticism. Remember, "It's the economy stupid." Today I have, as President, perhaps the greatest economy in history...and to the Mainstream Media, it means NOTHING. But it will!" Trump tweeted Tuesday.
Morning Joe continued having fun with Trump's critique, repeatedly saying they'd return with "more psycho joe" after commercial breaks. Scarborough also superimposed a "Psycho Joe" band name onto a t-shirt showing him performing.
"Well Donald, thank you because I remember you telling Jeff Zucker you didn't need CNN, the entire network of CNN, but you were saying our show was so powerful we helped get you elected," Scarborough said. "If that were the case, if we could get people elected, Mitt Romney would be president, before that it would have been Jon Huntsman. Thank you so much for watching, we appreciate it."