'Morning Joe' Scarborough Puts Blame on Spotify Amid Joe Rogan Controversy
Joe Scarborough, host of the MSNBC show Morning Joe, hit back against Spotify for not "doing enough" on Monday as the company attempts to navigate backlash for allowing controversial podcast host Joe Rogan on its platform.
Scarborough reacted to an announcement made by Spotify this weekend stating that they will add an "advisory" to all COVID-19 related content on its streaming service after Rogan was accused of spreading health and vaccine misinformation.
Rogan's podcast has caused an outcry of complaints from musicians and listeners in the past week, leading to legendary artists Neil Young and Joni Mitchell pulling their music from the platform in protest.
"We know we have a critical role to play in supporting creator expression while balancing it with the safety of our users," Spotify CEO Daniel Ek, wrote in a public letter on Sunday. "In that role, it is important to me that we don't take on the position of being content censor while also making sure that there are rules in place and consequences for those who violate them."
In their announcement, Spotify did not name Rogan specifically, which lead some critics to point out that they are still not doing enough to prevent misinformation or address listener's concerns.
"This is so stupid," Scarborough said during a Morning Joe segment Monday.
"What Spotify said was a total copout. When they go, 'we're going to label any discussion about COVID,' no—you don't label any discussion about COVID—you just label the garbage discussions where people are coming on with conspiracy theories and talking about ivermectin, and about all these other things that the medical field [and] the medical community disagree with," he added.
Scarborough said that placing a content advisory on all COVID-19 information would make listeners feel that Rogan's podcast is in the same vein as information coming from data-driven medical experts.
Earlier this month, Rogan particularly came under fire for featuring virologist Dr. Robert Malone who has been known to spew "several falsehoods about COVID-19 vaccines," according to a letter signed by more than 200 professors and public health experts.
"He'll let anybody come on his show, lie about anybody, slander anybody and spread lies and then have someone from the other side," Scarborough said on Monday. "You can't have it both ways, but Spotify is allowing him to have it both ways."
However, the MSNBC host ultimately added that Rogan is an "entertainer" and put the blame on Spotify to find a better solution to combat misinformation.
"It's not Rogan, it's Spotify," he said. "He's an entertainer and he never said he is anything else, but an entertainer. He should be free to say what he wants to say. It is Spotify here that really—they've got to do better," he added, while calling the company a "valueless void."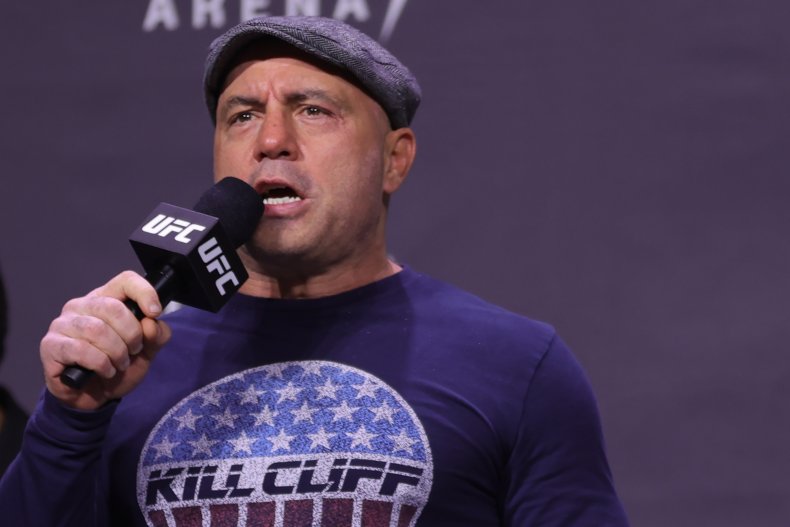 For his own part, Rogan said in a nearly 10-minute long Instagram post on Sunday that he would be open to having "more experts with differing opinions right after I have the controversial ones."
"My point of doing this is always just to create interesting conversations and ones that I hope people enjoy," he added, while also admitting that he doesn't always do research on his guests before he has them on the show.
Rogan, a comedian, actor, and former UFC commentator, signed an exclusive deal with Spotify in 2020 for his podcast The Joe Rogan Experience that is reportedly worth $100 million, according to The New York Times. His show is currently the most popular podcast on the platform.
Newsweek contacted Spotify for additional comment, but did not hear back in time for publication.