First Look at Jennifer Aniston-Reese Witherspoon Drama 'Morning Show' for Apple TV+
Early-morning TV is ripe for drama and that's exactly what we can expect from the new Jennifer Aniston-Reese Witherspoon series, The Morning Show. On Monday, Apple released the first teaser trailer for the show, coming to Apple TV+ this fall.
"Guess what? America loves me," Aniston's character, morning anchor Karen Kessler, says off-screen. In the clip, a camera pans through the dressing room of a fictional morning show, with voiceovers from Witherspoon, Steve Carrell and Billy Crudup.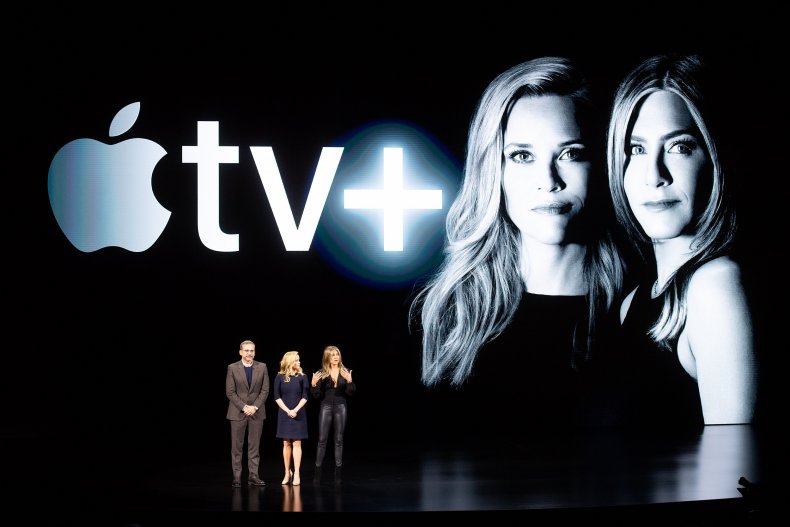 "I feel like people are screaming for honest conversation," says Carrell, playing Kessler's co-host Mitch Kessler.
"I think they want to know the person behind the facade." adds Witherspoon's Bradley Jackson.
Details about The Morning Show are being held tightly under wraps, but here's what we know about the highly anticipated new series.
What is it about?
The Morning Show is an inside look into the early-morning news programs that wake up millions of Americans every day.
Created by Michael Ellenberg, it's loosely based on Brian Stelter's book Top of the Morning: Inside the Cutthroat World of Morning TV and executive produced by Aniston and Witherspoon, along with showrunner Kerry Ehrin (Bates Motel) and director Mimi Leder (The Leftovers).
Leder has had a long trailblazing career in Hollywood: She is one of only three women to have won an Emmy for directing in a drama series, winning for ER in 1995. She was also the first woman to direct a big-budget blockbuster—Deep Impact in 1998. At the time, it became the highest-grossing film directed by a woman, a record beaten by Patty Jenkins for 2017's Wonder Woman.
Why it matters?
It's the flagship drama for Apple's new streaming service, Apple TV+, after Apple won a multiple-outlet bidding war for the show. The tech giant ordered the show straight-to-series, green-lighting a two-season, 20 episode order—rare for a new series.
It's also the first time Carrell and Aniston will return to TV as series regulars since the NBC shows that made them famous, The Office for Carrell and Friends for Aniston. Witherspoon previously worked with Aniston on two episodes of Friends, playing Rachel's sister Jill.
Aniston, Witherspoon and Carrell all appeared at Apple's big announcement event back in March.
Apple has reportedly spent $1 billion on scripted shows for its new streaming platform, working with top-tier talent like Oprah Winfrey, Steven Spielberg, Ron Howard, Octavia Spencer and M. Night Shyamalan, among others.
The Morning Show will be released sometime in fall 2019, with an exact date yet to be announced .