Why 'The Morning Show' Had a Responsibility to Address COVID in Season 2
The Morning Show returns to Apple TV+ tomorrow (Friday, September 17) and much like last time, Season 2 is set to address another important real-life global issue.
The crux of the first season highlighted the Me Too and Time's Up movements with story lines that mirrored real world events of sexual assault and misconduct at television networks. The upcoming season will feature the continued repercussions of those events, but also the rise of the COVID pandemic at the start of 2020.
Jennifer Aniston and Reese Witherspoon of course return to lead the show as Alex Levy and Bradley Jackson, but Newsweek sat down with cast members Billy Crudup (Corey Ellison), Mark Duplass (Chip Black) and newcomer Julianna Margulies (Laura Peterson) ahead of the new series.
The Morning Show Has a "Business Model"
Apple TV+'s The Morning Show is based around a fictional morning news show of the same name, and often mirrors reality with its content. Newsweek asked Crudup if he thought The Morning Show had a responsibility to make the coronavirus pandemic a part of the new season.
"Well, it does appear to be their business model," Crudup said.
"I think it's a great analogue to what morning news programs have to do five times a week, which is pivot on a dime as the world changes underneath them, and still keep it entertaining." The Morning Show writers had to pivot their entire season in a big way in the lead up to Season 2.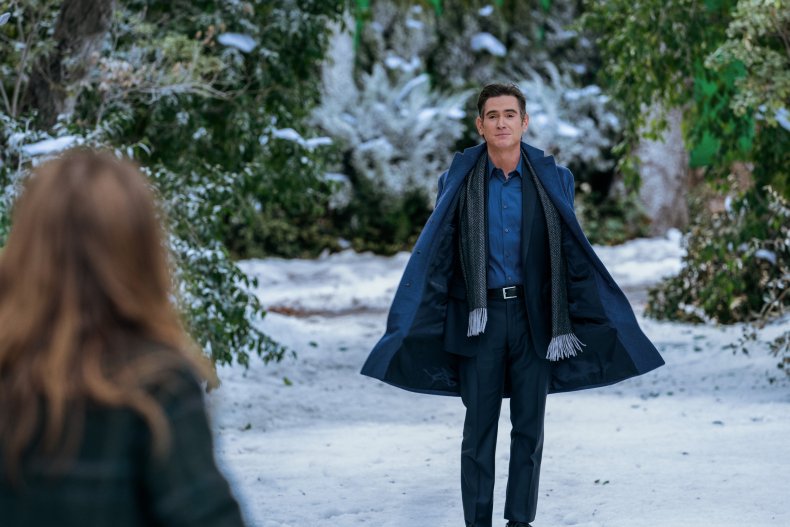 Production for Season 2 began in late February 2020, but had to halt just a few weeks later due to the pandemic. When the show returned to production on October 19, 2020, the scripts had been rewritten to include COVID as a major plot in the series.
In fact, Season 2 is predominantly set during the three months leading up to the COVID era, when lockdown measures were implemented.
Crudup told Newsweek: "They [real morning news shows] have got to still keep it palatable for their viewers, to still create characters in our anchors and the people who deliver the news that are reliable and that are a comfort for us to be around. I think The Morning Show continues to try to do this job, but to do several things at once."
Picking Up the Pieces of Season 1
While The Morning Show inevitably addresses the pandemic, there's still plenty of fallout from the events of Season 1.
We find fired news producer Chip Black working away from UBA after he was made the scapegoat for sexual misconduct allegations, however Duplass doesn't feel any sympathy for his own character.
"I love Chip a lot but as much as he was one of the better white males in power in Season 1, he definitely had a lot of blind spots," Duplass said. "He was complicit by not calling out and rooting out some of that behavior before it got to that bad spot. So he's gonna have to eat a little bit of shit -- and I think he should."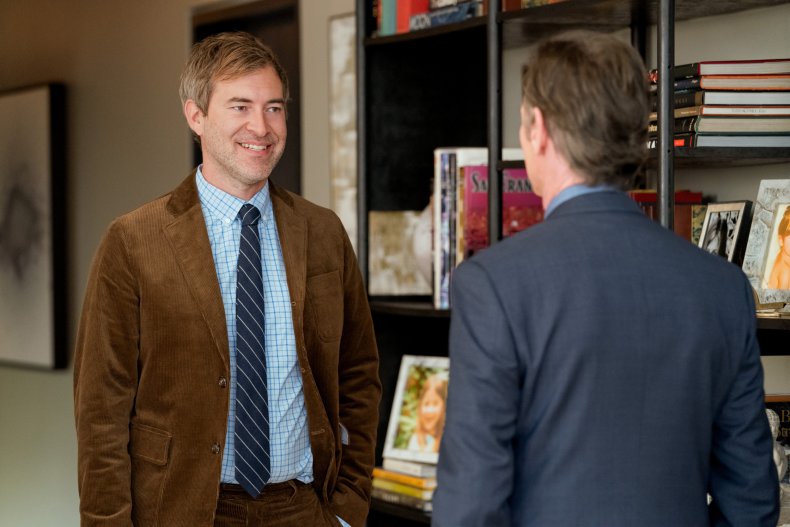 Season 1 definitely left a mark on one-time viewer, now series regular Margulies. She's signed up to play the intimidating journalist Laura Peterson who Margulies told Newsweek is a mixture between Diana Sawyer, Rachel Maddow and Christiane Amanpour.
"It was one of those shows that I actually was a bit hesitant to watch at first because I felt like I just lived through the Me Too movement, and I didn't want to spend my evenings with it. I watched the pilot and I went: 'Oh, that's good and then I watched the second episode and it became my guilty pleasure," Margulies said.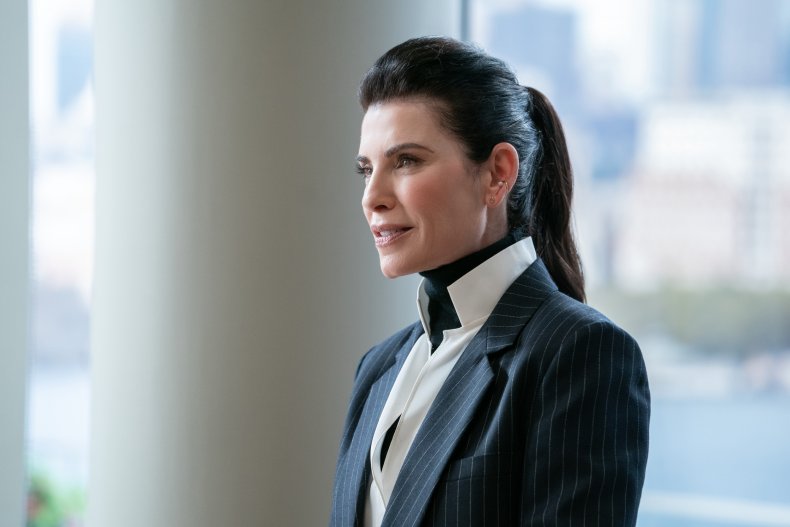 By the time the creators of the show tapped her up for a starring role, Margulies already knew her answer: "I got the call that they were asking me to come and join them. They said 'we'll send you the character' but I would have come anyway. I don't know if I would have had to be that sold on the character as well but I loved her."
Improvising With Jennifer Aniston
Duplass' character found himself on the outside at the start of Season 2 and Aniston's character Alex is also absent from The Morning Show at UBA as her co-host seat has been taken by newcomer Eric Nomani (played by Hasan Minhaj).
Alex and Chip were close throughout Season 1, but ultimately fell apart. Duplass thinks his character's "co-dependent relationship" with Alex Levy features heavily again in Season 2 as the two reunite for screen time.
"My relationship with Jen is really great and we both we really like each other. We really like doing scenes together, we really enjoy our two person interpersonal dynamics and we sometimes improvise a little bit and we try things out and surprise each other."
Duplass continued: "I think that the fact that Jen and I like each other so much infuses the nature of the chemistry between Alex and Chip who clearly have a love hate relationship."
"My Least Favorite Year," the first episode of the 10-part Season 2 of The Morning Show will be available to watch from Friday, September 17, on Apple TV+.
Each new episode will air weekly on Friday until the season finale on November 19, 2021.