'The Morning Show': Why the Apple TV+ Series Is Part of a $44 Million Lawsuit
Always Smiling Productions, the makers of Apple TV+'s The Morning Show, has filed a lawsuit in federal court against its insurer over the delays to Season 2 of the series starring Jennifer Aniston and Reese Witherspoon.
The defendant in this suit is Chubb National Insurance, the company offering cover to the show when it had to shut down filming during the COVID-19 pandemic.
However, the insurance and production companies are in disagreement over the sum of $44 million, and in particular how that figure was calculated.
Here's a breakdown over what the two sides of this Morning Show lawsuit are fighting over.
The Morning Show Lawsuit Explained
When TV shows and movies film in the U.S. and around the world, they take out insurance to cover the financial risks of filming, to cover things like actors getting injured, equipment getting damaged, or other factors causing delays.
For The Morning Show, per The Hollywood Reporter, Always Smiling had $125 million in what is known as cast coverage, which covers delays to filming if a cast member dies, gets injured or ill.
This coverage is why, for example, Tom Cruise reportedly changed insurance companies on Mission Impossible: Ghost Protocol in 2011 after the movie's original insurers were uncomfortable with the idea of him doing the movie's famed Burj Khalifa stunt himself due to the costs they would incur if Cruise got injured or died performing the stunt.
Per The Morning Show lawsuit, Chubb covered the series in case of cast "death, injury, sickness, kidnap, or compulsion by physical force or threat of physical force."
The series also has further insurance to protect the production in the case of imminent peril at their shooting location.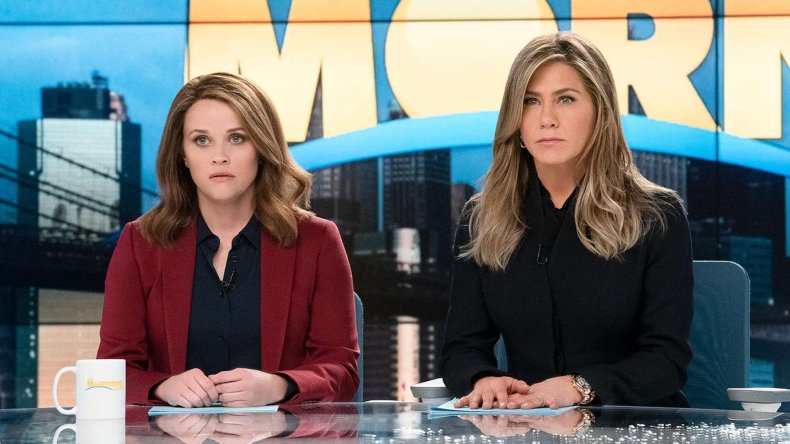 In March 2020, The Morning Show was one of hundreds of series that was forced to suspend production amid the coronavirus pandemic.
So far, Chubb has agreed to pay $1 million due to the series' civil authority coverage, which causes the insurer to pay out if government orders interfere with a production's ability to use facilities—such as when CDC and Los Angeles guidelines saw productions forced to stop.
However, Chubb and Always Smiling are battling over a lot more than that.
In the lawsuit, Always Smiling claims that it had "purchased insurance that promised to protect it against losses from production delays and threats to the well-being of cast members."
It later added: "Instead of honoring its agreement with Always Smiling, Chubb adopted arbitrary restrictions on the coverage available...Chubb adopted these interpretations to save itself millions of dollars that it otherwise would owe Always Smiling and its other insureds for their covered losses."
Chubb, in contrast, argue that COVID-19 does not fall under its terms. Per the filing, it claims that the policy covers production from "direct physical loss or damage to property," and that "the actual or threatened presence of SARS-CoV-2 does not constitute such 'direct physical loss or damage.'"
The lawsuit goes on to claim that "Chubb ignored decades of court decisions holding that the presence of a hazardous substance in or on property constitutes such 'direct physical loss or damage to property'."
It also adds that the insurer was aware of the risk of viruses and/or pandemics on productions.
As The Hollywood Reporter points out, however, of nearly 2,000 lawsuits made against insurers following the COVID-19 pandemic, 93 percent of those have been dismissed after the court heard dismissal notices.
Newsweek has reached out to Always Smiling's lawyers and a representative for Chubb for comment, and will update this article when we get a response.
As for viewers eagerly anticipating The Morning Show Season 2, production resumed in October 2020, and it will air on Apple TV+ on September 17.