Apple TV's 'The Morning Show' Renewed For Season 3 — Everything We Know So Far
Just two months after Season 2 concluded, Apple TV+ has renewed The Morning Show for a third season. Alex Levy (played by Jennifer Aniston) and Bradley Jackson (Reese Witherspoon) will be back on our screens to brighten our mornings, alongside Cory Ellison (Billy Crudup) and Chip Black (Mark Duplass) working behind the scenes.
There will also be a new showrunner behind The Morning Show. Charlotte Stoudt, who previously has worked as an executive producer on Fosse/Verdon will take over from Season 1 and 2, replacing showrunner Kerry Ehrin. Newsweek has everything you need to know about the upcoming series including release date, cast, plot, and more.
When Is The Morning Show Season 3 Out on Apple TV+?
Unfortunately at the moment, Season 3 of The Morning Show does not yet have a release date.
If the release pattern of the previous two seasons of The Morning Show is anything to go by, fans can expect The Morning Show Season 3 to premiere on Apple TV+ in Winter 2023.
Production and the subsequent release of Season 2 faced delays due to the outbreak of the coronavirus pandemic, so it is possible The Morning Show could arrive on screens sooner than expected.
Announcing the news of the show's renewal, Matt Cherniss, head of programming for Apple TV+ said in a statement: "It has been thrilling to watch The Morning Show go from strength to strength over the past two seasons, exploring topical storylines that have resonated with audiences around the world while also being incredibly addictive and entertaining.
"We're excited to see where Charlotte takes these extraordinary characters in season three and to watch the magic that Jennifer, Reese, and our awe-inspiring cast continue to bring to the captivating world of morning television."
Addressing the news via her Instagram rose, Witherspoon posted a screenshot of a Variety article reporting the show's renewal, captioning the snap "So excited to bring y'all the third season of @themorningshow!"
In the meantime, you can watch Seasons 1 and 2 of The Morning Show via Apple TV+. You can sign up to Apple TV+ now for $4.99 per month now.
What Will Happen in The Morning Show Season 3?
The new series is sure to pick up from the events of the Season 2 finale, which saw Alex Levy go live on air as she continued to battle coronavirus. In Season 2, Alex had been dealing with the consequences of Marcia Gay Harden's (Maggie Brenner) tell-all book about Alex's affair with her The Morning Show co-host, Mitch Kessler (Steve Carell) .
Kessler's life also came to a shocking end in Season 2, after he was killed in a car accident in Italy.
Elsewhere in the finale, Bradley Jackson (played by Reese Witherspoon) began dating Laura Peterson (Julianna Margulies) and her fresh relationship hit a roadblock when her boss Cory Elison (Billy Crudup) confessed he was in love with her.
Speaking to Deadline in 2021, Kerry Ehrin who served as showrunner suggested there would be a "time-jump" if season 3 was given the go-ahead.
Ehrin teased: "I feel like Alex has come to a place for the first time since the pilot of accepting who she is and facing her worst fears, and I want to see how the phoenix rises from the ashes for her, and learning how to have a full life and be present and loving."
Although Ehrin is no longer the showrunner, she will remain a consultant on the show, so it is possible parts of her vision will make it to the screen.
Reese Witherspoon, who stars as Bradley in the series (and also serves as an executive producer) shared her hopes for Season 3's plot in conversation with The Hollywood Reporter.
She said: "If #MeToo was the center of season one and season two has so many issues but really tackles the impending pandemic, I would love to see how the world realigns post-quarantine.
"Even though that seems optimistic to say at this point, with people still dealing with the complexity of COVID and really what it's doing to different industries. But just, how the whole world has culturally shifted in so many ways; the way we communicate and work, the way we talk to each other — there's definitely a lot to talk about and tackle."
Who Will Star In The Morning Show Season 3?
Golden Globe and Emmy-winning actresses Jennifer Aniston and Reese Witherspoon will return to lead the cast of The Morning Show Season as Alex Levy and Bradley Jackson.
Also expected to return for Season 3 is Billy Crudup as Cory Ellison, Mark Duplass as Chip Black, and Néstor Carbonell as Yanko Flores.
Karen Pittman should return as Mia Jordan, Bel Powley as Claire Conway, and Desean Terry as Daniel Henderson.
Russian Doll's Greta Lee, who joined the cast as Stella Bak, the President of News at UBA in Season 2 will hopefully return in Season 2.
The Spanish Princess star Ruairi O'Connor, who also joined in Season 2 as Ty Fitzgerald, a social media expert as UBA will hopefully be back alongside ER's Julianna Margulies as Laura Peterson, a news anchor at UBA.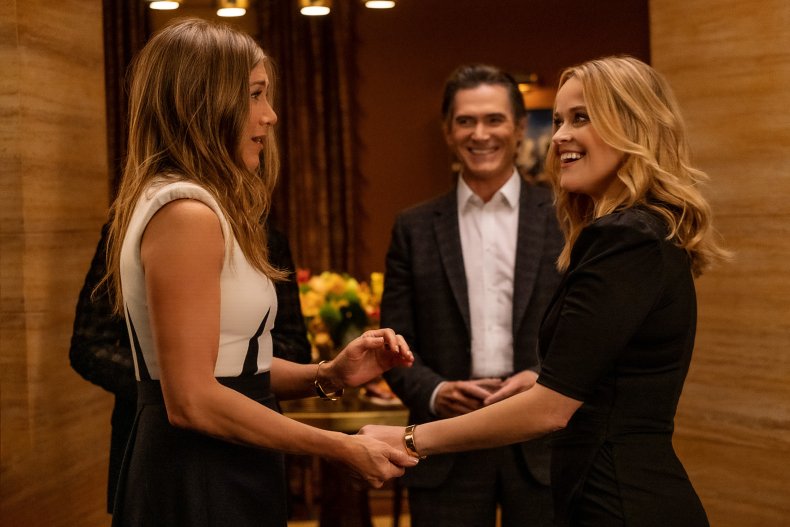 At the moment, it is unknown if Steve Carell will return for series three, considering his character was killed in Season 2. However, there is always the possibility he could appear in flashback scenes in Season 3, so Steve Carell fans should keep their fingers crossed.
Just like Seasons 1 and 2, The Morning Show Season 3 will most likely feature some notable guest stars. For example, Singer-songwriter Kelly Clarkson, actor Cheyenne Jackson and tennis legend Maria Sharapova all made appearances as themselves in Season 1.
Season 2 saw the Foo Fighters perform, Arrested Development's Will Arnett play the role of Doug and Better Call Saul's Patrick Fabian star in the role of Jeff.
The Morning Show Season 1 and 2 are streaming on Apple TV+ now.