'Morning's at Seven' Brings Some Good Old-Fashioned Comedy to Off-Broadway
Paul Osborne's play Morning's at Seven, which was a flop that ran for only 44 performances in its original Broadway production in 1939, has had a long successful afterlife. In addition to two Broadway revivals, it has had many regional productions. Now it is getting delightful revival off-Broadway at the Theatre at St. Clement's in New York. And the producers are seemingly sparing no expense getting a sterling cast, featuring some big names from the stage screen and television. This is the story of three families, four sisters and a 40-year-old son who is the thing who wouldn't leave.
At first glance, Morning's at Seven might seem to be dated. It is set in 1922 in a backyard, somewhere in middle America, where people discuss personal affairs more than the headlines of the day. There isn't even a radio within earshot. Four sisters who never got too far from home talk about their problems, their families and a son/nephew who never left home.
But looks can be—and this case are—deceiving. Morning's at Seven may be old, but it is not dated. The attitudes of the characters toward dating, sex and marriage are quite modern. In fact, since it is set in the 1920s and written in the 1930s, it was, in many ways, ahead of its time—at least to 21st century eyes; those '20s were roaring, after all.
Best of all, the play gives nine very accomplished actors a chance to shine in some rich, well-crafted roles. The cast features some familiar names and award winners, but perhaps the two real surprises, at least to New York audiences, are Patty McCormack and Dan Lauria who are far better known for their work in movies and television. McCormack, is most famous for playing the title role in Maxwell Anderson's thriller, The Bad Seed, on stage and film. Lauria, for certain people of a certain age, will always be Jack Arnold on The Wonder Years. Yet, both actors fit easily into this production and into their roles.
McCormack as Esty, is sharp, quick-witted and smart and can do as much with a look and an inflection, as she can with a line of dialogue. Her Esty is a perfect match for the curmudgeonly husband David, played by Tony Roberts.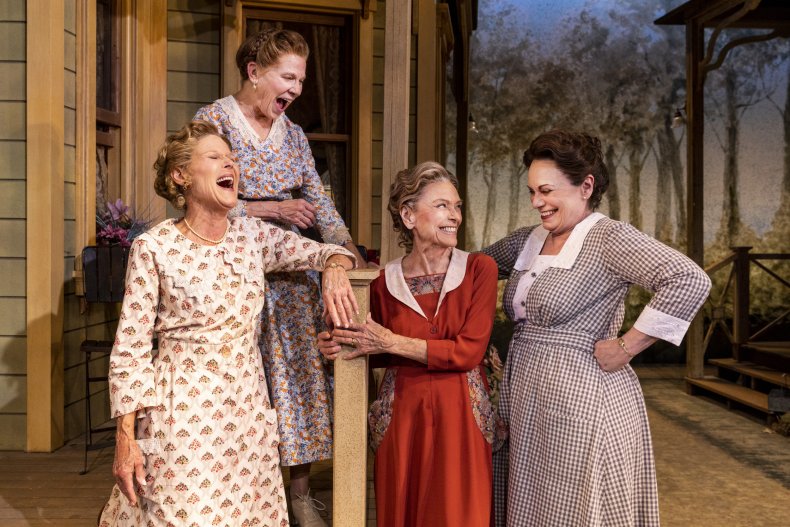 Lauria, too, is pretty far removed from Jack Arnold. There is no bluster in his performance. In fact, he is very understated most of the time. He has done two Broadway plays and a several off-Broadway, but he actually has an extensive theater background away from New York, and it shows.
At the age of 68, Carl, played by John Rubinstein, is having a belated mid-life crisis. He has spells, in which he leans up face-first against a tree, in full-bore brain lock, worrying about the road not taken. He could have been somebody; he could have been a dentist. He did, however, build houses, and if the two on the set are any indication, he made himself into a pretty fair country architect. Rubinstein is wonderfully lost as he looks for a decent tree for support.
He has a kindred spirit in David, who feels he is too smart and too far above this town and the rest of his extended family. Tony Roberts mines this lost soul for more laughs than one could possibly expect. While Roberts has starred in a range of roles, comic and dramatic, he is probably best known for his comedic work with people like Woody Allen, Neil Simon and Max Shulman. But this is a more low-key comic performance than audiences might be used to, filled with irony for these irony deficient times.
Alma Cuervo is warm and funny as Ida. She is every bit the mother to Homer, and if Cora is overprotective toward Homer, she does show some genuine love. She is also a sister to Esty, Arry and Cora—playing, arguing and listening—and a wife to Carl and his spells. And in this play, those are all full-time jobs. One gets the sense that they are family. Her performance has a real lived-in quality that suits the play perfectly.
Homer, Ida and Carl's 40-year-old son played by Jonathan Spivey, helps bring a raft of resentments, doubts, suspicions and a family secret or two, to the surface when he takes Myrtle, his fiancée—of 12 years!—home to meet the family—for the first time.
Homer is a mama's boy, and Myrtle, played by Keri Safran, is beyond naïve in her attraction to him. (Think Georgette Franklin on The Mary Tyler Moore Show.) He's not the brightest bulb on the tree, and she's not the sharpest knife in the drawer; they make a perfect couple. Still waters run deep, but in Homer's case they have reached flood stage.
Lindsay Crouse's theater roots go way back, generations even, and she has the toughest role in many ways. As the put-upon Cora she harbors more than a few resentments, none the least of which is giving up part of her home—and perhaps her husband?—to Arry. Arry, the sister who never left, is probably the biggest problem for Cora; and the resolution to this problems is at once appropriate and incredibly funny.
Alley Mills, also probably best known for her work on Wonder Years and a late replacement for the injured Judith Ivey as Arry, was only a few performances in at review time, but she was well into character at that point and off book by opening night.
There are plenty of laughs in Morning's at Seven, but hardly any jokes—a rough estimate puts the number at about none. Every laugh comes from character and situation, and that stands out these days, when characters seem to spout one-liners at a pace that would rival Henny Youngman. It is a well-written and well-structured play that, despite its inauspicious debut, will likely be around for a long time, at least as long as there are experienced actors in search of quality roles to play. Despite some darker undercurrents, in the end all's right with the world in Morning's at Seven, a sweet comedy, a salve for these anxious times and a show everyone should try to catch, especially with this special cast.
Morning's at Seven runs at the Theatre at St. Clements, 423 West 46th Street in New York through January 9, 2022. Masks must be worn in the building and proof of vaccination and photo ID must be shown at the door. For tickets and more information go to MorningsAt7.com.