Morocco Protests: What to Know About Nasser Zefzafi, the Unemployed Demonstration Leader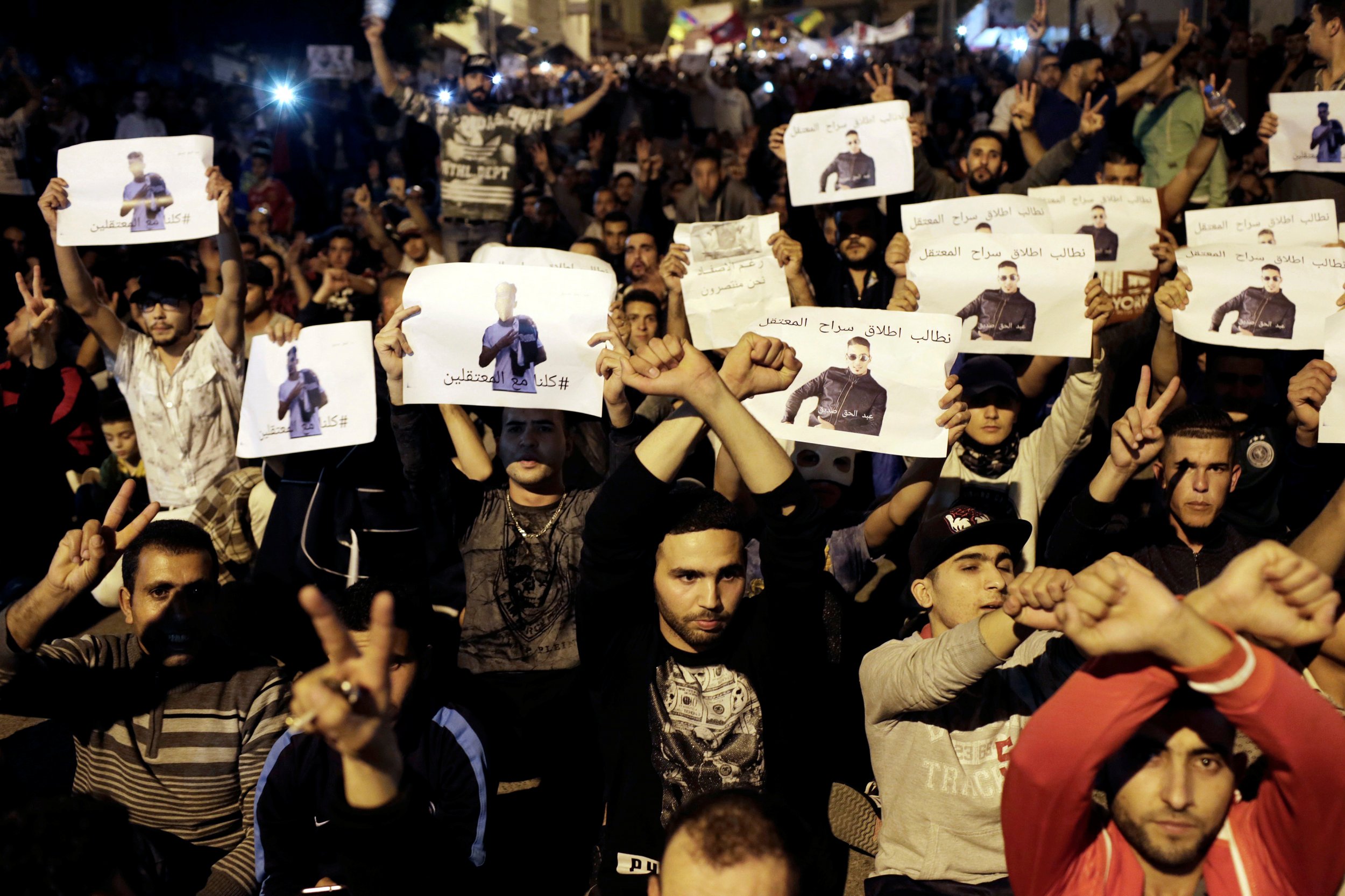 Thousands of Moroccans are protesting in the north of the country—and it's all because of one man: Nasser Zefzafi.
Since police in the North African country arrested Zefzafi, 39, on Monday, demonstrations have been held on a nightly basis in the coastal city of Al-Hoceima in the northern Rif region, where Zefzafi has led a grassroots protest movement for the past six months.
Who is Nasser Zefzafi?
A native of Al-Hoceima and from a family of anti-government protesters, Zefzafi is the founder of Al-Hirak al-Shaabi, or the Popular Movement. The organization has led demonstrations mostly in Al-Hoceima calling for greater government investment in the region and more jobs. Zefzafi is himself unemployed, Al Jazeera reported. He was also a member of the February 20 Movement that spearheaded anti-government protests across Morocco in 2011 during the so-called Arab Spring.
Why did he start protesting?
Zefzafi's movement took to the streets following the well-publicized death of Mouhcine Fikri, a fishmonger in Al-Hoceima, in October 2016. Authorities had confiscated a large quantity of swordfish from Fikri because of seasonal restrictions on fishing; Fikri was killed when he entered a garbage truck to retrieve the fish, and the truck's compactor began operating, crushing the fishmonger.
Fikri's death sparked massive unrest in Al-Hoceima and the king of Morocco, Mohammed VI, ordered a probe into the incident.
Why was Zefzafi arrested?
Police issued a warrant for Zefzafi's arrest Friday after he allegedly interrupted a preacher at a mosque to call for further demonstrations. After evading capture over the weekend, authorities arrested Zefzafi and several other Al-Hirak al-Shaabi leaders on Monday. The public prosecutor in Al-Hoceima said Zefzafi had been arrested for "undermining interior state security" and for "obstructing freedom of worship."
What has been the reaction to his arrest?
Thousands of Moroccans have taken to the streets in Al-Hoceima since Zefzafi's arrest, and demonstrations have also spread to the capital Rabat and Casablanca, where Zefzafi is being held by police. Demonstrators have chanted, "We are all Zefzafi," and waved Berber flags. The Rif is a mainly Berber ethnic region, and protesters say that the region has long been marginalized by the central Moroccan government.
What happens next?
State authorities arrested around 40 people in connection with the protests on Friday; twenty-five have been referred for prosecution, and their trial started on Tuesday, though it has since been pushed back to June 6, AFP reported.
It remains unclear when Zefzafi will go to trial, but the protests show no sign of dying down. Thousands turned out again on Wednesday night to call for his release and reiterate their demands. The branches of several political parties, including the governing Justice and Development Party, have expressed concern about the situation in Al-Hoceima. But King Mohammed, who is the head of state in Morocco, has not yet spoken out about the situation.