'Mortal Kombat 11 Aftermath' Story DLC Starring Shang Tsung Announced
NetherRealm Studios announced Mortal Kombat 11 will receive a brand new story DLC—the first in the franchise's history—titled Aftermath that will bring more content and characters into the publisher's latest fighting game.
The story of Mortal Kombat 11 Aftermath picks up where the main story of 2019's fighting game of the year nominee leaves off. After Raiden bestows his godlihood to Liu Kang, the monk defeats and kills the villainous Kronika. However, before he can remake the world and restart history he's interrupted by three familiar characters: Nightwolf, Fujin and Shang Tsung.
Check out the trailer for the upcoming Mortal Kombat 11 update and DLC below.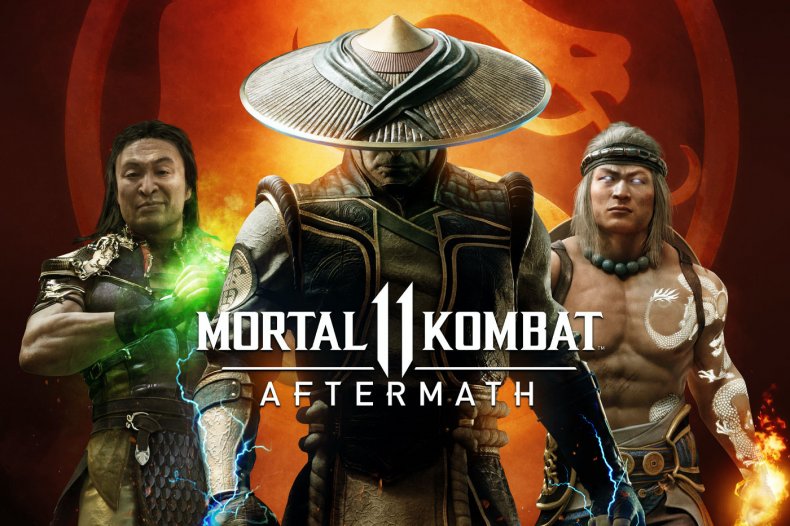 Cary Tagawa is reprising his role as Shang Tsung who will take center stage in this story expansion.
Shang Tsung explains that since Liu Kang destroyed Kronika's crown they won't be able to use her reality-warping abilities. Instead, Liu Kang will have to send his arch-nemesis back to the past to get Kronika's crown on Shang Tsung's island.
Dominic Ciancolo, who wrote the story of Mortal Kombat 11 and Aftermath, explains that Shang Tsung, Nightwolf and Fujin were captured by Kronika during the main story and were only freed upon her death.
They inform Liu Kang and Raiden that if they try and use Kronika's power without the crown, all the realms will be destroyed and reality will be lost. A plan is concocted for Liu Kang to use his new powers to send Shang Tsung, Fujin and Nightwolf into the past to grab Kronika's crown before she does.
Ciancolo also says that Sheeva, Fuijin, Nightwolf, and Sindel will have their biggest story mode roles to date.
Sindel and Nightwolf were new characters added in Kombat Pack 1 alongside Joker and Spawn. Fujin, Sheeva and Robocop were announced as new characters that are paired with the Aftermath expansion.
Another scene from the Aftermath story shows Sheeva escorting Fujin, Nightwolf and Shang Tsung disguised as a Shokan. They are holding a coffin and are heading toward the Soul Chamber.
They are stopped by Erron Black, Baraka and a faction of his Tarkatan. They are curious as to what the group is doing when Baraka reveals the Shokan to be Shang Tsung and a fight ensues.
Mortal Kombat 11 Aftermath will not only bring a new story and characters, it'll also mark the start of a brand new update for Mortal Kombat 11 players. On May 26, Aftermath will be available to purchase and download digitally while Mortal Kombat 11 owners will be able to gain access to this new update that will bring new stages, stage fatalities and the return of Friendships.
Mortal Kombat 11 Aftermath will release May 26 with a physical release coming some time in June.
What do you think of the story expansion to Mortal Kombat 11? Which of the new characters is your favorite? Let us know in the comments section.