Mortal Kombat fans are less than a week away from the release of the Aftermath DLC, but before that a new Kombat Kast featuring one of the new characters is about to begin.
Fujin, the brother of Raiden and master of wind, will be the featured character for the latest Kombat Kast.
Kombat Kasts are streams put on by the NetherRealm Studios team as they show gamers how characters play. This is especially helpful for upcoming DLC characters like Fujin to help players get an understanding on how they fight.
This week's Kombat Kast will be one Mortal Kombat 11 fans won't want to miss. Here's all the information you need to know to watch the upcoming stream.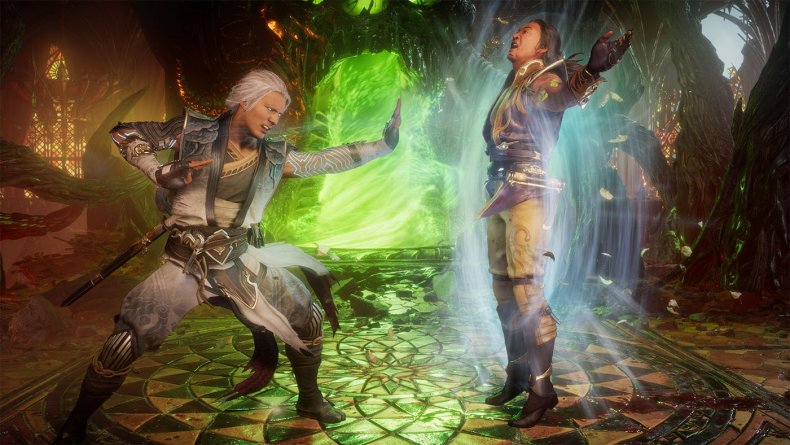 WHAT TIME DOES FUJIN KOMBAT KAST START?
The latest Mortal Kombat 11 Kombat Kast featuring Fujin will start Wednesday, May 20, at 4 p.m. EDT.
HOW TO WATCH MORTAL KOMBAT 11 STREAM ONLINE
All of NetherRealm Studios' Kombat Kasts can easily be found on its social media platforms.
The official Mortal Kombat YouTube channel is a good way to watch the stream live and on VOD after it's over. The YouTube app is available on mobile devices and every video game console, including the Nintendo Switch.
Twitch is also a great source for watching Kombat Kasts on the official NetherRealm channel. The Twitch app is available on mobile devices as well as the PS4 and Xbox One. You can also watch the stream below.
WHAT TO EXPECT FROM THE MORTAL KOMBAT 11 FUJIN KAST
Like with other Kombat Kasts, this one will feature one of the new characters of the Mortal Kombat 11 Aftermath DLC, Fujin.
Tyler Lansdown, Derek Kirtzic and the rest of the NetherRealm crew will go through what makes Fujin different from other characters in the game, as well as how this iteration of the fighter has changed from previous games.
When the Mortal Kombat 11 Aftermath DLC was announced, Landown told mediat that Fujin likes to use his swords and his ability to control the winds to his advantage in battle. From already-released trailers, fans can see how Fujin can use his wind abilities to maneuver easily around the battlefield as well as
Here's a peek at what Fujin can do in Mortal Kombat 11:
Aside from an in-depth breakdown of his moves, fans will likely see a Fatality or two, and maybe a Brutality. More information on the Aftermath DLC will likely be shared as well. Perhaps the NetherRealm team will let fans know when the next stream will be.
Are you excited for the Fujin Kombat Kast? What do you hope to see? Let us know in the comments section.