'Mortal Kombat 11' Rambo Trailer Shows First Gameplay and Fatality
The first gameplay trailer for Rambo in Mortal Kombat 11 has been released!
Thursday, NetherRealm Studios gave fans the first look at what the classic 80's action hero can do in Mortal Kombat 11. In the two-minute trailer, Rambo--voiced by Sylvester Stallone--takes it to a number of Mortal Kombat characters with his signature dagger.
Rambo also has a long-ranged attack using his makeshift bow, has a number of takedowns, the ability to crawl to avoid ranged attacks, and can even bring out the big guns...literally.
Take a look at Rambo's gameplay in Mortal Kombat 11.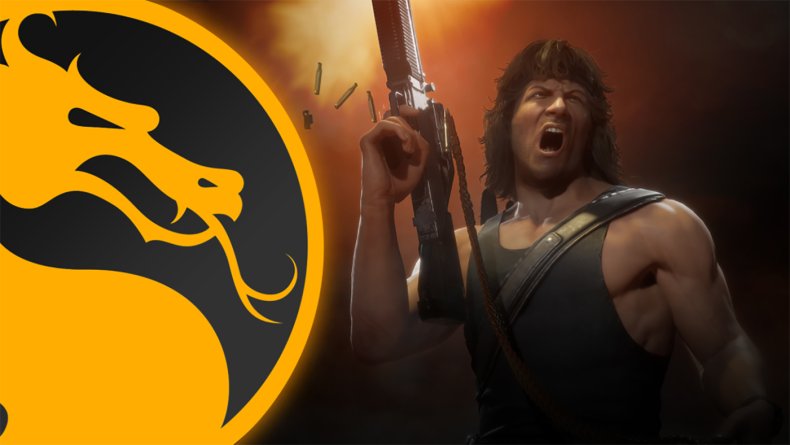 With these Mortal Kombat 11 trailers, fans get to see Rambo's Fatal Blow and one of his Fatalities. In typical Rambo fashion, the war veteran sets up a trap to re-enact an iconic kill scene from the first film.
If you want to learn more about how Rambo plays in Mortal Kombat 11, check out NetherRealm's official Twitch stream, the Kombat Kast, on October 27. Get an in-depth breakdown of all of Rambo's moves, combos and we'll likely see the character's second Fatality.
Rambo's release will include character skin variants inspired by the First Blood, Rambo: First Blood Part II and Rambo III films.
The release of Rambo's gameplay trailers comes two weeks after the announcement of the Kombat Pack 2 DLC. This latest batch of DLC comes with three fighters including Rambo, Rain and Mileena.
It's set to release on November 17, the same day as Mortal Kombat 11 Ultimate, a new next-gen version of the title. This version will have visual enhancements, 4K Dynamic Resolution, significantly reduced load time, and cross-play and cross-gen play.
If you purchased the current-gen versions of Mortal Kombat 11, starting November 17 you'll be able to get a PS5 or Xbox Series X version for free as an upgrade.
In Mortal Kombat 11 Ultimate, this latest version of the 2019 fighting game will come with the base game, both Kombat Pack 1 and 2 as well as the Aftermath story expansion.
Kombat Pack 2 featuring Rambo, Mileena and Rain will be sold separately for those with the current-gen version of Mortal Kombat 11.
Fans can preorder Mortal Kombat 11 Ultimate and Kombat Pack 2 today to receive the Time Warriors Skin Pack at launch featuring three new character skin variants, including "Dark Web" Noob Saibot, "HCF" (Halt and Catch Fire) Liu Kang and "Blood Moon" Skarlet.
Mortal Kombat 11 is available now for PS4, Xbox One, Nintendo Switch, PC and Google Stadia.
What do you think of Rambo's gameplay in Mortal Kombat 11? Let us know in the comments section.