'Mortal Kombat 11' Spawn Capture Gameplay Shows Gear, Story Ending & More
The next DLC character in Mortal Kombat 11 is Spawn, the anti-hero from Image Comics.
One of the most-anticipated DLC releases for NetherRealm Studios' premiere fighting game, Spawn is set to arrive in the Mortal Kombat universe on March 17 for those who purchase the Kombat Pass (March 24 for general purchase).
Ahead of the release, and after the release of the first gameplay trailer for Spawn in Mortal Kombat 11, Warner Bros Games has delivered straight gameplay capture footage of the latest character's gear and story details.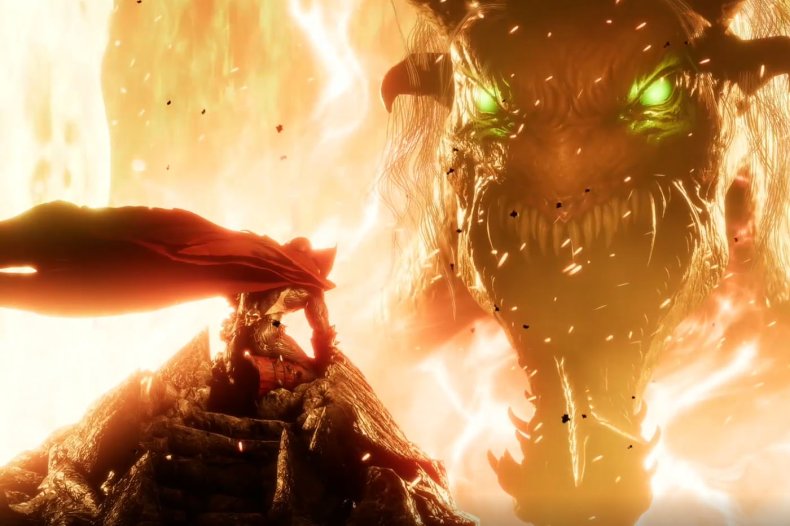 SPAWN GEAR/KOSMETICS IN MORTAL KOMBAT 11
As with other characters in Mortal Kombat 11, there are three portions of the fighter's costume that can be customized. For Spawn, these parts include his Vambraces (gauntlets), Battle Grieves (boots) and Brooch and Mantles. The latter of which changes the top part of Al Simmons' iconic red cape.
There are 30 different pieces of gear for Spawn's Vambraces, Battle Grieves, and Brooch and Mantles (90 in total) that can be obtained through various modes in Mortal Kombat 11, including Kharacter Towers and Towers of Time.
And then we have the skins. There are 40 in total, and, if you like color alterations on your Spawn, then this is for you.
Players can even check out Spawn's various entrance and win animations. They feature cameos from Clown and the Devil itself.
Check out all of Spawn's gear in Mortal Kombat 11 below.
SPAWN MORTAL KOMBAT 11 GAMEPLAY
The pre-match dialogue has always been great in Mortal Kombat 11, and Spawn has some interesting one-liners.
In one match with Raiden, the God of Thunder, Spawn states how he knows another Dark Knight, referring to Batman in the Mortal Kombat vs DC Universe game.
Al Simmons replies "the million dollar crusader? He's a friend." This refers to the 1994 one-shot comic by Frank Miller and Todd McFarlane that featured Spawn and Batman teaming up.
There are plenty of combos and great looks at how Spawn plays in Mortal Kombat 11, using his cape to juggle opponents. And viewers get to see Al Simmons' story ending in the fighting game as well.
We won't go into spoilers here, but you can watch the full gameplay and the Klassic Tower ending below.
Mortal Kombat 11 is available now for PS4, Xbox One, PC, Nintendo Switch and Google Stadia.
Spawn will be available starting March 17 for those who own the Kombat Pass and March 24 as a standalone purchase.
What do you think of Spawn in Mortal Kombat 11? Which of the DLC characters has been your favorite so far? Let us know in the comments section.