The next era of Mortal Kombat 11 is almost here.
Mortal Kombat 11 Ultimate, a new re-release of 2019's popular fighting game including new characters and features, is set to release for current-gen and next-gen consoles this week. If you owned the original Mortal Kombat 11 for PS4 or Xbox One, you can upgrade to PS5 or Xbox Series X for free and be able to enjoy enhanced graphics and much more.
Here's everything you need to know about the release of Mortal Kombat 11 Ultimate.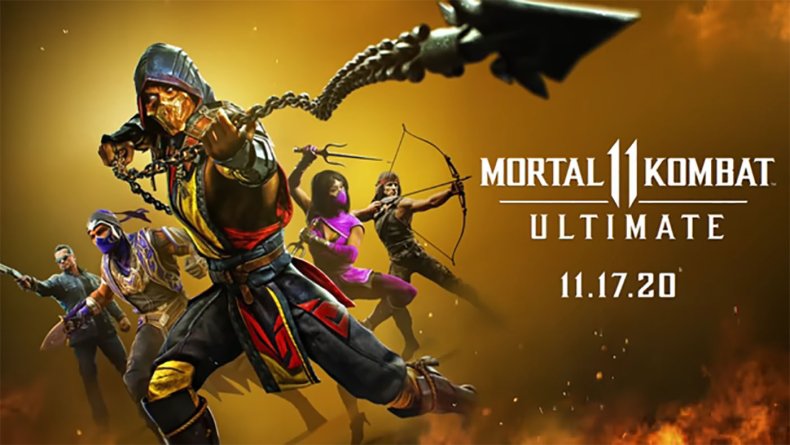 When Can You Download Mortal Kombat 11 Ultimate?
The expansion and new update will be available to download on Tuesday, November 17. The official WB Games UK Twitter account has confirmed the global release times of the Ultimate expansion.
While that account gives the times for the U.K. and other parts of the world, it doesn't tell us when Mortal Kombat 11 Ultimate will be available in North America.
A quick time conversion, however, reveals that if you're in North America, you can expect to download the new expansion at 11 a.m. EST.
If you're playing on PC or Google Stadia, WB Games confirms that it'll be ready to download around 1 p.m. EST.
Of course, if you purchase the game physically, the release is subject to whenever you get your hands on the game.
NEXT-GEN UPGRADE
Those who have Mortal Kombat 11 already will be able to get a free next-gen upgrade starting November 17.
The Ultimate upgrade will bring visual enhancements, 4K Dynamic Resolution, significantly reduced load time, cross-play and cross-gen. "Krossplay," as NetherRealm Studios calls it, will be available for just PlayStation and Xbox players.
Mortal Kombat players will be able to toggle this krossplay feature in the settings to play Casual matches with players on PS5, PS4, Xbox Series X/S and Xbox One, as well as in designated Online Rooms.
This krossplay feature won't be available for Nintendo Switch or PC players.
How to Download Mortal Kombat 11 Ultimate
Here's how to download the Mortal Kombat 11 Ultimate for both consoles.
On PS4, players can verify content has been downloaded by doing the following:
Visit the Mortal Kombat 11 page on the PS4 Home Menu or Game Library.
Select the game and scroll down to the "Related Items" section at the bottom. It should be under PlayStation Store at the bottom.
From the My Add-ons section, manually download individual pieces of owned content.
Players who own the Premium Edition can also click "View All" to see store options. The DLC should be available for "Free" if it has not been downloaded.
On Xbox One, players can verify content has been downloaded by doing the following:
Go to My Games and Apps.
Locate Mortal Kombat 11 and press Menu.
Select Manage Game.
Scroll all the way to the right on this menu to see what DLC is Ready to Install, and start those installs.
Mortal Kombat 11 is available now for PS4, Xbox One, PC, Google Stadia and Nintendo Switch.