'Mortal Kombat' Director Simon McQuoid Talks Opening Scene's Focus on Scorpion
The new Mortal Kombat movie isn't coming out until April, but we've already gotten a few looks at the new film, via trailers and sneak-peek footage. Newsweek was able to get an extended look, though, at the movie's opening scene, and talk with director Simon McQuoid about how that sequence sets the overall tone for the upcoming flick.
We won't go into too much detail as to what we saw—just know that we get a glimpse at the family life of Hanzo Hasashi (Hiroyuki Sanda), who becomes Scorpion.
During a virtual roundtable with other members of the press on Monday, McQuoid said that the movie's opening works on two tracks. "One is story and one is a sort of stylistic approach with some of the emotional things that I wanted to get across for an audience to understand or feel, to then be carried throughout," McQuoid told Newsweek.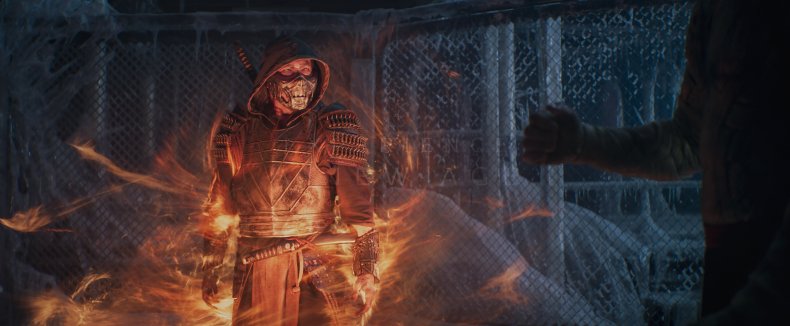 McQuoid chose his words wisely, so as to not spoil elements of the film, but he explained that, story-wise, he wanted to establish the rivalry between Hanzo and Bi-Han (Joe Taslim), the man who becomes Sub-Zero. The opening scene gives viewers the background they need to understand the dynamic between the two iconic characters.
We also got to see Raiden's first appearance in the beginning of the film. McQuoid said that all of those characters factor into "fundamental" story elements that will pay off later on in the film.
"Stylistically, what I wanted to say in those 12 minutes was [the film is] a beautiful, cinematic, elevated rendition of the brutality and the power of what Mortal Kombat is," McQuoid said. "So that's why I opened the movie with the beautiful face of Harumi, Hanzo's wife. I wanted to show the humanity that's within this film. It's also not the sort of thing you'd probably expect to open a Mortal Kombat film."
The serene opening shots of Hanzo and his family are setup for what's to come. Those who are well-versed in Mortal Kombat lore know what comes next for Scorpion and Sub-Zero, and McQuoid says those events will "charge" Hanzo for the rest of the film. Throw in some emotional moments that are used to tug at the heartstrings and you have the tone that the director hopes carries throughout the entire movie.
"It really mattered to me that it felt cinematically beautiful, considered, crafted and rich, and that my hope is the tone in that scene carries through," McQuoid said.
Mortal Kombat is set to release in theaters and for a limited time on HBO Max starting April 16.