'Mortal Kombat:' We Watched the Opening Scene and Here's What We Saw
The new Mortal Kombat film is ready to deliver the bloody violence that fans of the fighting games expect, but they may be surprised by how the 2021 movie actually starts.
Newsweek was one of a few select outlets that was invited to watch the first 13 minutes of the upcoming Mortal Kombat movie. What we saw was filled with fights, blood, intrigue and a surprising amount of "humanity."
Before we dive into what we saw in the extended scene, if you don't want to know how Mortal Kombat begins, turn back now.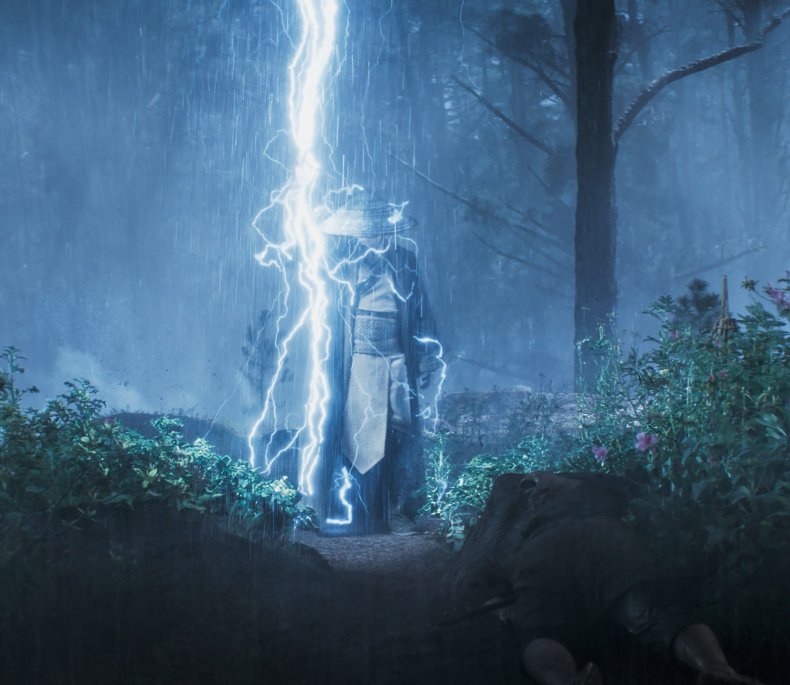 The movie opens on Hamuri, Hanzo's wife, tending to her garden in 1617 Japan. Hanzo Hasashi (Hiroyuki Sanada) is seen walking with his young son back to the Hizashi Compound with buckets of water.
Hamuri tells her husband that they will need more water when a baby screams in the distance. Hanzo's young son goes inside to see his sister.
After a short embrace between Hanzo and Hamuri, the patriarch goes to get more water.
Hamuri goes inside the cabin as the baby girl doesn't seem to stop screaming. Elsewhere, Hanzo is gathering water by the river where we see the Mortal Kombat dragon symbol tattooed on his arm.
Inside the cabin, Hamuri asks why it is so cold when she and her son hear men screaming in pain outside.
Hamuri takes the baby girl and puts her underneath the floorboards of their home before Bi-Han (Joe Taslim) slides the door open and prevents the family from leaving.
Bi-Han talks to Hamuri in Chinese before switching to Japanese to ask where her husband is. She shakes her head in fear when her son jumps in front of his mother. Bi-Han, amused by this, tries to grab him but Hamuri pulls him back.
Bi-Han then shows off some of his ice conjuring before we cut back to Hanzo, still gathering water. He hears Hamuri's scream in the distance and runs toward his camp. When he arrives he sees dead bodies in the garden. He walks slowly up to this home before he kneels in agony as we see his wife holding her dead son, both frozen in place.
As he mourns, Bi-Han's men show up but Hanzo takes them out with his sword in gruesome fashion.
Hanzo then picks up a tool that Hamuri used for gardening and ties a rope to it as he uses it to take out the remaining men. Hanzo yells out for Bi-Han and eventually finds him sitting on a rock.
Bi-Han says that the end of Hanzo's bloodline and the Shirai Ryu clan is a long time coming. Hanzo promises that he will kill him and the two begin to fight.
After a back and forth Bi-Han tosses Hanzo against a tree. Using his own spear, Bi-Han stabs Hanzo in the chest.
Hanzo tells Bi-Han to never forget his face as he falls face-first into the ground.
Bi-Han leaves, but moments later the baby can be heard screaming in the distance, which wakes Hanzo.
Hanzo gets up and stumbles to his home. However, he only makes it to the entrance before he succumbs to his wounds and dies. Almost immediately, Hanzo's body is engulfed in flames and only dust is left.
Rain begins to fall as Raiden appears. Raiden sees the dust where Hanzo was when he hears the baby girl and finds her in the floorboards.
The elder god takes the baby and teleports away with her as the scene ends with "Mortal Kombat" appearing on the screen.
Fans of Mortal Kombat are familiar with the rivalry between Scorpion and Sub-Zero, but Hanzo's daughter being taken by Raiden is a new wrinkle that will certainly be a fundamental part of the film.
Mortal Kombat is set to release in theaters and for a limited time on HBO Max starting April 16.