Watch the First 7 Minutes of the 'Mortal Kombat' Movie Now
Ahead of Mortal Kombat's premiere in theaters and HBO Max, Warner Bros. released the first seven minutes of the final product for fans to get hyped for the film's release.
The seven-minute clip brings viewers to 1600s Japan, where we meet Hanzo Hasashi (Hiroyuki Sanada) and his family on the patriarch's compound. Viewers get a glimpse into the fighter's personal life before tragedy hits.
"Stylistically, what I wanted to say in those 12 minutes was [the film is] a beautiful, cinematic, elevated rendition of the brutality and the power of what Mortal Kombat is," Mortal Kombat director Simon McQuoid told Newsweek during a virtual roundtable in March.
"So that's why I opened the movie with the beautiful face of Harumi, Hanzo's wife. I wanted to show the humanity that's within this film. It's also not the sort of thing you'd probably expect to open a Mortal Kombat film."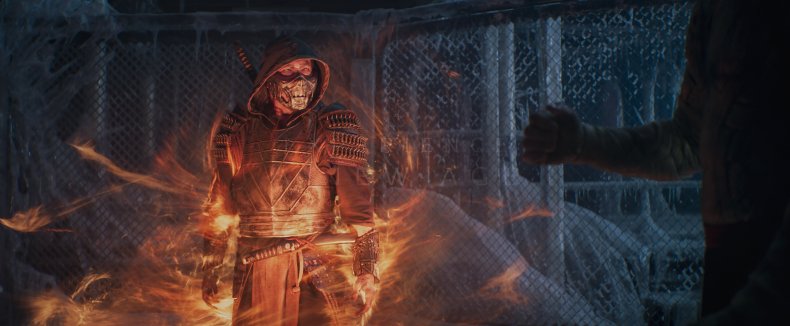 When creating the tone for the film in the opening scene, McQuoid wanted to carry the feelings the audience feels for Hanzon through the film.
"It really mattered to me that it felt cinematically beautiful, considered, crafted and rich, and that my hope is the tone in that scene carries through," McQuoid said.
We won't go too deep into what is shown, we recommend watching the clip yourself, but the video ends as Hanzo gets ready to fight Bi-Han (Joe Taslim).
In March, Newsweek watched the first 13 minutes of the opening scene, and what follows the clip is some amazing action and a mystery that will be the crux of the film's plot.
Mortal Kombat is one of the most popular video game franchises since its introduction in the early 1990s. While video game movies haven't had the best track record, co-producer Todd Garner argues that the new Mortal Kombat film is something more.
"I would argue that [Mortal Kombat] is a martial arts movie not a video game movie," Garner told Newsweek during a virtual press roundtable in March. "That's always been my contention, it's been the way I've approached it."
"Maybe the video game movies before didn't have good characters and [Mortal Kombat creators] Ed [Boon] and John [Tobias] have created great characters that have rich backstories that, when you explore it, are every bit as good as any comic book character ever created," Garner added. "I've been in the business for 30 years. Somebody made Howard the Duck before they made Iron Man."
Mortal Kombat is set to release in theaters and for a limited time on HBO Max starting April 23.
What did you think of the Mortal Kombat clip? What are you looking forward to most? Let us know in the comments section.