Moscow Already 'Studying' Top-Secret Records From Trump Raid: Russian Media
Hosts on Russia's state-owned Russia-1 television channel said that officials in Moscow have already been "studying" top secret and other classified documents the FBI sought through a search warrant of former President Donald Trump's Mar-a-Lago resort home.
The FBI, with the approval of Attorney General Merrick Garland, carried out a raid of Trump's Florida residence looking for top secret and sensitive compartmentalized information, as well as other classified documents, on Monday. The Washington Post reported on Thursday that records related to nuclear weapons were sought by the federal agents, but Trump described that reporting as a "hoax."
Russia-1 reported on the raid in a segment shared to Twitter late Friday evening by Julia Davis, a columnist for The Daily Beast and the creator of the Russian Media Monitor. During the segment, state-run television host Evgeny Popov mentioned the reporting about nuclear weapons.
"Turns out that the investigation against Trump has to do with the disappearance of secret documents from the White House, related to the development of nuclear weapons by the U.S.," Popov said. "The FBI isn't saying what kinds of weapons, or what they found in Trump's estate. Obviously, if there were any important documents, they've been studying them in Moscow for a while."
"What's the point of searching?" Popov then asked, suggesting that protecting the classified information was already a useless endeavor.
Newsweek reached out to Trump's press office for comment.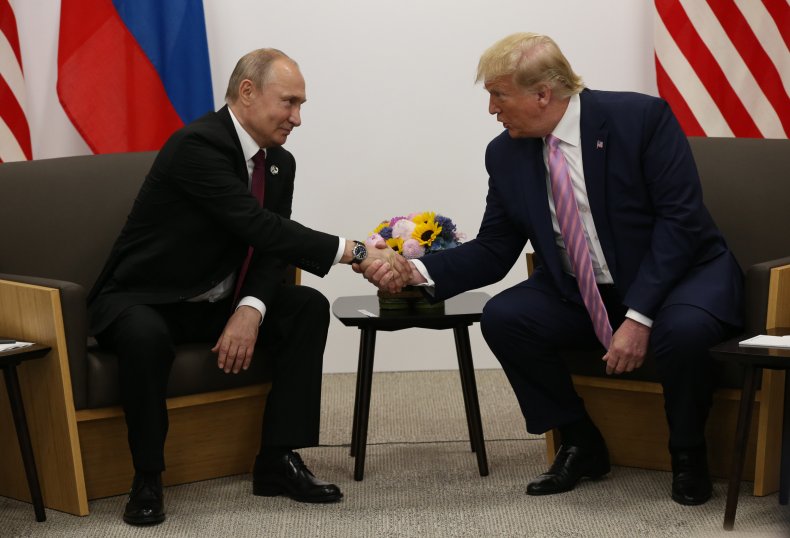 "Nuclear weapons issue is a Hoax, just like Russia, Russia, Russia was a Hoax, two Impeachments were a Hoax, the Mueller investigation was a Hoax, and much more. Same sleazy people involved," the former president wrote in a post on his Truth Social platform early Friday morning.
Trump critics have long speculated and floated theories that he was working with Russian President Vladimir Putin, citing his consistently positive remarks about the Russian leader and his former business ties to Moscow.
Concerns that Trump's 2016 presidential campaign was backed by the Kremlin led to the lengthy investigation by special counsel Robert Mueller. Although the probe determined that Moscow had worked to promote Trump's campaign and disparage his Democratic opponent, former Secretary of State Hillary Clinton, it did not conclude that Trump or his team conspired with Russia.
The ex-president has consistently described allegations and investigations related to his ties to Russia as a "hoax" and a "witch hunt." No evidence has been brought to light corroborating many of the theories promoted by some Democrats regarding the former president and the Kremlin, although there have been continued concerns voiced by some Trump critics regarding his favorable views of Putin.
Just ahead of Putin launching Russia's full-scale invasion of Ukraine in February, Trump described the Russian leader as a "genius" and "smart." During his tenure as president, Trump also said that he believed Putin over his own intelligence agencies regarding Moscow's interference in the 2016 election.
Russian state media previously floated the possibility that the U.S. could break out into a civil war due to the FBI raid on Trump's home. Additionally, Russian military expert Igor Korotchenko, a guest on Russian TV program 60 Minutes, called the raid a "witch hunt," where Trump "as the most popular politician in the United States" was "chosen as such a witch."
"They won't just be vilifying him, they will be strangling him. These raids, involving dozens of FBI officers and police dogs...This is a symbol of inordinate despotism," Korotchenko said, defending Trump.