Moscow Blasts U.S. After Antony Blinken Questions Russian Troops in Kazakhstan
Russia's foreign ministry on Saturday criticized comments from U.S. Secretary of State Antony Blinken, who on Friday questioned the country's recent decision to send troops to Kazakhstan.
Kazakhstan asked Russia to send troops as the nation faces unrest and violent protests sparked by a hike in gas prices.
On Friday, Blinken told reporters that officials have "questions about the nature" of Kazakhstan's request, and added that it would seem that the "Kazakh authorities and government certainly have the capacity to deal appropriately with protests—to do so in a way that respects the rights of protesters while maintaining law and order."
"One lesson of recent history is that once Russians are in your house, it's sometimes very difficult to get them to leave," Blinken added.
Reuters reported Saturday that the Russia's foreign ministry called Blinken's comment "typically offensive."
"If Antony Blinken loves history lessons so much, then he should take the following into account: when Americans are in your house, it can be difficult to stay alive and not be robbed or raped," the foreign ministry said on the social media platform Telegram, according to Reuters. "We are taught this not only by the recent past but by all 300 years of American statehood."
On Wednesday, Russia and other nations in the post-Soviet Collective Security Treaty Organization (CSTO) agreed to send peacekeeping troops to Kazakhstan in the wake of the unrest. In addition to Russia and Kazakhstan, the alliance also includes Armenia, Belarus, Kyrgyzstan and Tajikistan.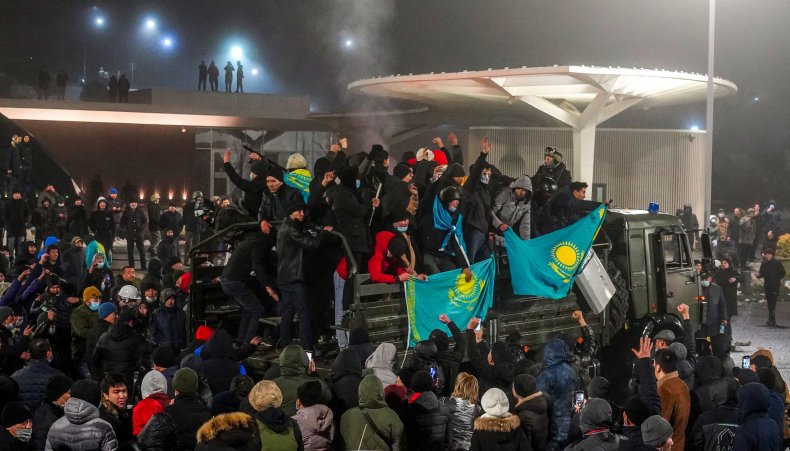 As the protests grew more violent, with dozens of protesters and police officers killed, Kazakhstan's president, Kassym-Jomart Tokayev, declared a two-week state of emergency on Wednesday. That day, protestors broke into the presidential residence and the mayor's office in the city of Almaty.
On Friday, Tokayev instructed security forces to shoot to kill civilians involved in the anti-government protests, calling the demonstrators "bandits," "terrorists" and "militants."
"I have given the order to law enforcement and the army to shoot to kill without warning," the president stated. "Those who don't surrender will be eliminated."
On Friday, Kazakhstan's interior ministry said that security forces had killed 26 protesters, while dozens had been wounded and more than 3,800 people had been detained. Eighteen law enforcement officers had been reported killed, and over 700 injured.
The U.S. State Department did not immediately respond to Newsweek's request for comment on Saturday afternoon.