Moscow Envoy to U.N. Planning Ceasefire So Ukrainians Can Safely Evacuate
Russia is set to carry out a ceasefire and open humanitarian corridors on Tuesday, allowing Ukrainian civilians to evacuate from combat zones.
During Monday's U.N. Security Council meeting, Russia's U.N. Ambassador Vassily Nebenzia announced Russia's plan to carry out a ceasefire and open humanitarian corridors from Kyiv, Chernihiv, Sumy and Mariupol Tuesday morning at 10 a.m. Moscow time.
"This proposal doesn't have any demands about the citizens being sent necessarily to Russia, into Russian territory," Nebenzia said, adding that it will be "the choice of the people themselves where they want to be evacuated to."
Earlier Monday, Ukraine's Deputy Prime Minister Iryna Vereshchuk rejected Moscow's offer of humanitarian corridors to Russia and Belarus. The fact that the corridors would lead Ukrainian citizens into Russian territory raised safety questions.
"This is not an acceptable option," Vereshchuk said. The civilians "aren't going to go to Belarus and then take a plane to Russia," she added.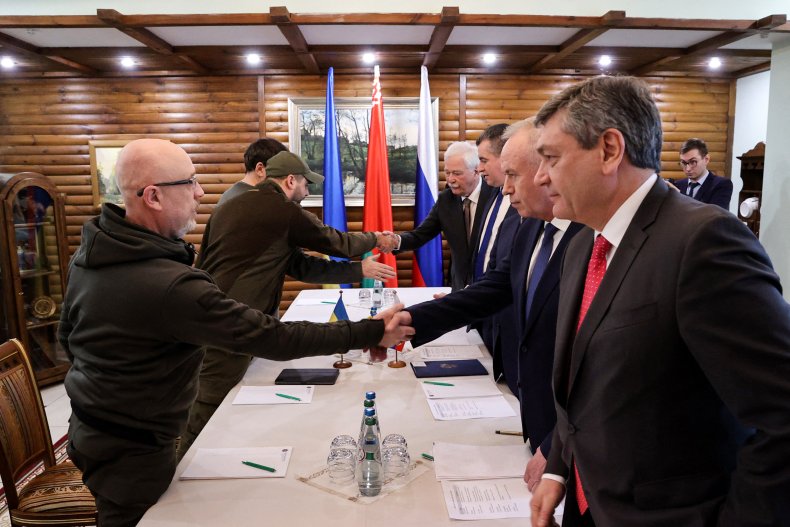 Vereshchuk noted that Russia violated the previously agreed upon humanitarian corridors for civilians to evacuate from the Kyiv, Kharkiv, Donetsk and Kherson regions.
Ukraine's Ministry of Foreign Affairs said it worries civilians in Russian-controlled territory might be taken as hostages or used as "human shields" by Russia's military.
"Russia's armed forces continue bombing and rocket attacks on Kyiv, Mariupol, Volnovakha, Symy, Mykolayiv, Kharkiv and other cities, towns and villages," the Ministry said in a statement. "This makes the safe exit of humanitarian convoys carrying Ukrainian and foreign citizens, and the delivery of medications and food impossible."
Russian Ambassador Nebenzia blamed Ukraine for not evacuating citizens, saying the country declined their previous offers.
"We are accused of breaking off the operation to evacuate people through the humanitarian corridors but everything is actually quite the contrary," Nebenzia said. "It's the Ukrainians who won't agree to our proposals on a ceasefire and won't allow people to exit through these corridors."
Ukraine officials are calling on world leaders who remain in contact with Russian President Vladamir Putin to make sure Russia keeps its word about civilian evacuees.
"Ukraine calls on the Member States to spare no effort in forcing Russia to uphold the ceasefire regime in order to open humanitarian corridors and prevent a large-scale humanitarian catastrophe," said Ukraine's U.N. Ambassador Sergiy Kyslytsya. "Life is very dynamic. And unfortunately, while we are sitting here and discussing our business, another appalling example of Russia's disregard of its own commitments on humanitarian corridors has taken place just now."
Newsweek reached out to the Ministry of Foreign Affairs of Ukraine for additional comment.