Moscow Hopes Climate Change Plan Will Boost Russia's Position in Talks with U.S.
A senior Moscow official told Newsweek that he hopes an ambitious and environmentally friendly plan in the Russian capital will boost President Vladimir Putin's negotiating position in upcoming talks with his U.S. counterpart Joe Biden.
The initiative, referred to as "Green Moscow," is expected to be discussed at the virtual Leaders Summit on Climate convened by President Joe Biden, a two-day meeting that begins on Earth Day, Thursday, April 22. The summit will feature Biden and 39 other heads of state he has invited, including Putin, despite the deep tensions plaguing ties between their two countries.
The Green Moscow initiative has already equipped Europe's largest urban transport system with the largest electric bus fleet of any city in the world. The deployment of some 700 electric buses—with plans to expand to 2,500 by 2023—is part of a concerted effort to slash motor vehicle emissions in Moscow by 90%.
"The responsibility of the Moscow transport system lies in the constant development and implementation of the most modern environmentally friendly technologies," Moscow Deputy Mayor for Transport Maxim Liksutov told Newsweek, "as well as the "replacement of equipment that is obsolete for the environment protection."
Such an endeavor could win points with a U.S. administration that—unlike its predecessor—has placed climate change at the forefront of its agenda.
While Liksutov noted that only Putin could speak for the entire Russian Federation, the Moscow official himself said that, "as representatives of the largest Russian metropolis, we hope that our contribution to the international green agenda will help the Russian negotiating position in more complex geopolitical issues."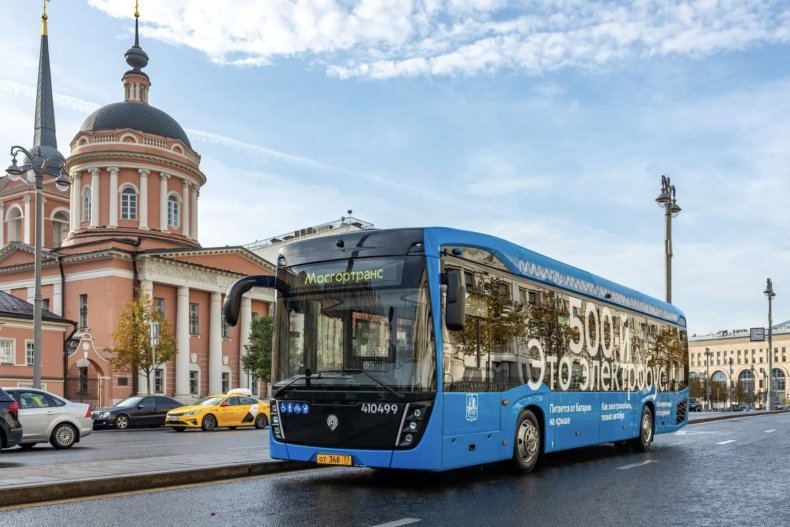 At the moment, there are many issues straining the ties between Washington and Moscow.
Biden has accused the Kremlin of interfering in the past two presidential elections in favor of former President Donald Trump, an accusation that both Moscow and Trump deny. Matters considered even more urgent by the White House include the jailing and deteriorating health of opposition activist Alexei Navalny on controversial charges of parole violations, as well as a buildup of Russian military forces along the border with Ukraine, whose armed forces the U.S. backs against eastern separatists.
The two countries have expelled a number of each other's diplomats, and as the situation grew increasingly dire, Washington's embassy in Moscow announced Tuesday that Ambassador John Sullivan would be returning to the U.S. for "consultations" with the new U.S. administration.
That same day, State Department spokesperson Ned Price accused Putin and his administration of having "injected instability, unpredictability, and frankly, danger into a relationship that we would like to see predictable and stable going forward."
Though Biden and Putin's recent relationship has been marked largely by mutual distrust, there have been early instances of cooperation. Among Biden's first foreign policy acts after taking office in January was the extension of the bilateral New Strategic Arms Reduction Treaty (New START) with Russia.
Putin's appearance on the Leaders Summit on Climate roster—along with that of Chinese President Xi Jinping, with whom the Biden administration is involved in an even more intensive strategic competition—signaled that the issue of climate change may also prove to be an area of common interest.
Liksutov believes that climate change presents an opportunity for his city to stick out as a model. While his electric bus project took inspiration from similar efforts in other cities across the United States, Europe and Asia, he also hoped Moscow's transformation would further influence other cities in Russia and around the world to adopt similar reforms.
"It is important for us to create an opportunity for intelligent choices for all our residents," Liksutov said. "And here the experience of Moscow is the most advanced among all Russian cities, thanks to the mayor of Moscow. And this is an experience that would be useful to scale not only within Russia, but also in many cities around the world where they care about ecology and climate change."
The city joined the Global Covenant of Mayors in 2015, and was described by the organization as a "committed" member in remarks sent to Newsweek.
"When cities engage in the Global Covenant of Mayors, they demonstrate their leadership, setting an example for cities all over the world to become part of the global solution to climate change," the statement said. "Cities that join the GCoM pledge to develop a greenhouse gas emissions inventory and assessment of climate risks, and set measurable emissions targets, ambitious climate adaptation goals, and sustainable energy access goals in line with the Paris Agreement."
Should other cities ask, Liksutov said he and his team are prepared to help.
"If some cities in Europe or the United States are interested in studying our green initiatives, then we are ready for such cooperation," he said. "The sphere of urban ecology is changing along with the vision of an ideal modern metropolis, therefore large cities need to exchange experiences to create a safe and friendly environment."
The Green Moscow initiative, a presentation of which was obtained by Newsweek, goes beyond just refitting buses for the city of some 12 million people. It contains plans to expand bicycle and pedestrian pathway infrastructure, measures to disincentivize private motorists through parking restrictions and fees, as well as efforts to modernize commercial cargo fleets to ensure compliance with new climate-friendly regulations.
The project takes to the skies as well, envisioning the introduction of drone delivery services and vertical take-off taxis to limit congestion on Moscow's busy city streets between 2030 and 2040.
In addition to the logistical challenges the plan faces, there are also political ones.
"Many processes and discussions are the same as in other world megacities. Motorists do not always accept the necessary priority of urban transport on the roads, the importance of building new metro and rail transport stations," Liksutov said. "Unfortunately, not everyone is ready to comprehend the scale of damage that internal combustion engine vehicles cause to the ecology of their cities."
He said that 90% of air pollution in Moscow consists of PM2.5 and PM10 particles caused by road dust and worn tires. Cutting down on these and other harmful emissions would save some 6,400 to 8,900 lives lost every year to respiratory diseases, and it is estimated that if successful, a push for newer vehicles with modern safety systems and emissions controls could reduce motor vehicle accidents by 15% to 25%.
The project will bring an investment of an additional 70-100 billion rubles ($900 million to $1.3 billion) annually for the capital. The plan also promises 300,000 jobs for Muscovites, which will appear from enterprises taking advantage of new infrastructure initiatives.
While the figures are impressive on paper, how they'll be received at the Leaders Summit on Climate amid tense U.S.-Russia ties remains to be seen. In a sign that the Biden administration is prioritizing direct contacts with Putin, the possibility of an upcoming bilateral summit has been proposed in recent calls between the presidents as well as their national security advisers.
Putin dedicated a section of his annual address to Federal Assembly lawmakers on Wednesday to the dire challenge posed by climate change.
"We must find answers to the climate change challenges, adjust our agriculture, industry, the housing and utilities sector and the entire infrastructure to them, create a carbon utilization sector, bring down emissions and introduce strict control and monitoring measures," the Russian leader said.
He announced aims to reduce Russia's cumulative emissions to a level lower than that of the European Union within the next three decades, and reduce emissions in the country's 12 largest industrial centers by 20% by 2024. At the same time, he argued that the country's "new energy and pharmaceutical sectors and the solution of climate problems must provide a powerful boost to a comprehensive modernization of all economic sectors and the social sphere."
Putin has long balanced the need for greater environmental protections with the interests of influential industry leaders that fuel the economy of the world's fourth-largest polluter, behind China, the U.S. and India. In Wednesday's remarks, he called for "marking environmental payments to the federal budget" in a proposal in which he expected some blowback.
"I know that experts and financial specialists do not like such special marks, but I see this as a vital sphere of our activity," Putin said. "We can make an exception in this case, and invest these funds in clearing up accumulated pollution and improving the environment."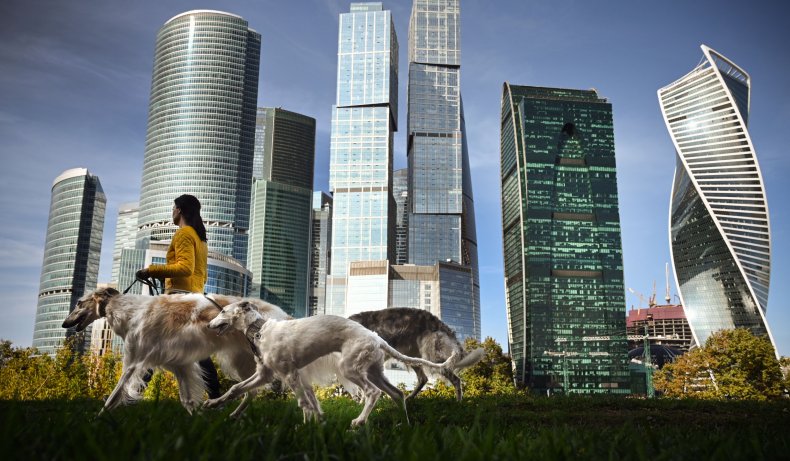 Asked for comment on areas for U.S.-Russia climate cooperation and the Green Moscow plan, a State Department spokesperson told Newsweek that "the United States intends to work constructively with all nations on addressing the climate crisis" and specifically noted Putin's invitation to the upcoming summit.
White House Press Secretary Jen Psaki also responded to questions regarding the Russian leader's invite, telling reporters Tuesday that "we invited him to attend, as we did 39 other global leaders."
"I think it's important for any large economy and developed nation to participate in a climate summit because the world's largest emitters are also, for the most part, aligned with the world's largest economies or the most populated countries," she said. "And so, hence, those are the people who are invited."
Psaki said the invite also "sends a message about the recognition that addressing the climate crisis is something that, even when you have disagreements about other areas, "we can agree on that."
A release from the State Department on Wednesday previewing the Leaders Climate Summit noted that Biden would be joined by Vice President Kamala Harris, Secretary of State Antony Blinken, special presidential envoy for climate John Kerry and several other cabinet members in his bid to "host leaders from around the world in discussions highlighting the urgent need to reduce greenhouse gas emissions and help vulnerable countries cope with unavoidable climate impacts, as well as the economic benefits of climate action."
Liksutov feels his city's plan fits the bill.
"We would like Moscow's green stance to become part of the international dialogue and create the basis for positive joint initiatives," Liksutov told Newsweek. "The main thing is that everyone in the world thinks more often about the importance of environmental friendliness of urban transport and new technological solutions, with an emphasis on the interests of our citizens, not politicians."
"Of course, this is a question of the federal government, not the city authorities," he added, "and we fully support our president."
This article has been updated to include comments provided by the Global Covenant of Mayors.